Kuala Lumpur, 11 Feb 2016 – The signing and exchanging of a memorandum of agreement (MoA) document, involving a research collaboration between CyberSecurity Malaysia (CSM) and Universiti Teknologi Malaysia (UTM) was held at the Chancellery Meeting Room, Menara Razak, Universiti Teknologi Malaysia Kuala Lumpur recently. UTM was represented by UTM Vice-Chancellor, Prof. Datuk Ir. Dr. Wahid Omar and CSM was represented by the CEO, Dr Amirudin Bin Abdul Wahab.
The impetus to the collaboration is the awareness of both parties that digital forensic analysis on cyber threats involves a huge amount of data resulting in the inability of the current practice to support large volumes of data, and not able to fully accommodate statistical and predictive analysis. Thus, CSM in collaboration with UTM Advanced Informatics School (UTM AIS) will collaborate to invent and develop big data analysis technology and expertise to overcome the un-centralised cyber evidence infrastructure in Malaysia.
The UTM AIS-CSM collaboration is a two-year project comprising the development of a (i) Data Warehouse (ii) Data Analytics and (iii) Data Visualisation. The first component of the project, namely, the Data Warehouse, aims to develop an Integrated Cyber Evidence (ICE) infrastructure, which will facilitate, manage, securely store and access cyber forensic data. Meanwhile, the Data Analytics component aims to develop big data analytic system able to analyse huge volumes of digital evidence. The final involving Data Visualisation aims to improve the computing process in big data forensic via Graphical Processing Unit (GPU) technology enhancement.
UTM AIS will also provide a series of Big Data training and intensify its PhD Industry Graduate programme. CSM will be funding a total of RM2.28 Million for the project development and training. A Satellite Laboratory for Big Data and Digital Forensic will also be setup at UTM AIS, equipped with cutting-edge hardware and software.
According to Prof. Datuk Ir. Dr. Wahid, this collaboration is very much in line with the mission of UTM to become a leader in the development of human capital and innovative technologies that will contribute to the nation's wealth creation. As a leading innovation-driven entrepreneurial research university in engineering science and technology, this collaboration is also in line with UTM's vision to become a world-class centre of academic and technological excellence. UTM is now ranked 100th in the field of Engineering and Technology as attested by the 2015/2016 QS World University Rankings,
"UTM hopes that the signing of this MoA will be the starting point for the onset of various other joint ventures in the sharing of expertise in the future, particularly in boosting industrial development activities, courses, training and research, both locally and globally. It is only through such a strategic alliance would we be able to generate more impactful outcomes towards wealth creation and universal prosperity", said Prof. Datuk Ir. Dr. Wahid in his closing address.
CyberSecurity Malaysia is the national cyber security specialist agency under the purview of the Ministry of Science,Technology and Innovation (MOSTI). The Malaysian Government has gazetted CyberSecurity Malaysia as an agency that provides specialised cybersecurity services and continuously identifies possible areas that may be detrimental to national security and public safety. As a specialist agency, CyberSecurity Malaysia supports and provides technical assistance as well as training services for national cyber crisis management.
UTM Advanced Informatics School (UTM AIS) is a referral centre and graduate school that specializes in the fields of Software Engineering, Information Assurance, Informatics and System Engineering. It plays a major role in contributing to UTM's achievement in research, publication and consultancy. UTM AIS has vast resources in terms of facilities and expertise in research and development in the field of cyber technology, digital forensics and related areas.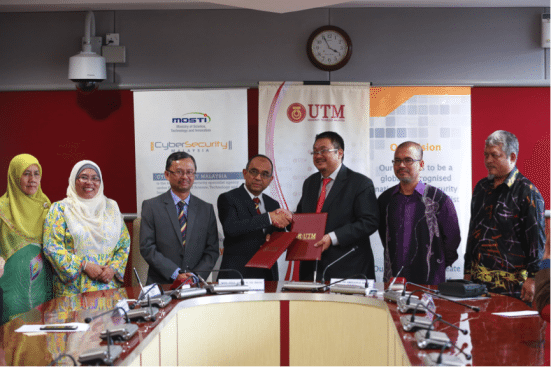 For more information, please contact:
Prof Dr Shamsul B Sahibuddin (Dean)
Advanced Informatics School
Level 5, Menara Razak
Universiti Teknologi Malaysia
Jalan Sultan Yahya Petra
54100 Kuala Lumpur
Contact No.: 012-7117328
E-mail: shamsul@utm.my
Prof Dr Azizah B Abdul Manaf (Deputy Dean)
Advanced Informatics School
Level 5, Menara Razak
Universiti Teknologi Malaysia
Jalan Sultan Yahya Petra
54100 Kuala Lumpur
Contact No.: 013-3684543
E-mail: azizaham.kl@utm.my