Kuala Lumpur, 17 November 2015 – An FKE student team has won the grand prize for the degree category at the IHL-MSC Malaysia Startup Challenge (i-MSC) 2014/2015. The winning team, named  'Team One To Link' won the judges over with their product called "Charby", which functions as a personal charging buddy.
The team comprised 3 FKE students, namely, Chik Sheng Fei, Cheok Ming Jin and Lim Thol Yong, with Dr Yeong Che Fai acting as the team's advisor.
i-MSC is a competition organised by the Multimedia Development Corporation (MDeC), and offers students the opportunity to acquire knowledge and business acumen on starting up an ICT business through hands on experience.
The first round of the competition began on 1st July 2015, with the team submitting a proposal and pitching video, outlining their idea on an intelligent charging device, called 'Charby'. The team's idea successfully made it to the second round, where they were then required to submit a business proposal and market validation.
Based on the submitted proposal, the team was selected to join a training and pitching session organised  by Malaysia Global Innovation & Creativity Centre (MaGIC), which enabled the team to further enhance and refine their ideas. With much passion, effort and perseverance, the team made it to the final round where they eventually became the grand prize winner for the degree category on 17th November 2015.
Most people rely extensively on their smartphones, but for many, the smartphones do not last the entire day due to insufficient battery power. The team identified two main factors that worsen battery degradation, which are high temperature and extreme battery level. Following this diagnosis,  'Team One To Link' designed and prototyped a product called 'Charby' to help prolong smartphone battery life in a convenient way.
'Charby' is an intelligent USB cable which cuts-off charging automatically and completely when a user's smartphone is fully charged. It will also pause charging before the battery temperature rises to a level which is harmful to both the battery's and user's health. Charby also charges up to twice as fast as a regular cable. Charby works with a mobile app which allows users to customise and interact with Charby, and make Charby their personalised charging buddy.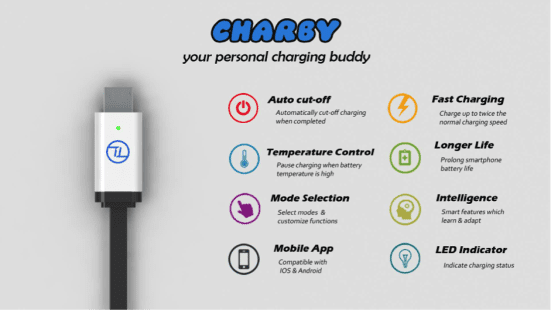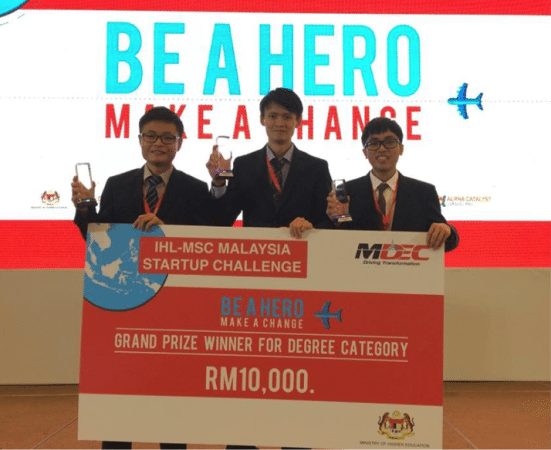 For more details visit us at:
Website: www.onetolink.com
Facebook: https://www.facebook.com/onetolink