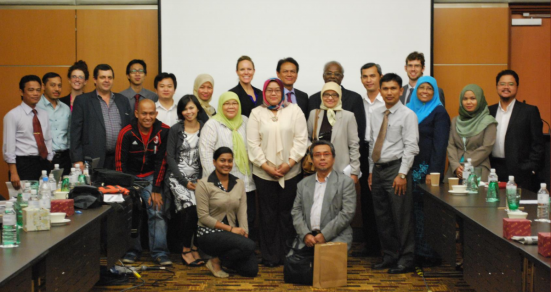 On June 26th, a group of 20+ representatives of industry, academia, government, and non-governmental organizations gathered in Kuala Lumpur Convention Centre to discuss the challenges and opportunities in Malaysian water corporate social responsibility (CSR). Initiated and hosted by the Universiti Teknologi Malaysia (UTM), this Water Lab created the opportunity for participants to share best practices, concerns, and find alignment of goals in CSR. After welcoming remarks from Assoc. Prof. Dr. Nur Naha Abu Mansor, UTM Director of Corporate Planning and Community Engagement, and Prof. Dr. Mohd Ismail bin Abd Aziz, UTM Deputy Vice Chancellor of Student Affairs and Alumni, the Water Lab began with presentations from esteemed panelists representing industry, academia, and non-governmental organizations: Ellynita Lamin, Director of Social Enterprise Alliance Malaysia; Yasmin Rashid, President/Founder of Ecoknights and Chairperson of Malaysian Environmental NGOs; Assoc. Prof. LAr. Dr. Nordin Abd Rahman, Director of the University Community Transformation Center at Universiti Putra Malaysia; and Mrs. Noor Lida Nazri, General Manager of the Group Marketing and Communication Division of I&P Group Sdn. Bhd.
Moderator Dr. Rory Padfield, of the Malaysia-Japan International Institute of Technology at UTM led a follow on discussion that raised a number of very important points, including the importance of universities as knowledge hubs and the need for increased sharing and transfer of that knowledge; the assertion that the key to successful CSR is not funding but rather finding the "community voice" and working on an even playing field with communities; and finally, the importance of expanding our field of potential solutions beyond technologies and into biological and sociological and other holistic solutions.
Following the panel, the Water Lab capitalized upon the wealth of expertise and experience in the room to draw forth the challenges faced by the group and find areas of alignment in perceptions of the water challenges in Malaysia. With a roundtable dialogue moderated by Prof. Dr. Masputeriah Hamzah, Director of Public Relations and Corporate Branding in UTM's Office of Corporate Affairs, and facilitated by Sara Farley, COO of the Global Knowledge Initiative, an international non-profit organization based in Washington, DC, Participants offered up those points that they see as the greatest challenges, and therefore opportunities, in Malaysian water CSR. With issues ranging from the challenge of undervalued water and low willingness-to-pay to the challenge of potential international conflict over water resources, challenges that came up in many iterations centered around issues of the need to build public awareness about the problems in water; the challenge of water education; and the need for more robust linkages between universities, communities, industries, and NGOs.
Farley went on to introduce the UTM-GKI Southeast Asian Water Challenge, an initiative with the explicit goal of linking UTM university students and faculty with communities in Malaysia and Southeast Asia to collaboratively tackle community level water challenges. Recognizing the importance of holistic solutions, GKI and UTM seek stakeholder input and collaboration to assure the creation of a program with value to all water stakeholders—industry, academia, government, NGOs, communities, and students. The insights revealed at this Water Lab—on challenges of CSR, water, and partnership—will inform the Water Challenge. The Water Lab will serve as an initial step in stakeholder engagement and solution co-creation.