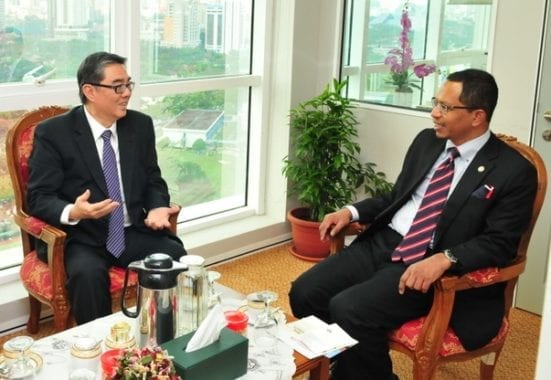 Kuala Lumpur, 27 November, 2012: The Vice Chancellor of UTM, Prof Datuk Zaini Ujang had the pleasure and honour of a visit by the Singapore High Commissioner to Malaysia, His Excellency Mr Ong Keng Yong.
The meeting was held at the Vice Chancellor's new office at the 17th floor of UTM's Advanced Management Centre, where His Excellency Ong was incidentally the first visitor to the newly-occupied office. The UTM Kuala Lumpur Campus in Jalan Semarak is currently the only university located in the heart of Kuala Lumpur, with close proximity to the Singapore High Commission in less than 2km.
During the visit, His Excellency Ong praised UTM as an institution which is becoming increasingly significant in terms of its role as a graduate-focused research university. With its aggressive transformation effort towards an innovative, entrepreneurial and global university, UTM is now becoming more visible and reputable as one of Malaysia's autonomous research university.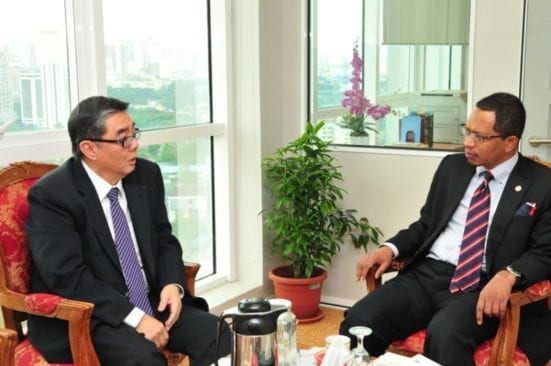 It is worth noting that the Global Brand of UTM 2010-2020 is to position UTM as a major contributor to regional and global academic sector.
His Excellency Ong also expressed interest to engage with UTM, and is committed to be the mediator for collaborative efforts between UTM and a few universities in Singapore. Based on his observation, UTM has achieved many milestones such as a leading university in Malaysia in foreign students (more than 5,000), higher percentage of postgraduate students (53 Percent) and highest number of PhD students (4,447, which is higher than National University of Singapore and Nanyang Technological University in Singapore).
Among potential areas of research collaboration that could be established between UTM and universities in Singapore include areas of Human Resource, Marine Pollution and Water Quality.
The location of UTM's main campus in Iskandar Malaysia across the causeway to Singapore is also an added advantage that would facilitate engagements with universities in Singapore in areas of mutual interest.