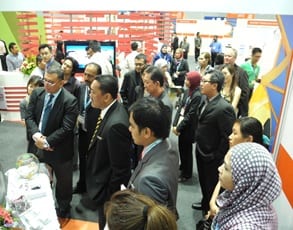 6th November, 2012, KUALA LUMPUR – Institute of Bioproduct Development, Universiti Teknologi Malaysia (IBD, UTM) is collaborating with a locally renowned security firm, Independent Guarding Services Sdn. Bhd. (IGS) and a UK based vapour sensor technology company, Inscentinel Ltd. (UK) to train and validate the performance of local honey bees (Apis mellifera) as biosensor to detect explosives and drugs for freight and cargo security in South East Asia.
With the current technological advancement and the amazing olfactory perception of honey bees, the knowledge has been transferred into a highly reliable portable biosensor for the detection of trace level of vapour in many applications, not only in fighting terrorism, but also in food safety and disease diagnosis. The performance of bee sniffer for security enforcement is scientifically proven to be comparable to dog sniffer, in addition to the cost effective training conducted for honey bees without the presence of insect expertise.
The development of this technology is widely welcomed, particularly by Islamic countries. Recently, Dato Mohd Zulyadaen bin Haji Ismail, the Deputy Director of Anti-Narcotics Department of Polis Di Raja Malaysia (PDRM), and his assistant, Mohd Rafiq bin Mohamed was impressed by the demonstration of the biosensor system during BioMalaysia 2012 which is held annually by BIOTECHCORP in Kuala Lumpur Convention Center (KLCC). The demonstration was also witnessed by Mohd Radzi bin Jamalluddin, the Deputy Director of the Chief Government Security Office from the Department of Prime Minister and his officer , Yusca Mochtar bin Jade.
"This is another step forward in our international industrial linkages collaboration, which is by providing alternative solutions for disease or bacterial detection which in turn will benefit the society" says Prof Ramlan Aziz, Director of IBD. The research was jointly carried out with IBD's Metabolic Profiling Laboratory, BIOTECHCORPS's BioNexus (BNP) Partner and headed by Dr. Chua Lee Suan.