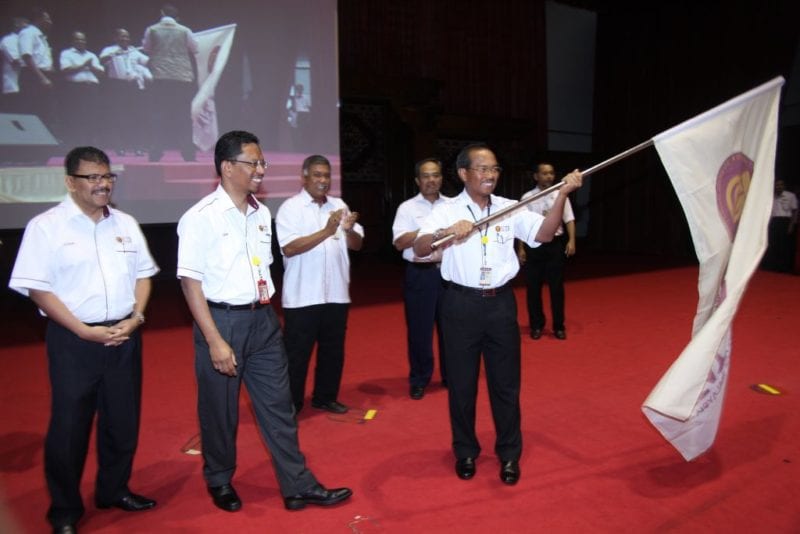 Vice-Chancellor Professor Dato 'Ir Dr Zaini Ujang said the spirit of volunteerism should be present among the staff of Universiti Teknologi Malaysia (UTM) to further enrich the dynamic intellectual ecosystem at the university.
He said helpful and obliging attitude should be the culture within the academic community because academia is about creating a positive culture and not about routine or missionary work.
A helpful attitude can come in various forms, for example, by assisting colleagues to prepare research proposals or implement some university activities.
"Research by Jack Cranfield on volunteerism shows that when you volunteer you will get back a whole lot more than you give," he said.
He was speaking at the monthly assembly held at the the Dewan Sultan Iskandar, UTM, Johor Bahru on July 4, 2011.
Professor Zaini further added that research on volunteerism shows that people who volunteer live longer, have stronger immune systems, have fewer heart attacks, recover faster from heart attacks, have higher self-esteem, and have a deeper sense of meaning and purpose than those who do not volunteer. They will also be more likely to end up in prestigious and higher paying jobs.
He pointed out that volunteerism will be considered for staff promotion and should be made a culture among the staff of the university.
According to him, some of UTM staff have confined themselves to implementing daily tasks and find difficulty if directed to assist in tasks that are not part of their task list.
"This behaviour will only make it harder to find solutions to existing issues and will increase bureaucracy.  This can be resolved using the Key Amal Indicators (KAI) paradigm which looks at our efforts as deeds for the good of everyone and not merely to achieve the Key Performance Index (KPI)," he said.