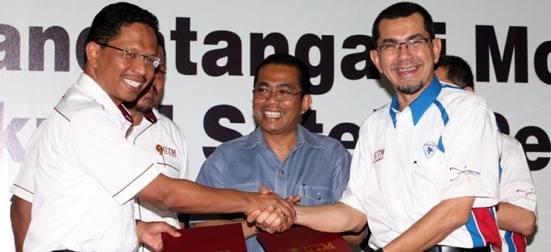 JOHOR BARU, July 22: Two UTM-PROTON Satellite Research Laboratories were established at Universiti Teknologi Malaysia (UTM) to conduct research and development to develop new technologies and more competent human capital.
The labs are UTM-PROTON Future Drive Laboratory at UTM Johor Bahru campus and PROTON Active Safety Laboratory at UTM International Campus Kuala Lumpur.
The launching of these labs was made by the Minister of Higher Education Datuk Seri Mohamed Khaled Nordin, who also witnessed the signing of memorandum of agreement between UTM and PROTON.
The agreement was signed by UTM Vice-Chancellor Professor Dato 'Ir Dr Zaini Ujang and Managing Director of PROTON Group Dato' Syed Zainal Abidin Syed Mohamed Tahir at UTM Johor Bahru.
Cooperation between UTM and PROTON is in line with the government initiatives to promote innovation and creativity to support efforts toward a high-income developed nation.
Through the collaboration Professor Dato 'Ir. Dr. Zaini Ujang has been appointed the Chairman of the Proton Technology Advisory Council (PTAC).
Members of the PTAC include Professor Ricardo Botas from Imperial College, London, Professor Nick Collins the University of Cambridge, Professor Usomo Uno from Meiji University, Japan, and Dr. Curtis R. Carlson Chairman and Chief Executive Officer of Stanford Research Institute (SRI) International, California.
Further collaboration between UTM and PROTON is through the implementation of PhD Industry programmes to produce professional staff at PROTON with a doctorate (PhD).
UTM is also working with PROTON to contribute its expertise to help Proton to generate intellectual property.  Through the collaboration, UTM and PROTON have generated 10 new intellectual properties such as patents, industrial design, copyrights, integrated circuit design and innovation utilities. Five of them are in the process of filing.
In addition, UTM and PROTON have established the Proton Professorship Chair, an important initiative  to promote knowledge culture among PROTON employees.
Through this collaboration UTM and PROTON has succeeded in producing prototype electric vehicle (EV) Saga by using the latest model of Proton Saga.