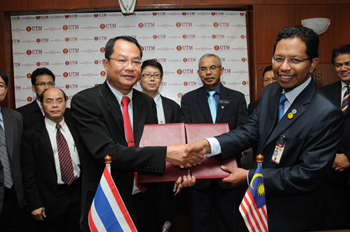 Johor Bahru, 31st January:  Mahasarakham University, Thailand will be sending 10 undergraduate students for the international student exchange program with Universiti Teknologi Malaysia within five years, starting 2011.
In a press statement today, UTM's Vice Chancellor, Prof. Dato' Ir. Dr. Zaini Ujang said the step is in recognition of UTM's international achievements.
"As from our side, we will also send our students under Global Outreach Program to give global education exposure for them".
For the past three years, Mahasarakham University has been sending 20 students annually to join the Town Planning program in UTM under the supervision of Assoc. Prof. Dr. Syed Zainal Abidin Syed Abdullah Idid.  Apart from that, the university is also interested in appointing him as their Visiting Professor and to send more academic staffs for further studies under the postgraduate programs in UTM.
The MoA was signed by UTM's Vice Chancellor and Mahasarakham University President, Asst. Prof. Dr. Supachai Samappito at the Main Meeting Room, Sultan Ibrahim Chancellery Building, UTM Johor Bahru campus.
Also present were UTM's Deputy Vice Chancellor (Academic & Internalization); Prof. Ir. Dr. Mohd Azraai Kassim and Deputy Vice Chancellor (Research & Innovation); Prof. Dr. Marzuki Khalid.  The Mahasarakham University's representatives are Vice President for Planning & International Relations; Assoc. Prof. Dr. Nathanon Trachoo, Vice President for General Management; Assoc. Prof. Dr. Piyapun Santaveesuk, Vice President for Personnel Development and University Council Affairs; Assoc. Prof. Dr. Thiensak Mekkapan-Opas and other university's officials.