Category: Malaysian- Japan International Institute of Technology (MJIIT)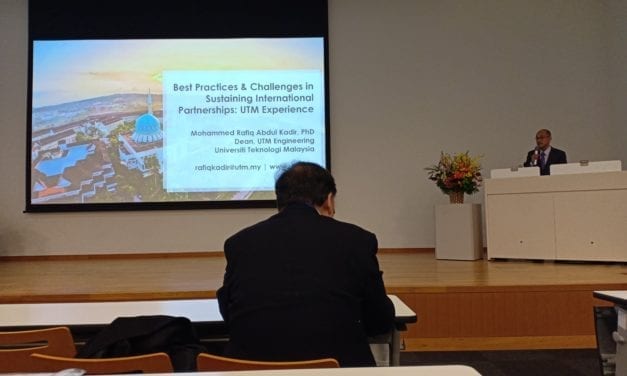 UTM Dean of Faculty of Engineering, Prof Dato' Ir Dr Mohammed Rafiq Abdul Kadir presented as plenary speaker at the national convention of Japan Association for Global Competency Education (JAGCE) in Shibaura Institute of Technology (SIT), Minato City, Tokyo. Representing UTM Vice Chancellor, Prof Mohammed Rafiq highlighted the key role of the international office in sustaining international partnerships, and several best practices including active participation in international events for higher education, a system to record and monitor partnership activities, and close communication and cooperation with members of faculties. At present, UTM has more than 300 active global partners and is actively involved in 26 international alliances. At the convention, several strategic collaborations with top global universities such as the MIT-UTM Malaysia Sustainable Cities Program with Massachusetts Institute of Technology and Low Carbon Transport Research with Imperial College London were also highlighted.
Read More
Search news
SUBMIT NEWS
All UTM staff are welcome to submit any type of news, hard or soft. Hard news is the kind of fast-paced news that usually appears on the front page of newspapers.

Read more >>

Register here if first you never submit/login to this portal
Previous Months' News