Category: Announcement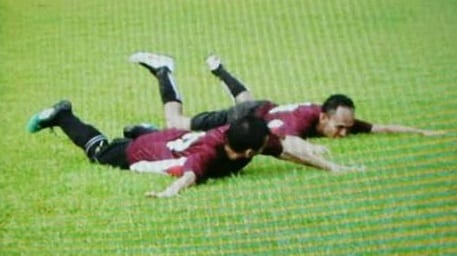 FINAL OF 2019 UTM STAFF GAMES FOOTBALL TOURNAMENT: SHARIZAN'S BRACE ENDED REGISTRA OFFICE F.C DOMINATION
Team Engineering showed synergy do paid off in football
Sharizan Ibrahim grabbed a brace at the final of the 2019 UTM staff games (USG) football tournament as Team Engineering F.C. ended Registra Office F.C nine years winning streak and emerged as the champion for 2019 USG football tournament. On a rainy 20 October 2019, Team Engineering F.C. and UTM Registra office battled with one another for the king of all gold medals in USG 2019. The final match of USG football tournament was held at the main UTM football pitch where the game kicked-off at approximately 5.30 p.m. UTM Registra office as always was the hot favorite to win the tournament – yet again especially knowing the fact that the Team Engineering F.C. will be playing without one of their key player Dr. Wan Yusryzal Wan Ibrahim who had to attend a student program so far away from UTM. Many believed that without their playmaker, Team Engineering F.C. will somewhat be crippled by it and will not stand a chance against the mighty Registra office F.C. On the contrary, players and the manager of Team Engineering F.C. thought otherwise. They believed that the odds are more or less even. This is because Registra office F.C. will also be missing some of their key players due to injuries and other unavoidable circumstances. To them (Team Engineering F.C), it is now or never! So the plot thickens. Team Engineering F.C. began to plan their strategy a couple of days before the final match and set to win the tournament.
Read More
Search news
SUBMIT NEWS
All UTM staff are welcome to submit any type of news, hard or soft. Hard news is the kind of fast-paced news that usually appears on the front page of newspapers.

Read more >>

Register here if first you never submit/login to this portal
Previous Months' News