KUALA LUMPUR, Oct. 26 –   The AIMS4STAR Award ceremony took place at NEXPO 2023 at the Grand Banquet Hall, Residensi UTMKL, marking a significant milestone in the celebration of industry-academic partnership.
The ceremony was graced by the presence of the Deputy Minister of Higher Education (MoHE), Datuk Mohammad Yusof Haji Apdal, honoured the outstanding accomplishments resulting from the collaboration between Universiti Teknologi Malaysia (UTM) and the prominent industry leaders.
In an era of interdependence, UTM foresees the importance of partnerships to ensure its relevancy and ability to be the source of new knowledge and innovation and to become providers of skilled personnel and credible credentials, contributors to innovation, attractors of international talents and business investments.
All these aspects are significant in driving our nation's economic growth and elevating the livelihood of the community.
The AIMS4STAR Award in conjunction with the NEXPO program highlights the crucial partnerships between academia and industry, fostering innovation and mutual growth.
These prestigious awards not only pay homage to the commitment of industry leaders but also serve as a catalyst for further collaborative endeavors that drive research, education, and economic development in Malaysia.
In essence, the Center for Community and Industry Network (CCIN) under the Department of Deputy Vice Chancellor (Research and Innovation) acts as a catalyst for positive change, ensuring that both industries and the local community thrive in a mutually beneficial manner.
In his keynote address, Deputy Higher Education Minister Datuk Mohammad Yusof Haji Apdal praised the awardees for their exemplary collaborative efforts and underscored the vital role of such partnerships in shaping the future of Malaysia.
The AIMS4STAR Award ceremony at NEXPO 2023 stands as a testament to the potent synergy between academia and industry.
These extraordinary achievements not only honor the exceptional work of the awardees but also inspire and invigorate further partnerships aimed at advancing research, employability, endowment, commercialization, and industry excellence.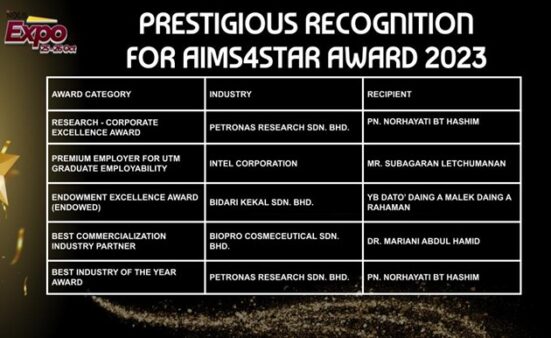 Among the recipients, Pn. Norhayati bt Hashim representing Petronas Research Sdn. Bhd., received the coveted Research Corporate Excellence Award, recognizing groundbreaking contributions to the world of research. Mr Subagaran Lechumanan a driving force behind Intel Corporation was celebrated for fostering the employability of UTM graduates, securing the esteemed Premium Employer for UTM Graduate Employability Award.
YB Dato Daing A Malek Daing A Rahaman, an instrumental figure at Bidari Kekal Sdn. Bhd., was bestowed with the Endowment Excellence Award (Endowed) and Dr. Mariani Abdul Hamid, representing Biopro Cosmeceutical Sdn. Bhd., was commended for spearheading commercialization efforts, claiming the title of Best Commercialization Industry Partner Award.
Notably, Petronas Research Sdn. Bhd. achieved a double triumph by clinching the highly esteemed Best Industry of the Year Award, further affirming their commitment to industry excellence.and the special award for Best Industry of the year Award was won by Petronas Research Sdn. Bhd.
By: Siti Hajar Mat Sarip, Center For Community & Industry Network (CCIN)