JOHOR BAHRU, 19 Nov.– Tan Huiyi stands out as an inspiration in the annals of academic and athletic performance, demonstrating an unparalleled blend of dedication, discipline, and tenacity. Huiyi, a recent PhD graduate of the Faculty of Chemical and Energy Engineering (FCEE) at Universiti Teknologi Malaysia (UTM), has made a name for herself in karate, where she has established herself as a formidable competitor and coach, in addition to academic excellence.
Huiyi's academic achievement is nothing short of remarkable. She has not only performed academically but has also been recognized by the Malaysia Board of Technologists (MBOT) as a Professional Technologist. Huiyi's academic excellence extends beyond UTM, as she is a deserving recipient of the Yayasan Khazanah Scholarship. Her intellectual accomplishments were also recognized when she was named one of 15 finalists for the Young Scientist Network-Academy of Sciences (YSN-ASM) Chrysalis Award.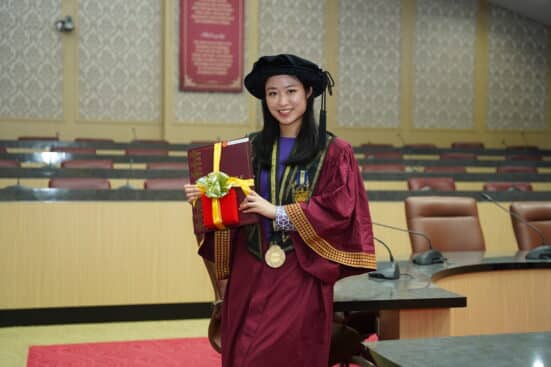 Huiyi has received numerous academic distinctions, including Best Presenter Awards, GEMA Awards, and BRAND's Smart Achiever Award. Her ability to blend the demands of challenging academic pursuits with active participation in extracurricular activities demonstrates her unshakable dedication to greatness. Huiyi's journey, however, goes beyond the academic corridors.
As a dedicated physical education student, she has been actively involved in sports, particularly karate, for the past 15 years. Her role as a karate coach for the state of Johor, primarily coaching the Malaysian Games (SUKMA) athletes, is an example of her commitment to nurturing talent and contributing to the sports community.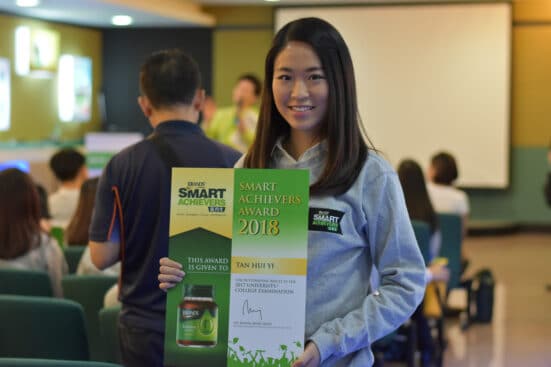 In the field of competitive sports, Huiyi shines with her successes. She has represented Malaysia with distinction, winning silver and bronze medals at the ASEAN University Games (AUG) and the Taiwan Athletics Games, respectively.
She has received the Most Promising Female Athlete Award from the National University Sports Council, Johor State Sports Council, and UTM for her performances on the mat, recognizing her effect on the athletic world.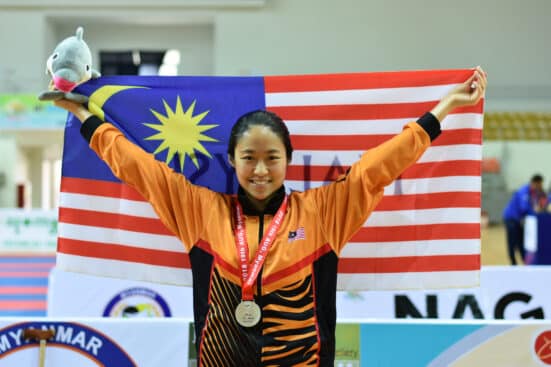 Huiyi attributes her accomplishments to the "self-discipline" and "positive thinking" basic ideas. Her ability to see barriers as stepping stones demonstrates a strong mindset that has carried her through academic and athletic challenges. The motto "If others can do it, I can do it too; if others can't, then I must do it" reflects Huiyi's unflinching will to conquer obstacles. Her trip has not been without difficulty.
Huiyi understands how critical it is to sacrifice spare time in order to fulfill deadlines and complete assignments on time. She sees the present as an excellent learning opportunity and is certain that today's sacrifices will be rewarded later.
Huiyi's story is bolstered with a touching incident from her preparation for the AUG. Travelling from Johor to Penang for centralized training sessions with her national teammates every week, training 8 to 12 hours a day, and arranging research and experimental work at the airport or on planes demonstrate the extent she went to manage her academic and athletic responsibilities.
Huiyi appreciates the importance of her support system. Her husband, EUR ING Ir. Ts. Dr. Wong Keng Yinn, a former national athlete and university coach, is a continual source of inspiration for her. Prof. Dr. Lee Chew Tin (supervisor), Prof. Ts. Dr. Mohd Hafiz Dzarfan Othman (mentor), and Prof. Dr. Zaidatun Tasir (mentor) have all provided her with vital advice and helped define her academic career. She would also like to express her gratitude to her parents and to those who have supported and guided her along the journey.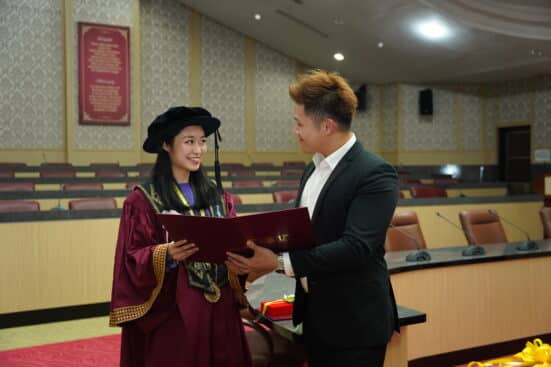 Huiyi's tale is one of triumph over adversity, and her upbeat nature shows as brightly as her academic and athletic accomplishments. Her desire to learn karate for personal development, bolstered by her father's encouragement, exemplifies the far-reaching impact of sport beyond physical prowess.
Tan Huiyi's journey from academic success to sports triumph exemplifies the unbreakable spirit and unrelenting determination that can propel people to greatness in various areas. Her story is an encouragement to ambitious scholars and athletes, demonstrating that one can overcome obstacles and triumph on all fronts with perseverance, sacrifice, and a positive outlook.