Kuantan, Pahang, September 26, 2023 – The International University Carnival on E-Learning (IUCEL) 2023, hosted at Dewan MBK Kuantan, Pahang, proved to be a platform for an extraordinary display of talent and innovation in the application of e-learning. Among the three categories contested, Universiti Teknologi Malaysia (UTM) left an indelible mark with its exceptional performance in the Invention, Innovation & Design on e-Learning (IIDEL) category.
In the fiercely contested IIDEL category, featuring a robust participation of 206 contestants, UTM showcased its prowess by securing a total of 9 medals. Dr. Noorhazirah Sunar from the Faculty of Electrical Engineering (FKE), emerged as a shining star, attaining a prestigious gold medal. Her project, titled "Enhancing Student Knowledge in Electric Circuit Analysis with Cooperative Learning and LTspice," showcased innovative approaches to e-learning, pushing the boundaries of pedagogical advancement.
UTM's achievements extended beyond gold, with the Faculty of Social Sciences and Humanities (FSSH) contributing 4 silver medals. These were earned by Dr. Salmalina Salleh, Dr. Nur Azmina Paslan, Dr. Nurul Aini Mohd Ahyan, and Dr. Noorzana Khamis, further elevating UTM's standing in the IIDEL category. Additionally, the Faculty of Electrical Engineering (FKE) added to the accolades with 4 bronze medals secured by Dr. Norazliani Md Sapari, Dr. Nurul Ashikin Daud, Dr. Nor Aishah Muhammad, and Dr. Nur Najahatul Huda Saris.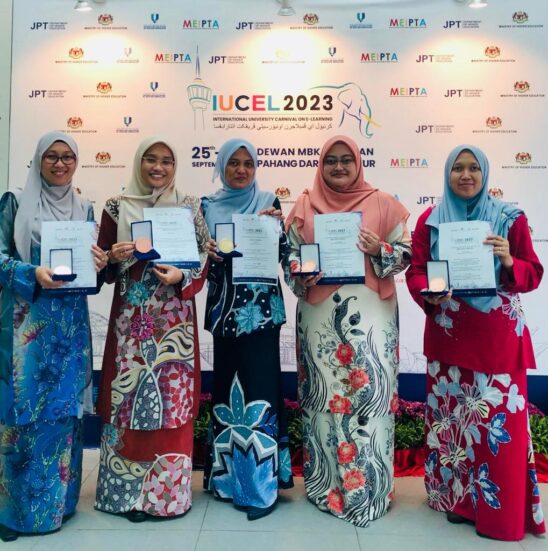 The dedication and unwavering commitment of UTM's participants in the IIDEL category of IUCEL 2023 were commendable, reflecting the institution's commitment to pioneering innovations in e-learning.
The IUCEL 2023 event was not just a platform for UTM to demonstrate its ingenuity but also a celebration of the spirit of e-learning innovation. With these remarkable achievements, UTM continues to set the gold standard for excellence in the application of e-learning. This success promises a brighter future for education in the digital age, with UTM at the forefront of transformative pedagogical advances.