Kuala Lumpur, 26 Oct. – Universiti Teknologi Malaysia (UTM), the nation's pioneering engineering and technology based university, is committed to making a profound impact on society.
With the aim of reaching out to diverse stakeholders, including other universities, public entities, the private sector, non-profit organizations, and the general public UTM proudly presented the UTM Nexus Expo 2023 (NEXPO) held at UTM KL Residensi.
This event not only showcased UTM's cutting-edge research and academic programs but also served as a pivotal platform for interaction, fostering stronger connections between UTM and the wider community, industry players, and the public.
The event's opening ceremony was graced by the presence of the Deputy Minister of Higher Education (MOHE), Datuk Mohammad Yusof Haji Apdal. In his speech, Yusof Apdal emphasized the importance of such initiatives. "I believe that the UTM Nexus Program 2023 (NEXPO) was organized to align with the current national and global situations in addressing contemporary challenges, especially disruptive technology, food security, and climate change. It strongly supports the 4P (Penyediaan Bakat; Penyelidikan dan Inovasi; Pemindahan dan Perkongsian Ilmu & Pengantarabangsaan) aspirations introduced by the Minister of Higher Education, Yang Berhormat Khaled Nordin recently", he said.
He also took the opportunity to congratulate UTM on establishing the nation's first Faculty of Artificial Intelligence (AI) as announced by the Yang Amat Berhormat Prime Minister during the presentation of the MADANI 2024 Budget in Parliament.
According to the UTM Vice-Chancellor, Prof. Datuk. Ir. Dr. Ahmad Fauzi Ismail, "The UTM Nexus Expo 2023 program is the first of its kind organized by UTM. The NEXPO 2023 program is not just an exhibition of products and innovations but rather a platform to establish new networks and share fresh ideas, spark innovation, and create a fast-moving future that aligns with global digital transformation."
Also in attendance for the grand opening were distinguished guests, including the Deputy Vice-Chancellor (Research and Innovation), Prof. Dr. Rosli Md Illias and Group Chief Executive Officer PROLINTAS Group, Datuk Mohammad Azlan Abdullah underscoring the significance of the event.
One of the highlights of UTM NEXPO opening ceremony  was the launch of two significant publications. "Leading Transformations and Turnarounds in Academia & Himpunan 40 Hadis Nilai Murni," authored by Prof.  Emeritus Datuk Ir. Dr. Mohd Azraai Kassim, which provides valuable insights into academia's changing landscape and the strategies to navigate these transformations.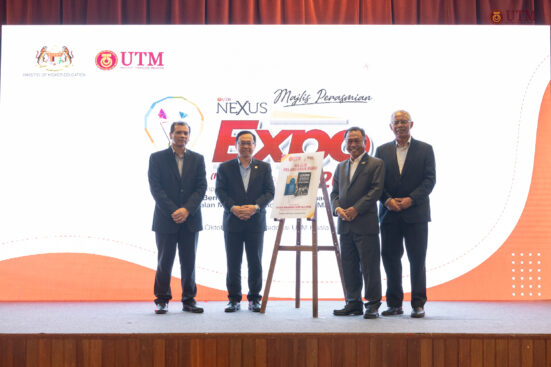 Additionally, an important partnership was forged at the event, as UTM and Lintasan Kota Holdings Sdn Bhd (PROLINTAS) signed a Memorandum of Understanding for the CEO@Faculty programme, solidifying their commitment to advancing academia-industry collaboration.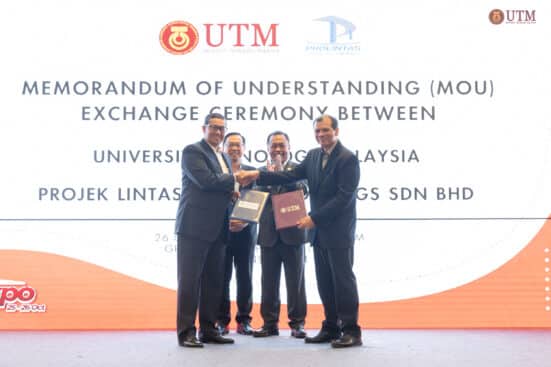 Furthermore, NEXPO served as a platform for UTM to extend its appreciation to its industry partners. The prestigious UTM 2023 AIMS4STAR Award ceremony recognized the outstanding contributions of private and public partners.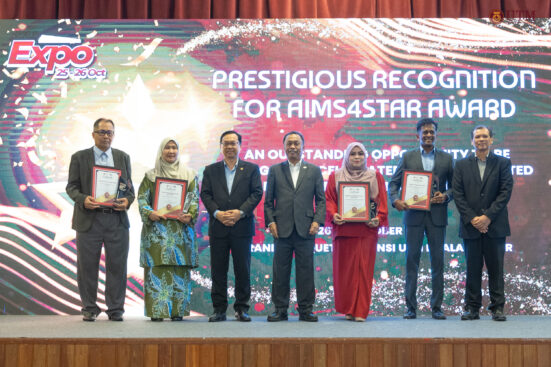 These awards included the Research – Corporate Excellence Award awarded to Petronas Research Sdn Bhd, Premium Employer for UTM Graduate Employability awarded to INTEL Corporation; Endowment Excellence Award (Endowed) awarded to Bidari Kekal Sdn Bhd.
Best Commercialization Industry Partner is awarded to Biopro Cosmeceutical Sdn Bhd, and the Best Industry of the Year Award goes to Petronas Research Sdn Bhd.
These accolades celebrated the exceptional efforts of UTM's partners in propelling academic and research excellence.
The two-day event organised by the UTM Department of  Vice-Chancellor (Research and Innovation),  witnessed the participation of 460 industry players, among them Institut Jantung Negara (IJN), RHB Bank Berhad, Human Resource Development Corporation (HRDC), Fuji Electric (Malaysia) Sdn Bhd, UTM Holdings Sdn Bhd as sponsors.
It offered diverse activities and interactions, showcasing the ground-breaking work of UTM in various academic and research fields. The event highlighted the convergence of academia and industry, fostering collaboration and encouraging innovation for the betterment of society.