MAKASSAR,  7 – 14 September 2023. : Makassar Academic and Cultural Heritage Activity (MACCA) is a short course initiated by the Language Development, Cooperation & International Affairs Board, Muhammadiyah Makassar University (UNISHMUH). UNISMUSH had invited lecturers and students from UTM's Landscape Architecture Programme, Faculty of Built Environment and Surveying (FABU), to join a seven-day short course program. The aims of MACCA 4 are to encourage global outreach programs and outbound mobility networking opportunities between Indonesia and other countries. Student outbound mobility program includes a series of academic activities, university promotion, seminars, sharing sessions, community development activities and field studies that comprise forty-one delegates from Universiti Teknologi Malaysia, UTM (14 students), Universiti Teknologi Mara Kampus Bandaraya Melaka, UiTM (20 students), Universiti Malaysia Sabah, UMS (6 students), and Universiti Malaya, UM (1 student).
The program objectives of MACCA are to discover Makassar's cultural heritage, understand cultural sustainability and encourage students to enhance leadership, teamwork and interpersonal skills in organising international workshops. A virtual meeting was conducted on 3 September 2023 between UTM and UNISMUH Makassar. Ibu Maharida has delivered a UNISMUS background, a tentative short course programme and preparation for UTM students.  All short course delegates are divided into six groups consisting of six to seven members. UTM delegates departed to Makassar on 6 September 2023 from UTM, guided by Dr. Lee Yoke Lai and Assoc. Prof. LAr. Dr Sapura Binti Mohamad. The hours flight landed at Sultan Hasanuddin International Airport on 7 September 2023, morning. UNISMUH Makassar representatives warmly welcomed and assisted all delegates. Subsequently, all delegates spent time for self-introduction among each university participant.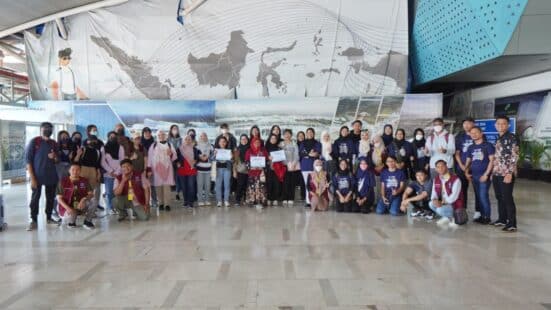 On 8 September 2023, UTM delegates departed to the UNISMUH Makassar campus for the MACCA 4 opening ceremony. The opening session began by introducing participants, including students and lecturers. After the introduction, the MACCA program's Liaison Officer (LO) coordinated an ice-breaking activity among us to get to know each other. During the afternoon session, we had a welcoming traditional dance performance, Paraga dance, using "Takraw" at the UNISMUH main hall. Consequently, the thoughtful host, program director, rector, and dean delivered their welcoming speeches and gave each guest university representative a welcome gift.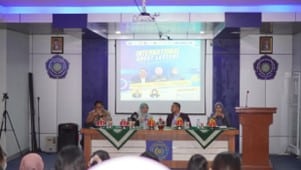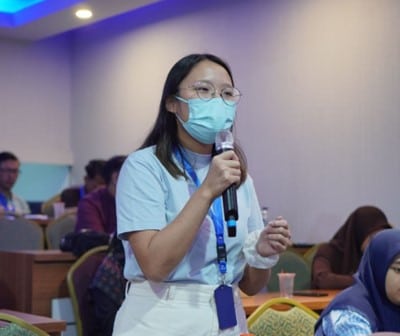 The next day, on the 9 September, UTM students started the day with an international guest input lecture by three speakers from UiTM, Dr. Idris bin Osman, Dr. Nur Hayati Abd Rahman and Dr Buyung Romadhoni from UNISMUH, who provided in-depth information about technology and digital transformation. The input lecture gave a very eye-opening learning experience for the students as the current generation on how the opportunities to make use of the technologies into something that can help and benefit us in terms of economy and safety in future. At the same time, UTM coordinators have shared two lectures at the Technic Faculty in UNISMUH Makassar titled Cultural Landscape in Malaysia (Dr. Lee Yoke Lai) and Low Carbon Landscape (Assoc. Prof. Dr. Sapura Mohamad). The sharing session is engaging and interactive during discussion sessions.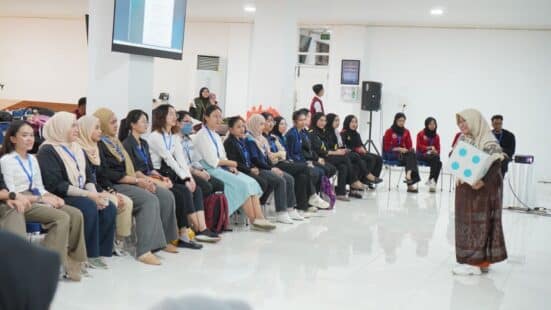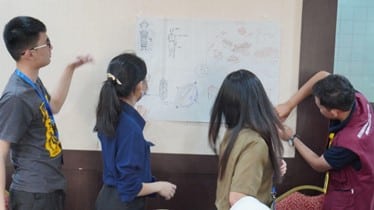 In the afternoon session, students are exposed to Makassar's unique culture from the BIPA (Bahasa Indonesia bagi Penutur Asing) Class. Students were also divided into groups with guidance from the instructor and LO. In vice-versa, each student group must share and present Malaysian and multi-ethnic local cultures. The second day of the short course ended with sunset sightseeing at Pantai Tanjung Bosowa and a gastronomy experience of Makassar seafood dinner.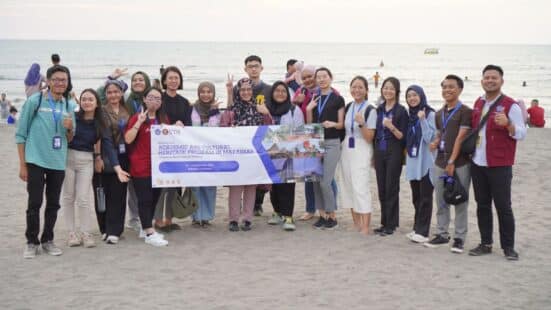 Participants joined the car-free day program on day 3 at Jalan Boulevard, Makassar. Car Free Day has become a weekly event in Makassar, held every Sunday. The Car Free Day is organised in various cities worldwide in different ways but with the common goal of reducing the number of cars on the streets. Activities such as exercises, commercials, merchandise, eating, and entertainment happened along the street. The benefit to greater society is a day with less traffic congestion, a greener environment, and reduced gasoline demand.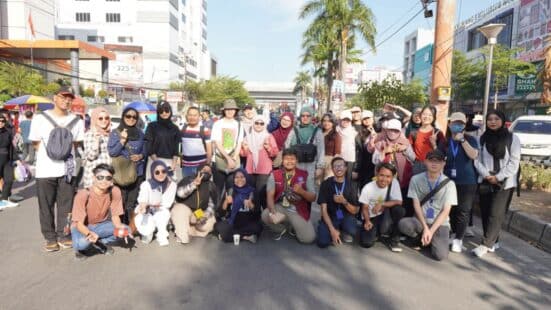 In the afternoon, we visited Balla Lompoa Museum, a reconstructed Bugis- architecture heritage Palace of the Gowa Kingdom. Balla Lompoa Museum is adaptively reused as a museum that exhibited the collectives' traditional costumes (Badik or Badek), Bugis traditional weapons, and historical artefacts of the kingdom of Gowa. A bundle of efflorescence historical narratives of the south Sulawesi Kingdom is showcased in this museum and opens eyes to gain knowledge, awareness and cultural identity among participants.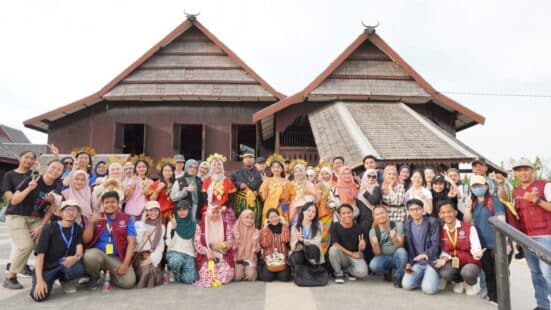 After that, we visited the Sheikh Yusuf Mosque. This mosque's architectural uniqueness and design elements of the art of calligraphy are stunning. Various calligraphy arts with multiple styles, such as Khat wrapped in beautiful colours, compliment the beauty of this mosque. Moreover, this calligraphy also almost fills the entire mosque, including on the top of the mihrab and around the upper wall of the mosque.
On the 4th day, we travelled a little far to the first stop at the Leang Leang Prehistoric Park in Maros. Leang-Leang Prehistoric Park is a UNESCO Global Geopark comprising two renowned prehistoric caves, Leang Pattae and Leang Pettakere. These caves are situated within the Maros-Pangkep Karst Area and are famous attractions among archaeologists and tourists. These two sites have amalgamated into a designated area under the supervision of the South Sulawesi Cultural Heritage Preservation Center (BPCB). Besides the educational visit, all delegates had fun playing games and having a picnic lunch in the open area of limestone caves.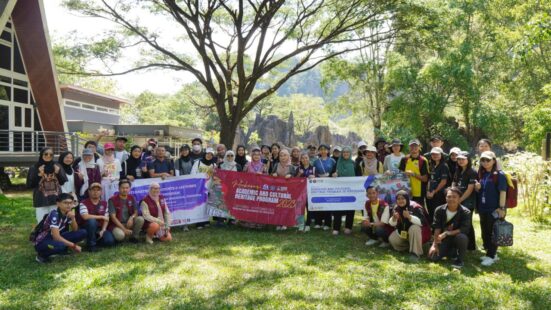 Next field visit is Rammang-Rammang Karst village, Maros. Rammang-Rammang is another karst attraction with magnificent vistas of limestone karst cliffs surrounding Salenrang Village, Maros-Pangkep region of South Sulawesi Province. Rammang-Rammang was ranked as the world's third-largest karst mountain formation. It was located approximately 40 kilometres north of Makassar City, and the entire village covers about 45,000 hectares. The travelling journey by boat to Rammang-Rammang village, able to see lines of sago palms on both sides of the riverine, mangrove wildlife, and hamlet. Again, this experiential learning via UNESCO nature site visit evokes awareness of environment sustainability and cultural landscape safeguarding among the young generation.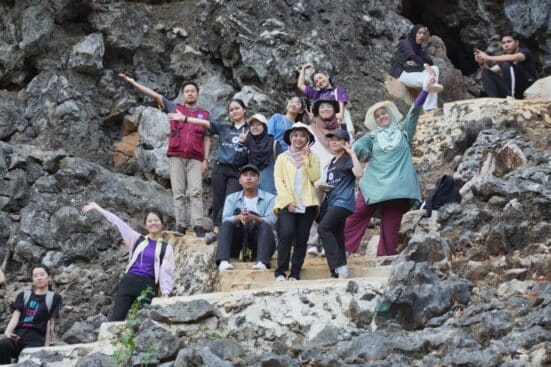 On 12 September, the fifth day of the short course was scheduled: a campus tour and a quick visit to the South Sulawesi's public library. The campus tour involved some administrative buildings, main facilities and classrooms provided to the UNISMUH students and staff. The visit to the public library highlighted the archive of Makassar history and ancient manuscripts. Archive documentation helps to ensure the protection, conservation, and management of widespread Makassar significant cultural heritage.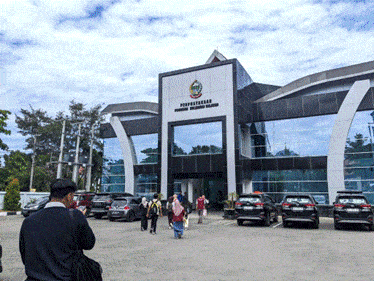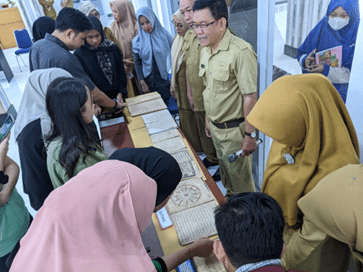 After that, we visited the famous historic Fort Rotterdam. Fort Rotterdam stands as the most iconic historical landmark in the city, with its historical roots tracing back to the Kingdom of Gowa in the 16th century and its subsequent colonisation by the Dutch. This fortress has quietly observed numerous chapters in Makassar's history and has played a crucial role in the city's growth and evolution.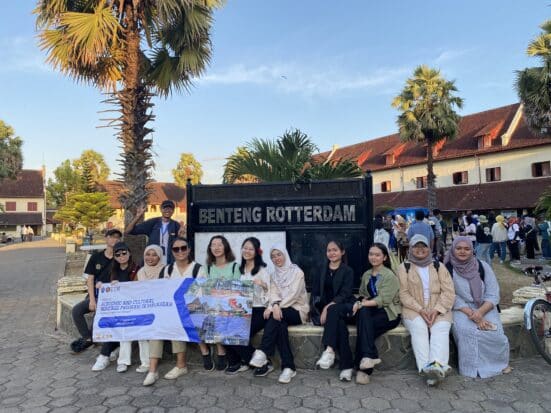 On the last day of the program, UTM delegates performed a poetry and dance performance that was held at the UNISMUH Observatories for the closing ceremony. After that, we visited the 99 Domes Mosque, one of the grandest mosques in Indonesia; the mosque is one of the most unique mosques in the world and Indonesia and is the centre of Muslim activities in Makassar, the eastern region of Indonesia that can accommodate worship and Islamic activities.
Sharing, learning, and having joyful experiences in various unique cultures, heritage and traditions from MACCA is a fruitful and valuable experience for us. In short, this international cultural program leads Southeast Asia roots or 'serumpun' to continue nurturing exchange culture, enduring friendship and remarkable networking between Malaysia and Indonesia. Lastly, highly appreciation to UTM International and the Faculty of Built Environment, provided sponsorships have given sponsorship support to landscape architecture students and memorable 'Makassar Academic and Cultural Heritage experiences.