The UTM Library proudly organized the International Symposium on Citizen Science 2023 (ISoCS 2023) from October 2-3, in collaboration with esteemed partners: the Academy of Sciences Malaysia, the Library, Universitas Negeri Malang, Indonesia, the Librarians' Association of Malaysia (PPM), and CitizenScience.Asia. Themed "Empowering Communities Through Innovative Solutions," this event gathered over 173 participants from around the globe virtually.

The event was inaugurated by Prof. Datuk Ts. Dr. Ahmad Fauzi Ismail, the Vice-Chancellor of Universiti Teknologi Malaysia (UTM), who emphasized the vital role of citizen science in shaping the future of communities worldwide.
The symposium aimed to democratize science, promoting active community participation in research. Notable local and international speakers, including academicians, experts and passionate citizen science advocates, shared groundbreaking ideas. This remarkable event highlighted the potency of collaborative efforts, igniting inspiration, and nurturing connections among practitioners of citizen science.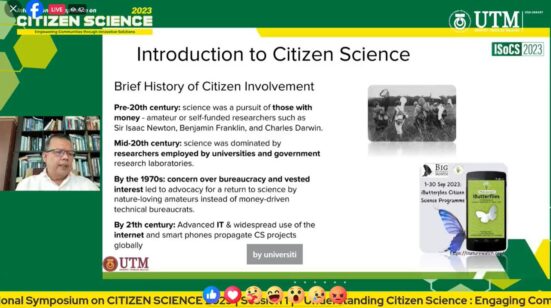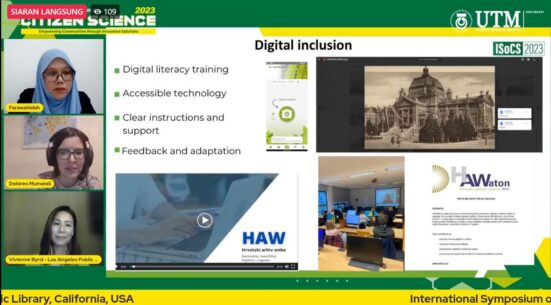 ISoCS 2023 achieved its objectives by bridging gaps between professionals and communities, enhancing knowledge sharing, and promoting impactful citizen science initiatives. The symposium's impact reverberates through empowered communities and enriched research landscapes.
This successful symposium marks a significant milestone, showcasing UTM Library's unwavering commitment to driving the spirit of citizen science and engaging communities.