KUALA LUMPUR, 22 Sept – In an exhilarating display of innovation and talent, UTM secured the coveted title of College/University Champion and a substantial RM30,000 cash prize in the prestigious SME Bank's Sandbox Competition 2023. The dazzling award ceremony took place at the Malaysia International Trade and Exhibition Center (MITEC) in Kuala Lumpur, graced by the esteemed presence of YB Datuk Ewon Benedick, Minister of Entrepreneur & Cooperatives Development, and YBhg. Datuk Wira (Dr.) Aria Putera Ismail, the Chief Executive Officer of SME Bank.
UTM emerged as one of the elite TOP 20 finalists from a pool of 400 participating teams representing various institutions of higher learning and technical vocational education and training (TVET) institutions across Malaysia, marking a remarkable achievement in itself. The culmination of this rigorous competition unfolded during the final round on August 23, 2023, held at Menara SME Bank in Kuala Lumpur.
The UTM team, under the expert guidance of Dr. Sabrinah Adam (FM), comprised a dynamic ensemble of talents, including Muhammad Hasef Bin Ameer Sajahan (MOT, FM), Siti Raudhah Binti Rafiee (Accounting, FM), Amirah Adibah Binti Mazlan (FKE), Muhamad Arshad bin Abdul Suharto (FKT), and Arwin a/l Kumaraguru (FKT). Through this nurturing mentorship, this diverse and highly skilled team harnessed their collective strengths to make a resounding impact on the competition.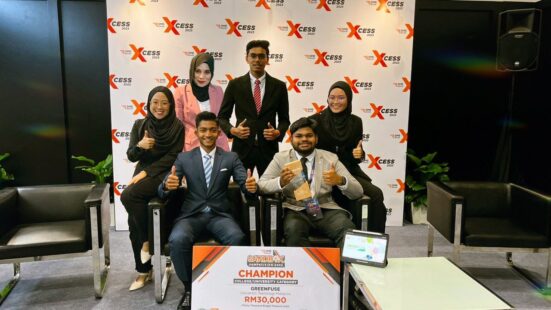 The team's innovative project, "GREENFUSE," aligns seamlessly with UN Sustainable Development Goal 12: Sustainable Consumption and Production. This groundbreaking solution contributes significantly to society by reducing waste and promoting environmental sustainability through organic composting. The ingenious business idea left an indelible impression on the discerning judging panel.
This competition served as an invaluable learning journey, spanning multiple phases, including Phase 1: Registration and Submissions Stage; Phase 2: Online Bootcamp Session; Phase 3: The Top 20 Finalist Competition (held in person with the participation of six esteemed industry judges); and Phase 4: The Grand Prize Giving Ceremony hosted at MITEC, Kuala Lumpur.
UTM extends heartfelt gratitude and appreciation to Faculty of Management  and UTMXCITE for their unwavering support throughout this journey. Furthermore, special recognition is reserved for SME Bank as the event organizer, whose exceptional hospitality has been an integral part of this remarkable experience from the very beginning.