"Challenge drives us to look for a greater solution." These motivational words by Prof. Datuk Ir. Ts Dr Ahmad Fauzi Ismail, the Vice-Chancellor set the tone for the annual UTM Management Retreat 2023 held on the 21st and 22nd of September, 2023 in Melaka, Malaysia.
The retreat, attended by 80 senior UTM officials and facilitated by the Acting Director of Strategy and Corporate Affairs, Prof. Dr. Mohd Shafry bin Mohd Rahim, and Head of  Strategy and Risk Management Section, Mr Chew Teong Han served as a platform for crafting the UTM Moonshot Transformative Journey 2.0, an action plan for the year 2024 aimed at propelling the institution into the future.
During the retreat's keynote address, Prof. Fauzi expressed his heartfelt appreciation and congratulations to all attendees for the remarkable achievements of UTM Citizens in 2023 thus far. This year, UTM led the way in various aspects of higher education nationally and globally, setting new standards for excellence.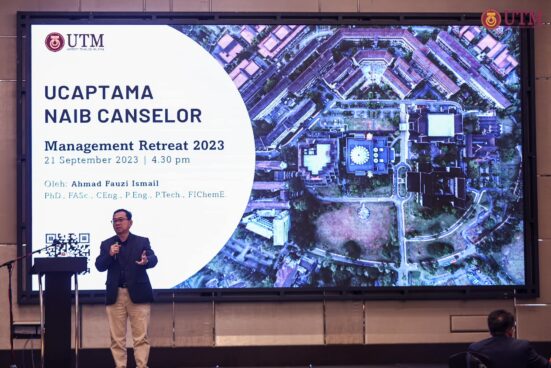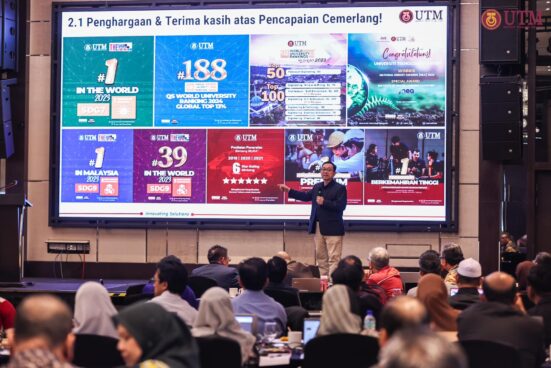 However, it was also acknowledged that the challenges facing higher education were evolving rapidly, and UTM needed to adapt to maintain its leadership position.
The changing landscape of higher education was a central theme throughout the retreat.
Prof. Fauzi addressed several critical factors, including the impact of Artificial Intelligence on education, innovative pedagogical approaches, the diverse needs of students across different generations, instilling Adab (good manners),  the global nature of higher education, and the importance of sustainability and environmental, social, and governance (ESG) considerations.
One key takeaway from the Vice-Chancellor's address was the need to strengthen UTM's scholarly excellence. In an era of constant change and innovation, maintaining high academic standards and fostering a culture of research and learning is paramount.
Moving forward, UTM is committed to excelling as an institution based on its enVision Moonshot Transformative Journey 2.0 for 2024. This vision encompasses five key themes that will guide UTM's strategic initiatives:
(1) Future-Oriented High-Quality Graduates: UTM aims to produce well-prepared graduates for the challenges of the future through research-led teaching, equipping them with the skills, knowledge, and adaptability needed in a rapidly evolving world.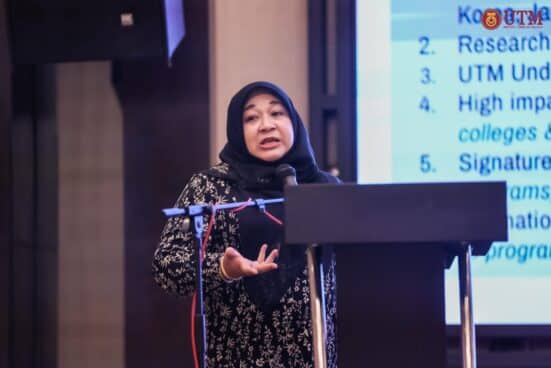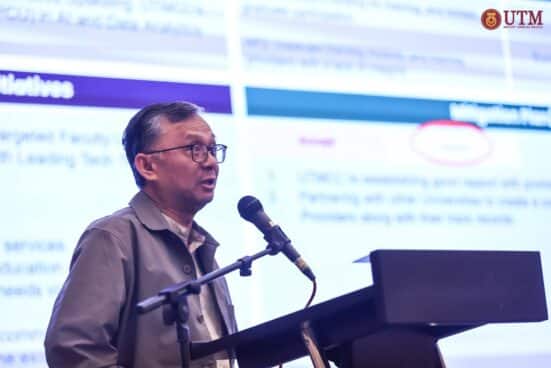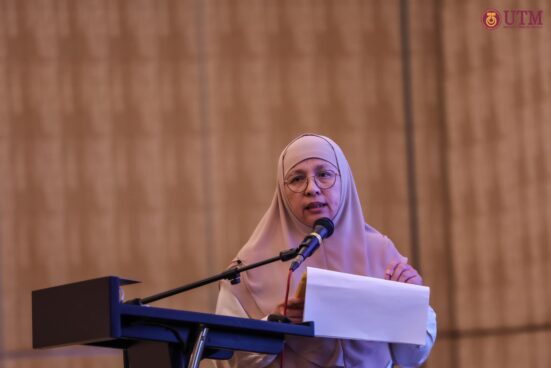 (2) Research Impact: UTM will continue to prioritize research that makes a tangible difference in various fields and stakeholders, contributing to advancing knowledge and addressing pressing national and global issues.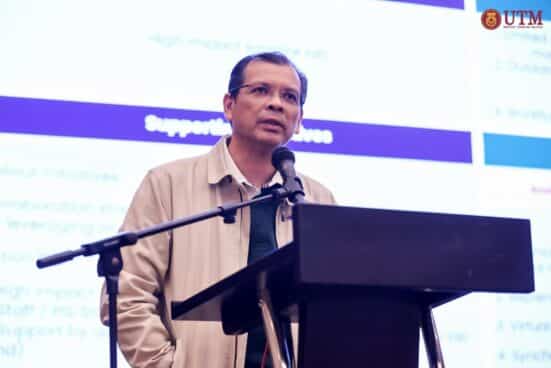 (3) Sustainability: Recognizing the importance of environmental and social responsibility, UTM is committed to sustainable practices and education, instilling these values in its students and community.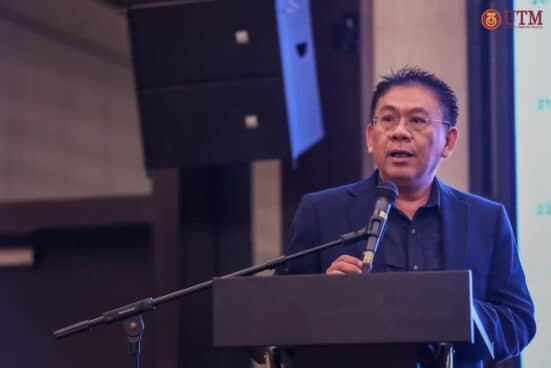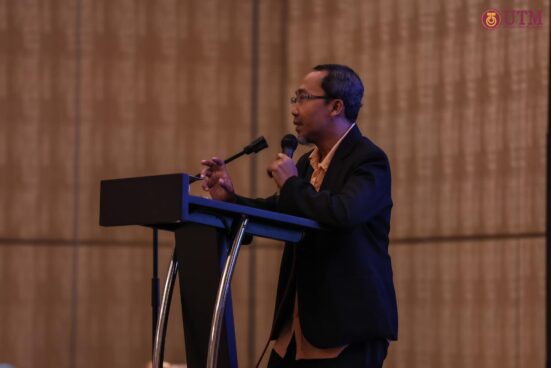 (4) Digital Transformation: Embracing the digital age, UTM will harness technology to enhance teaching, research, and administrative processes, ensuring it remains at the forefront of innovation.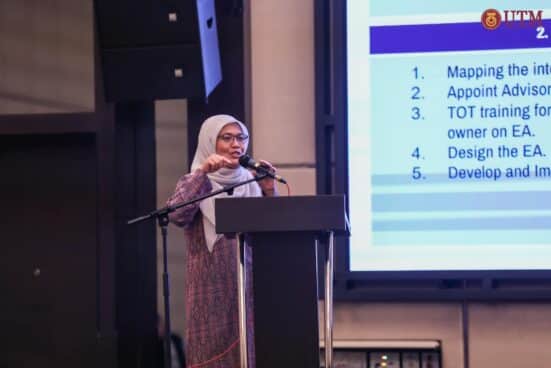 (5) Global Eminence: UTM aspires to be a globally recognized institution known for its contributions to education, research, and positive societal impact.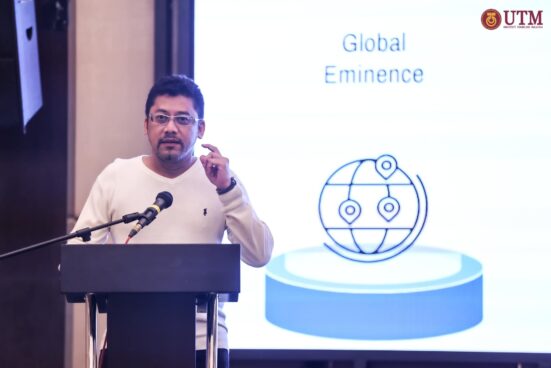 The retreat's primary focus was developing a comprehensive action plan to achieve Key High-Impact Results and Key Results in support of the enVision UTM 2025 Strategic Plan. This plan will serve as the roadmap for UTM to realize its ambitious goals and continue its journey of excellence. The action plan will be presented to the university's Board of Directors scheduled for December 2023 and will be held under the guidance of the esteemed Tan Sri Azman Mokhtar, who serves as the Chairman of UTM's Board of Directors.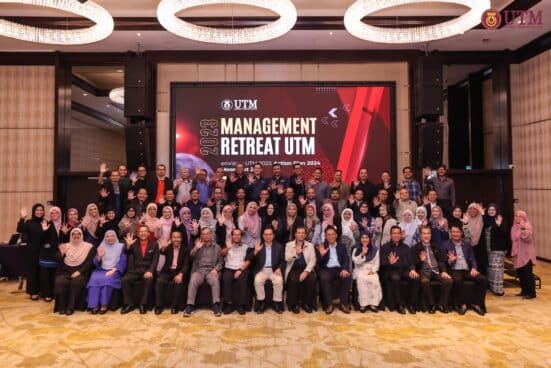 As the retreat concluded, it was evident that UTM was not merely reacting to change but actively shaping the future of higher education. The commitment of UTM's senior officials to embrace innovation, adapt to evolving challenges, and strive for excellence will undoubtedly propel the institution to new heights. The UTM Management Retreat 2023 has set the stage for an exciting and transformative journey that promises to benefit not only the university but also the broader community and society.
UTM, Innovating Solutions | In the Name of God for mankind