In an exciting development for the world of scientific research, Universiti Teknologi Malaysia (UTM) and Nagoya Institute of Technology (NITech), Japan, have joined forces to advance cutting-edge research initiatives. This collaboration promises to propel groundbreaking projects that hold the potential to revolutionize sustainable energy production and environmental conservation.
SATREPS-POME 2023: A Pathbreaking Research Endeavor
Under the banner of SATREPS-POME 2023, UTM and NITech, Japan are embarking on a transformative research journey. Launched on July 12th, 2023, this research project seeks to revolutionize the treatment of palm oil mill effluent (POME), aligning with the global push for sustainable energy and resource management. The collaboration extends its reach beyond academic boundaries by integrating the expertise of various stakeholders, including TNB Research Sdn Bhd (TNBR), Malaysia Palm Oil Board (MPOB), and the National Water Research Institute of Malaysia (NAHRIM).
The core objective of SATREPS-POME 2023 is to engineer an advanced POME treatment system that leverages material innovation to yield sustainable energy and recover valuable resources. At its heart, the project combines diverse technologies, including the biogas production and upgrading, microbial fuel cell (MFC) system, water reclamation processes, nutrients and resources recovery techniques and other pioneering initiatives. Researchers aim to develop integrated, eco-friendly solutions to the POME challenge, offering effective wastewater treatment and harnessing the energy potential and resource recovery capacity inherent in this complex waste stream.
In a pivotal exchange of ideas and expertise, UTM's research team has been cordially invited to explore Nagoya City, Japan's innovative wastewater treatment system. This system represents a beacon of hope in the quest for sustainable environmental solutions, supported by the groundbreaking microbial fuel cell system. Such international collaboration promises to cross-pollinate ideas and approaches, enriching the SATREPS-POME 2023 project's depth and breadth.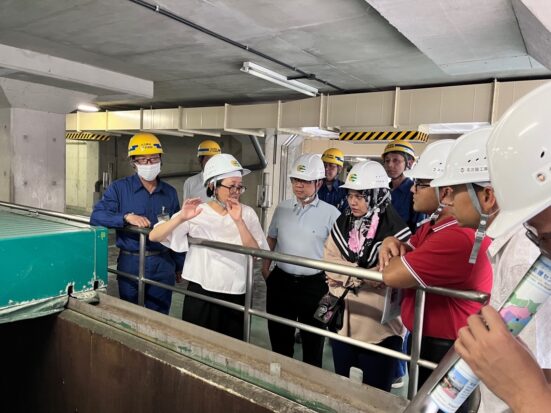 Furthermore, Kulim Bhd and FGV's generous offer of a palm oil mills area for research in the Johor region of Malaysia demonstrates the industry's commitment to sustainable practices. This contribution facilitates research and underscores the relevance and significance of the SATREPS-POME 2023 project for the palm oil industry and its environmental impact. The involvement of researchers from Universiti Putra Malaysia (UPM), Universiti Tun Hussein Onn Malaysia (UTHM) and Kyoto University further underscores the collaborative nature of this venture, bringing together the intellectual prowess of multiple institutions to tackle a pressing global challenge.
This groundbreaking research initiative enjoys significant backing from various stakeholders. The Ministry of Higher Education Malaysia (MOHE), the Japan International Cooperation Agency (JICA), and the Japan Science and Technology Agency (JST) are among the key supporters, providing a cumulative research fund of approximately RM 22 million. These substantial financial backings underscore the project's potential to drive meaningful change in sustainable energy production, environmental protection, and resource management. SATREPS-POME 2023 stands as a testament to the power of international collaboration and cutting-edge research in addressing the world's most pressing challenges.
A Confluence of Expertise: UTM and NITech Forge Academic Alliances
The collaboration between UTM and NITech, Japan, is not limited to the SATREPS-POME 2023 project. It represents a broader academic excellence convergence, fostering partnerships beyond geographical borders. The participants in this landmark collaboration include prominent figures from both institutions, highlighting the commitment and enthusiasm of academics, researchers, and leaders in advancing knowledge and driving progress.
From UTM, Prof. Datuk Ir. Dr. Ahmad Fauzi Ismail, Vice-Chancellor of UTM and also the Project Leader for the Malaysia side, led the delegation. His vision and leadership have been instrumental in nurturing this collaborative effort. Prof. Ts. Dr. Mohd Hafiz Dzarfan Othman, Chair of Research Alliance – Frontier Materials, brought his expertise to the table, enriching discussions with his insights. Assoc. Prof. Ts. Dr. Juhana Jaafar, Director of Advanced Membrane Technology Research Centre (AMTEC), along with Assoc. Prof. Dr. Mukhlis Abdul Rahman, Deputy Director of AMTEC, further strengthened UTM's representation. Dr. Mohd Zamri Mohd Yusop and Dr. Mohd Hafiz Puteh, both affiliated with AMTEC, contributed their research insights' to the collaborative effort.
On the NITech front, Prof. Dr. Kinoshita Takatoshi, President of the institute, led the charge, providing strategic directions and impetus for the collaboration. Prof. Dr. Obata Makoto, Executive Director for Educational Planning, and Information, added his administrative prowess to the mix. Prof. Dr. Ido Yasushi, Vice President for International Affairs and Promoting Internationalization, underscored the global perspective of NITech's engagement. Assoc. Prof. Dr. Yoshida Naoko, the Project Leader for the Japan side, hailing from the Department of Architecture, Civil Engineering, and Industrial Management Engineering, brought a multidisciplinary outlook to the partnership.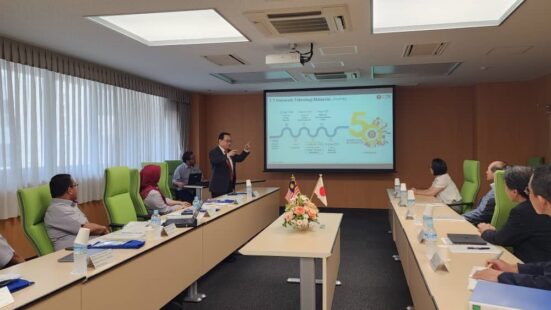 The administrative and logistical aspects of the collaboration were managed by a dedicated team from NITech's International Affairs Division, including Mr. Yamaguchi Hiroshi (Manager), Ms. Omura Yuki (Deputy Manager), Ms. Ando Mitsuko (Assistant Manager), and Mr. Owaki Satoshi (Chief). These individuals worked tirelessly behind the scenes to ensure that the collaboration between UTM and NITech operates seamlessly and effectively.
Capturing the Moment: A Commemorative Photo
As the collaboration between UTM and NITech, Japan gathers momentum, a sense of anticipation and excitement fills the air. To mark this significant occasion, participants from both institutions came together for a commemorative photo. This snapshot encapsulates the spirit of cooperation, innovation, and shared purpose that defines the partnership between UTM and NITech, Japan.
In the frame, distinguished academics, administrators, and researchers from UTM and NITech, Japan, stand shoulder to shoulder, symbolising their commitment to pushing the boundaries of knowledge and fostering solutions to global challenges. The smiles and camaraderie captured in the photograph serve as a visual testament to the power of collaboration and the potential for transformative and sustainable impact.
As UTM and NITech, Japan continues their collaborative journey, this commemorative photo stands as a reminder of the promise and potential that lie ahead. It is a snapshot of a shared vision for a better future—one where innovative research, sustainable solutions, and international cooperation converge to address the world's most pressing issues.
By Dr. Mohd Zamri Yusop, Advanced Membrane Technology Research Centre (AMTEC) UTM