The Global Technovation Hackathon (GTech 2023), themed "Harnessing Innovation to Combat Climate Change," concluded on August 30, 2023, marking a successful culmination of one of ATU-NET's signature events. The second ATU-NET Hackathon, held from August 27 to August 30, 2023, wrapped up as winners were exclusively announced following the final pitching session. The event featured 32 participants grouped into 8 teams, all converging at Universiti Teknologi Malaysia (UTM), Malaysia.
Participants hailed from five countries: Malaysia, Indonesia, Brunei, the Philippines, and Vietnam, representing a total of 10 institutions from across the Asian region, including three local institutions. GTech 2023 was conducted in a hybrid format, with teams formed as early as March 2023, comprising individuals from diverse fields, including ICT, Engineering, Management, and Business. These participants were well-prepared, having benefited from five preparatory webinars delivered by esteemed speakers, including three from UTM Malaysia, one from Universiti Teknologi Brunei, Brunei, and another from Universitas Sebelas Maret, Indonesia.
To ensure that all teams were adequately prepared, UTM provided them with experienced mentors prior to the final pitching session. Subsequently, after diligently finalizing their prototypes in the UTM Makerspace, the teams faced evaluation by a panel of invited judges, including Mr. Teh Kee Sin from the SME Association of South Johor, Mr. Ahmad Fairuz from the Malaysian Technology Development Corporation (MTDC), and Mr. Irsyad from Hollistics Lab Sdn Bhd. Each group had seven minutes to present their product, followed by a Q&A session with the judges. Notably, one group received a personal invitation from a judge to pitch their product to MTDC, opening up further opportunities for their project. Additionally, several groups were referred to specific stakeholders in the SME industries, providing them with valuable insights and potential opportunities immediately after their pitching sessions.
The excitement reached its peak during the announcement of the results. Following the prize-giving ceremony and closing remarks, participants enjoyed an excursion program to Yayasan Warisan Johor and a city tour of Johor before concluding the day's events. Heartfelt congratulations were extended to all the winners of GTech 2023. Beyond the accolades, the true value of this competition lay in the bonds forged among participants and mentors, as well as the enriching experiences gained throughout the event.
We express our sincere gratitude to our special collaborator in GTech 2023, UTMXcite, and our proud sponsors, Haikou Prosperity Education Consulting Limited and AlGufran Educational Consultancy, for their unwavering support. Without their commitment, the competition would not have achieved the level of success it did.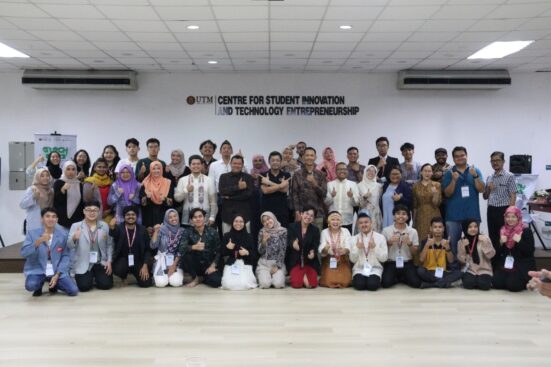 After hours of presentations from all the groups with their amazing product and ideas, the difficult decision has been made and the winner were announced as follows:
1st place: GreenGenius
Winning prize: USD 600
Group members:
Grace Angelica (Leader) – Universitas Sebelas Maret, Indonesia
John Dexter – Mindanao State University – Iligan Institute of Technology, Philippines
Jadel A. Dungog – Mindanao State University – Iligan Institute of Technology, Philippines
Ebrahim Abdullah – Universiti Teknologi Malaysia
Mentor: Dr Logais Indiran (UTM)
2nd place: Farmsense
Winning prize: USD 450
Group members:
Nguyen Minh Tien (Leader) – Phenikaa University, Vietnam
Akhmad Cahyadi – Universitas Sebelas Maret, Indonesia
Shaerfatwa Intannadwah – Universiti Malaysia Pahang Al – Sultan Abdullah, (UMPSA)
Zaidbren A. Macabato – Mindanao State University – Iligan Institute of Technology, Philippines
Mentor: Dr Umar Haiyat (UTM)
3rd place: EnerGauge
Winning prize: USD 300
Maxvallecia Frikandy (Leader) – Universitas Sebelas Maret, Indonesia
Gabriel Gan Yi Shane – Universiti Teknologi Malaysia
Laurence Troy – Mindanao State University – Iligan Institute of Technology, Philippines
Sudersen – Universiti Malaysia Terengganu, Malaysia
Mentor: Dr Logais Indiran (UTM)
Best presenter with the winning prize USD 250 is won by :
Mrs Shaerfatwa Intannadwah – Universiti Malaysia Pahang Al – Sultan Abdullah, (UMPSA)