The Faculty of Computing at Universiti Teknologi Malaysia celebrated a major accomplishment as two of its teams emerged as champions in highly competitive national-level competitions organized by Universiti Teknologi Petronas (UTP).
ESTECH'2023 is a biennial event that provides a central platform for student chapters to organize competitions concurrently. This platform enhances the visibility and community presence of student chapters while facilitating connections and engagement with various stakeholders, including the general public, professionals, educators, and students.
The main objective of this event is to improve the quality of graduates and provide them with vital interpersonal skills, thereby enhancing their chances of employment. The theme for ESTECH'2023 is "Innovation Towards Energy Sustainability and Smart Communities", which is carefully aligned with the domains of Sustainable Development Goals (SDGs). This reflects the fundamental values of the academic program.
The event was scheduled for over two days, August 23rd to 24th, 2023, and featured nine competitions. The Faculty of Computing participated with three teams in two competitions.
Competition 1: ElectreCup – Champions in Innovation for a Sustainable Future
At the ELECTRECUP event, participants were challenged to propose innovative ideas related to robotics and automation, focusing on creating a greener world for future generations. The FC team claimed the championship title with their winning idea, which was presented on a comprehensive poster. The idea not only impressed the judges but also highlighted the team's strong commitment to environmental sustainability.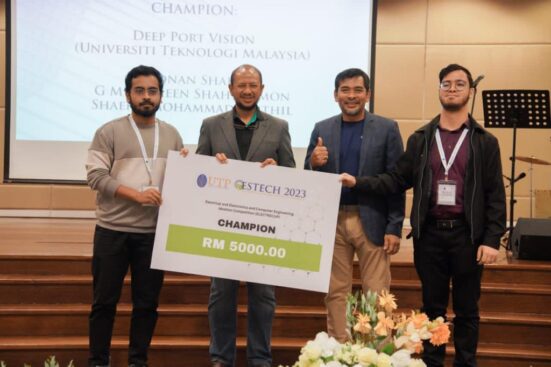 Meet the Champions:
Adnan Shafi (Faculty of Computing)
G M Shaheen Shah Shimon (Faculty of Computing)
Shaekh Mohammad Shithil (Faculty of Mechanical Engineering)
Al Mominul Haque Badhan (Faculty of Electrical Engineering)
Advisor: Prof Ir Ts Dr Ahmad 'Athif bin Mohd Faudzi
Their exceptional performance earned them a well-deserved cash prize of RM5,000, highlighting their dedication and innovative spirit.
Competition 2: Coding King – Excellence in Problem-Solving and Coding Skills
During the Coding King competition, several students had the opportunity to display their coding skills, problem-solving abilities, and teamwork. Among the participants, FC students managed to secure an impressive position. One of the teams even emerged as the FIRST RUNNER-UP, demonstrating their excellent programming skills.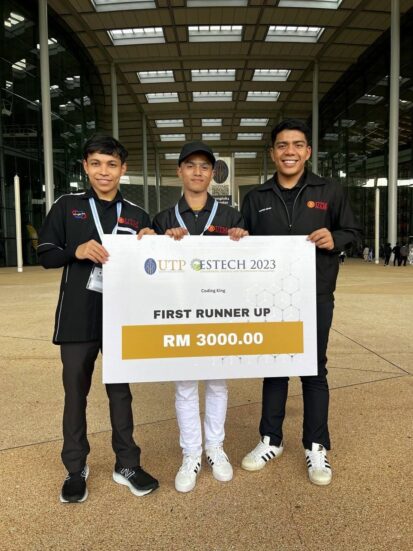 The Coding Kings:
Muhammad Khairul Azhar Bin Abdul Kahar
Megat Irfan Zackry Bin Ismail
Mohamad Shazmi Ariff Bin Mohamad Adzmi
Advisor: Dr. Suhaila Mohamad Yusuf
The FC team earned RM3,000 for their achievement in a fiercely contested arena, highlighting their dedication to honing their technical skills. Another FC team secured 4th place, showcasing the breadth of talent at FC.
The 4th Place Team:
GM Shaheen Shah Shimon
Mohammad Shafayet Hossain
Irtisum Musharrat Rahman
Advisor: Dr. Nies Hui Wen Mentor: Adnan Shafi
Our FC students have accomplished great things, showcasing their exceptional skills and talents. This is a testament to the high-quality guidance provided by our dedicated faculty members. At the Faculty of Computing, we take pride in leading the way in fostering innovation, technical excellence, and a commitment to a sustainable future.