At the beginning of this year, I introduced four enVision Moonshot Transformative Journey 2023 initiatives as dynamic catalysts to bring the enVision UTM Strategic Plan 2025 to fruition. Notably, among these endeavours is our aspiration to attain global prominence as a distinguished, technology-driven research university.
From 2022 onward, our focus has been firmly set on strengthening regional collaborations. This strategic approach capitalises on our geographical advantages, enabling us to cultivate impactful and enduring global partnerships.
Hence, it is with great enthusiasm that I reflect upon my recent working visit to China, where I had the privilege of engaging with esteemed counterparts from Linyi University (LYU), Henan University of Science & Technology (HAUST), and Zhejiang University (ZJU). This journey has reaffirmed the importance of leveraging our educational and research offerings at Universiti Teknologi Malaysia (UTM), particularly in engineering, science, technology, and social sciences.
One remarkable aspect that surfaced during my visit was the substantial number of Chinese students who chose UTM for their tertiary education, particularly at the postgraduate level. The steady growth of Chinese students within our community underscores our university's reputation as a global hub for academic excellence and innovation. Moreover, it was heartening to note that UTM has cultivated close to a thousand Chinese alums who hold the potential to act as vital bridges between our institution and various Chinese establishments.
I am also delighted to announce a significant milestone achieved during this visit – initiating collaborations between UTM and Linyi University. The signing of the Memorandum of Agreement (MoA) for the Sino Foreign Cooperatively-run Undergraduate Educational Project and a Letter of Cooperation (LoC) demonstrates our mutual commitment to fostering academic and research undertakings. I extend my sincere gratitude to Prof. Zhang Shusheng, President of Linyi University, and the LYU management team, as well as to Prof. Dr Rahmat Mohsin, Dean of UTM's Faculty of Chemical and Energy Engineering, Prof. Dr  Lee Chew Tin, UTM-LYU Program Coordinator, and their dedicated teams.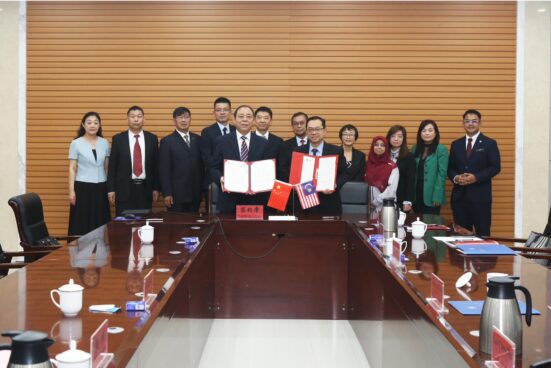 UTM & Henan University of Science & Technology (HAUST), a comprehensive university based in Luoyang, China.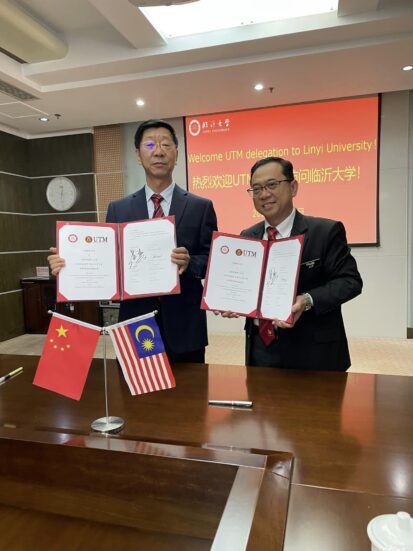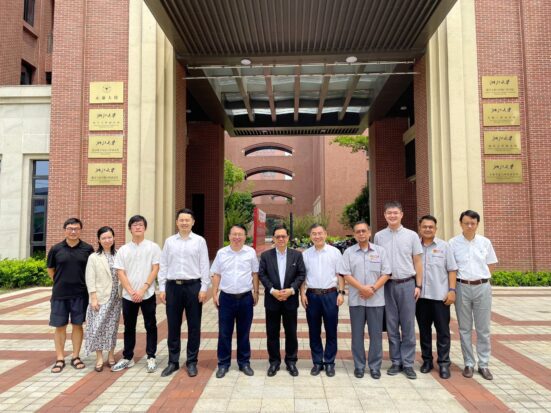 UTM & Zhejiang University
Furthermore, the UTM Global Practical Partnership program with Henan University of Science & Technology (HAUST) symbolises our dedication to enhancing international understanding. By collaborating with HAUST, we aim to advance overseas Undergraduate Special Programme initiatives, Satellite Lab Research Collaborations, and student-staff exchange programs. These partnerships mirror our ongoing commitment to providing world-class education and experiences to our students.
During my engagement with Zhejiang University, a leading research institution in China, ranking 3rd in China and 44th in the World for QS World University Ranking, I was honoured to share insights on membrane technology and sustainable approaches in environmental, energy, and healthcare applications. This exchange of expertise signifies the impact of two institutions with complementary strengths coming together.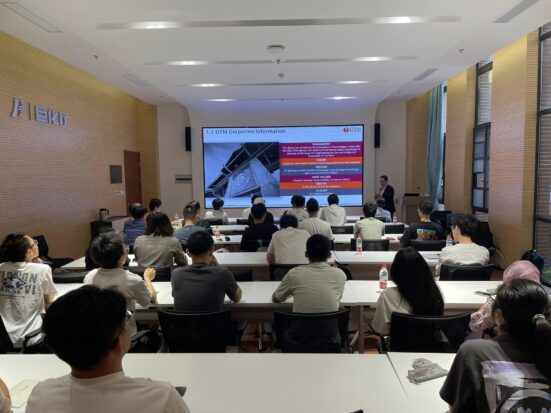 Delivering a lecture on membrane technology at  Zhejiang University
I believe we could do more to leverage our niche and research expertise to collaborate with institutions in China through the current 50 partnerships we have forged with our Chinese counterparts.
As we move forward, I am optimistic about the prospects of our partnerships with these esteemed Chinese universities. These endeavours hold the potential to not only elevate the academic and research landscapes of our institutions but also contribute to broader advancements in global knowledge and understanding.
In closing, I express my heartfelt appreciation to all who facilitated this successful journey, including the faculty, staff, and leadership of the universities I visited. Together, we are forging paths of academic excellence, innovation, and mutual growth that transcend geographical boundaries. Insya-Allah.
UTM, Innovating Solutions | In the name of God for mankind
Prof. Datuk Ir Ts Dr Ahmad Fauzi Ismail
Vice-Chancellor