Johor Bahru, August 10, 2023: Commencing 23 July 2023 until 10 August 2023, a total of 55 Year 2 Bachelor of Science (Geoinformatics) students participated in the GIS Training Camp 1 (KLGIS1) course organized in several locations around Johor Bahru, Nusajaya and Pontian.
As an annual event, KLGSI1 aims to improve students' understanding and skills in geospatial data collection and GIS database development. It is also intended to improve communication and team spirit among students. This year's KLGIS1 was headed by Sr Ts Dr Mohd Faisal bin Abdul Khanan and Sr Dr Abd Wahid bin Rasib as joint coordinators.
For the first time, the Program of Geoinformatics has collaborated with Sireh Park, Nusajaya, the largest urban park in Malaysia, allowing the geospatial data collection module to be conducted there, providing the first-hand experience of handling real projects to students.
This is a follow-up to previous research collaborations, further increasing UTM's research ecosystem and visibility.
During the first week of the data collection module, students are required to undergo the conventional method of using total station while also using the latest technology of Unmanned Aerial Vehicle (UAV) drones.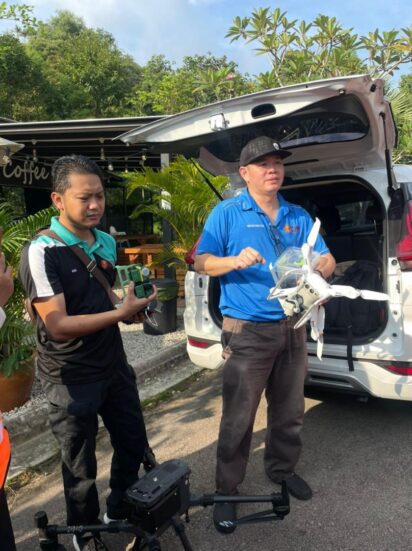 The rest of KLGIS1 was held on the UTM campus, which involved the geospatial database development module covering the topics of database design, visualization and spatial analysis.
Finally, KLGIS1 was concluded with a final presentation session where the ten groups were required to highlight the output of the developed geospatial database and various maps as products of spatial analysis.
Students were evaluated by a group of panel consisting of the Management Lead of Sireh Park, Mr. Faisal Mohd Nor, together with Prof. Dr. Anuar Ahmad, Prof. Dr Zulkepli Majid and Sr Dr. Abd Wahid Bin Rasib from the Faculty of Built Environment and Surveying (FABU).
In his concluding speech, Mr Faisal stressed the importance of having external engagement to ensure any geospatial application will be fully used by the client.
On top of the data collection and database development modules, students were also involved in the academic visit session involving Majlis Bandaraya Iskandar Puteri (MBIP), a recipient of ESRI's Special Achievement Award and Taman Negara Tanjung Piai.
The student's delegation was welcomed by the Divisional Head of Development Plan and GIS,  TPr Chew Lee Ting, UTM alumni, who also delivered a speech highlighting the importance of the geospatial approach in planning.
Altogether, the aims of KLGIS1 was successfully achieved. Students developed various analyses and maps for Sireh Park during the final presentation.
This was made possible via the improved communication and team spirit of all students.