In honor of a decade's worth of achievements spanning 2013 to 2022, the International Medical University (IMU) took great pride in hosting the International IIInovasi Competition 2022. Held from November 14th to 17th, 2022, at the IMU campus in Bukit Jalil, Kuala Lumpur, Malaysia, the event was themed "Humanizing Technology via Education."
Running in parallel with the International Learning Resources Festival 2022 (ILRF 2022), the International IIInovasi Competition was a platform that placed a spotlight on innovation, creativity, and profound insights related to technology-enhanced learning. This platform was open to students, educators, and corporate personnel from higher education institutions. The competition offered a way for these different groups to explore and share new ideas, unique viewpoints, successful methods, challenges, upcoming trends, and advancements in the field of education, all viewed through the perspective of creating innovative products.
Originally initiated as an online contest, the competition required each participating team to submit their respective video presentations to the organizers. Dr Nurul Aini Jaafar represented our team from the Department of Mathematical Sciences, Faculty of Science, Universiti Teknologi Malaysia (UTM), who presented the project 'Liveworksheets Hyperbolic Brain Puzzle.' This inventive project drew inspiration from the concepts introduced in the Mathematical Methods 1 course. The video presentation of the project is accessible through the provided link: https://www.youtube.com/watch?v=A5Pu2UqXpmA.
Fortunately, among 186 groups ranging from schools to universities, 20 finalists were selected for the final round of the International IIInovasi Competition 2022 at IMU on November 16th–17th, 2022. The judging occurred on November 16th, and the prize ceremony on November 17th, 2022. Our team was among the top 10% finalists and received the gold medal.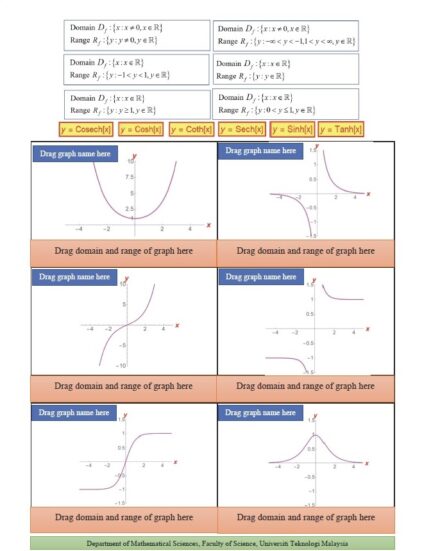 The interactive worksheets integrated into the Liveworksheets platform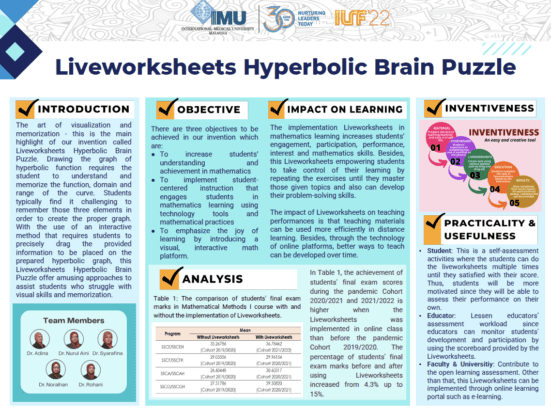 The 'Liveworksheets Hyperbolic Brain Puzzle' poster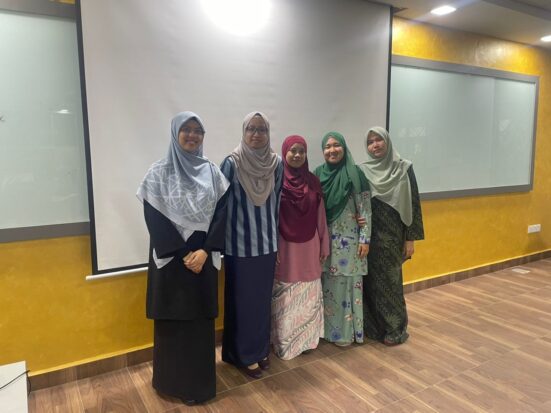 The team leader, Dr Nurul Aini Jaafar and team members (from left: Dr Siti Rohani Mohd Nor, Dr Noraihan Afiqah Rawi, Dr Nurul Aini Jaafar, Dr Adina Najwa Kamarudin and Dr Nur Syarafina Mohamed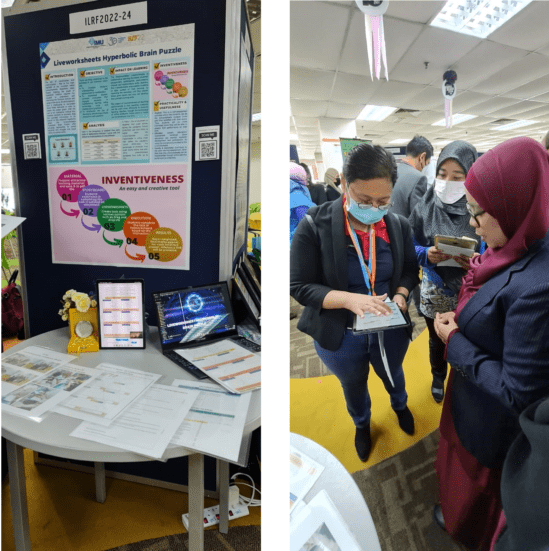 The prepared booth for physical judging on 16th November 2022
We were blessed to have been selected as finalists for the event and even more fortunate to secure the gold award. This medal is a testament to the dedication and effort put in by everyone involved. This gold medal stands as a tribute to the persistent efforts and unwavering commitment of all those involved. As rightly pointed out by Margaret Mead, "Never doubt that a small group of thoughtful, committed citizens can change the world; indeed, it's the only thing that ever has".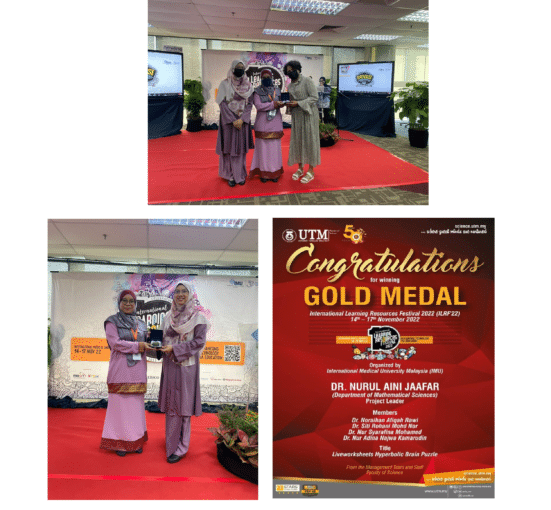 The gold medal was awarded to the team represented by Dr Nurul Aini Jaafar.
Prepared by: Dr. Nurul Aini Jaafar, Dr. Siti Rohani Mohd Nor, Dr. Noraihan Afiqah Rawi, Dr. Nur Syarafina Mohamed, Dr. Adina Najwa Kamarudin