JOHOR BAHRU, 8 July 2023 – In the realm of academia, a PhD thesis represents years of meticulous research involving exhaustive literature reviews and diverse methodologies aimed at achieving the study's objective. Yet, can the essence of such extensive work be effectively communicated in a mere three minutes?
Demonstrating the power of concise and compelling presentations, Ts. Siti Fadilla Md Noor, a research officer who is currently pursuing her PhD studies at the Faculty of Chemical and Energy Engineering, has not only proven that it is indeed possible but has emerged victorious under the Engineering and Technology Category in the highly competitive national Three Minute Thesis (3MT) competition organized by Universiti Teknologi MARA and Universiti Kebangsaan Malaysia recently.
The Three Minute Thesis Competition, also known as 3MT, is an annual event held in over 200 universities worldwide. Open to PhD students, it challenges participants to present their research within a strict 180-second timeframe, making it accessible to an intelligent audience without prior knowledge of the subject.
This competition enhances presentation, research, and academic communication skills, fostering the ability of research students to explain their work effectively. Originating at the University of Queensland (UQ) in 2008, it has since expanded to include universities across Australia, the Asia-Pacific region, and beyond.
The research
Plastic pollution continues to be a pressing environmental concern, with microplastics gaining significant attention in recent years. While many individuals are aware of the issue, the harmful effects of microplastics are not widely understood and due to this, Ts. Siti Fadilla chose to embark on a study to search for a potential solution to this pressing problem with a PhD project titled MagZo: Rapid Degrader of the 'Tiny' Water Pollutant.
"The project revolves around the development of a revolutionary light-activated material called MaGZO, designed specifically to combat plastic pollution, particularly microplastics, as a water pollutant. It is aimed to raise awareness about the harmful effects of microplastics and introduce an innovative approach to tackle this environmental challenge."
"MaGZO, when illuminated, releases reactive species that target microplastics at the molecular level. These reactive species effectively break down microplastics, resulting in the formation of less harmful compounds such as carbon dioxide and water. By utilizing light energy, MaGZO facilitates the decomposition of microplastics, helping to mitigate their impact on aquatic ecosystems", explained Ts. Siti Fadilla.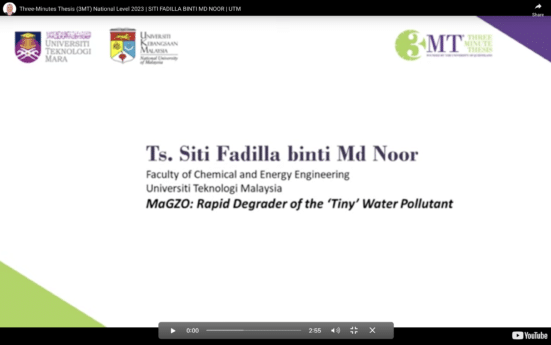 Preparation for 3MT
To communicate the complex scientific concepts behind the project in a concise and accessible manner, she had to prepare a script and a single-slide presentation according to the competition guidelines required by participants to convey their research within a strict time limit and with minimal visual aids.
To overcome this challenge, Ts. Siti Fadilla utilized analogies and relatable examples to help the audience understand the concepts of microplastics and MaGZO. By comparing the size of microplastics to a grain of rice and likening MaGZO to a powerful weapon that demolishes plastic molecules, she made the topic more comprehensible to individuals from diverse backgrounds.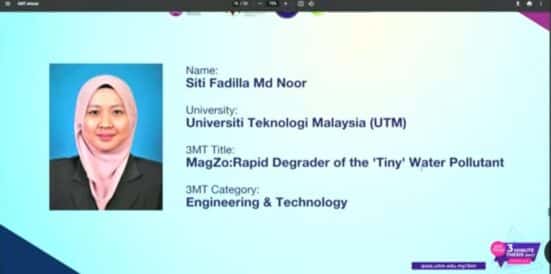 Support system and encouragement
Ts. Siti Fadilla stresses that she is fortunate to have the support and encouragement from various parties in UTM especially from her PhD  main supervisor, Associate Professor Ir Dr Norzita Ngadi and co-supervisor Associate  Professor  Ts. Chm. Dr. Nik Ahmad Nizam Nik Malek.
"UTM played a crucial role in supporting my preparation for the competition. The Center for Teaching and Learning Development (CTLD) and the Office of the Deputy Vice-Chancellor for Research and Innovation (DVCRI) have granted my full-time study leave application to pursue my PhD, enabling me to participate in the 3MT competition."
Additionally, the School of Graduate Studies (SPS UTM), led by Dr Norah Md Noor, played a pivotal role in organizing the 3MT UTM event in May 2023 and provided invaluable support throughout the submission process for the national-level competition.
"I had mentors from various disciplines, including Dr. Nor Ain Husein from the Faculty of Science, Ir. Ts. Dr. Nor Hasrul Akhmal Ngadimin  from the Faculty of Mechanical Engineering, and Dr. Syed Muhammad Rafy Syed Jaafar  from the Faculty of Built Environment, who provided valuable feedbacks and guidance during coaching sessions organized by the School of Graduate Studies (SGS UTM). Their constructive comments and expertise helped refine my script and presentation skills."
Ts. Siti Fadilla also expressed gratitude for the assistance from UTM staff members, including Ts. Chm. Dr Nor Suriani Sani, a former 3MT champion at the UTM level, who provided valuable tips for the  slide preparation and script development. The researcher's script was also proofread by Mr. Shahrel Ahmad Shuhel Ahmad, another UTM staff member, further enhancing the quality of the submission.
Hope for a sustainable future
As the world grapples with the devastating impacts of plastic pollution, the study currently embarked on by Ts. Siti Fadilla provides hope for a sustainable future. By developing innovative materials such as MaGZO, her research is paving the way for practical solutions to combat microplastic pollution. With continued support and collaboration, these breakthroughs are expected to contribute significantly to preserving our fragile ecosystems and the well-being of future generations.
With this win, Ts. Siti Fadilla will represent Malaysia 2023 in the Virtual Asia-Pacific 3MT organized by the University of Queensland, Australia, on 18th October 2023.