KUALA LUMPUR – The MJIIT Environmental and Disaster Management Program Open Day was held at Dewan Azman Hashim, Universiti Teknologi Malaysia (UTM) Kuala Lumpur, on 13th June 2023. The open day was officiated by YBhg. Datuk Khairul Shahril Idrus, Director General of the National Disaster Management Agency (NADMA), Prime Minister's Department. The open day was also attended by YBrs. Prof Ts. Dr. Abd Latif Saleh, Pro-Vice Chancellor of UTM Kuala Lumpur.
This open day aims to showcase the Master of Disaster Risk Management (MDRM), Master of Sustainable System (MMJS), and Master of Sustainable and Environmental Science (MMJJ) programs at MJIIT for prospective students and organizations seeking to strengthen their subject matter experts (SMEs).
In Disaster Risk Reduction initiatives, NADMA is well aware of the UTM effort due to active collaboration for the past five years and continuing until now with the Disaster Preparedness and Prevention Center (DPPC), Malaysia-Japan International Institute of Technology (MJIIT). Among the NADMA-DPPC, MJIIT collaborative projects that are being implemented are:
Post-Disaster Needs Assessment (PDNA) for the Development of Resilient Disaster Recovery Strategies in Pasir Mas, Kelantan

The Review of the Implementation of the Sendai Framework for Disaster Risk Reduction 2015-2030

Women and Children Empowerment Program in Disaster Risk Management 2030.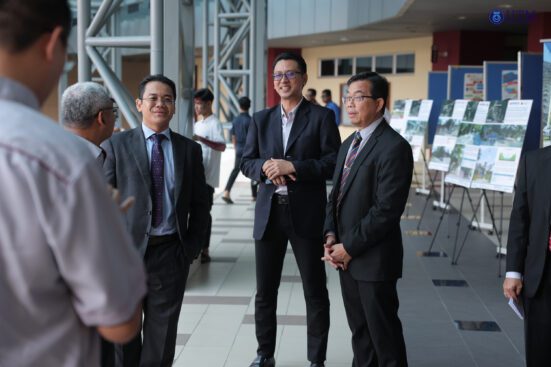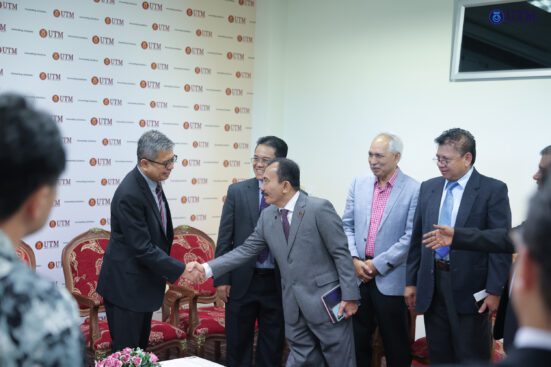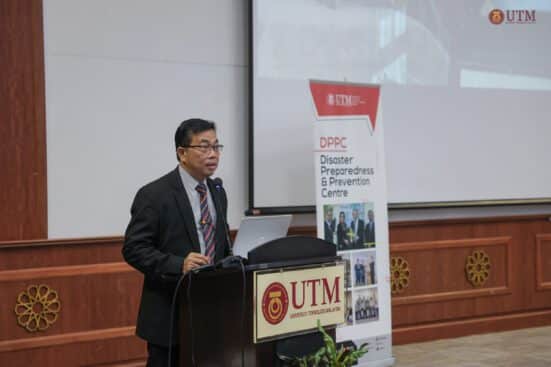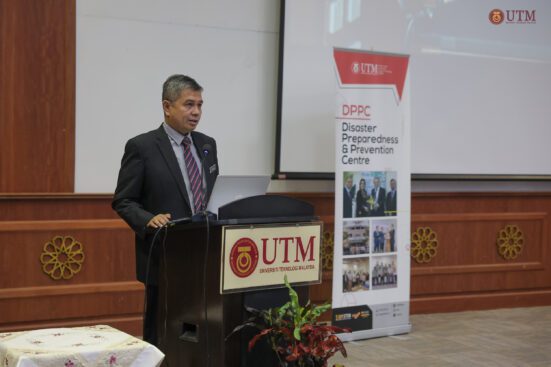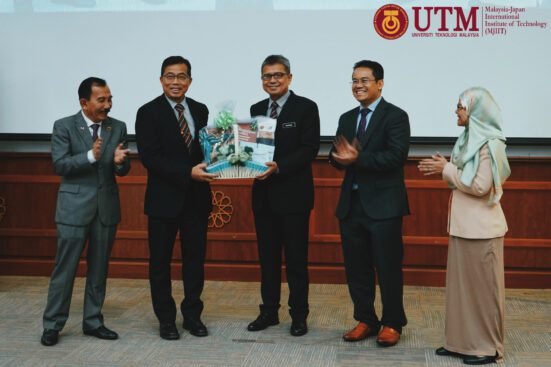 A talk and sharing session on various topics related to Environmental and Disaster Management was conducted by prominent speakers:
Keynote Speech 1: "Transdisciplinary Approach and the Role of Science and Technology for DRR" by Prof Dr. Kuniyoshi Takeuchi, Prof Emeritus of Yamanashi University and Founding Director of ICHARM.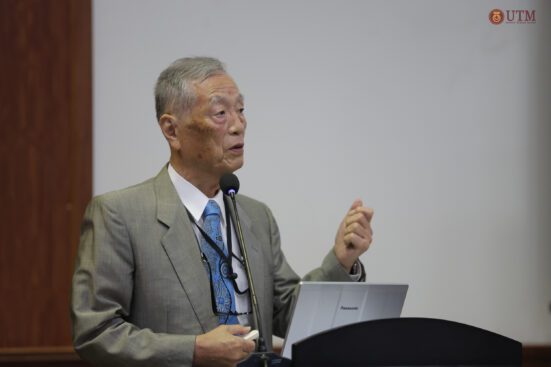 Keynote Speech 2: "Earthquake Disaster Risk Reduction Programs in Malaysia" by Prof Ir Dr. Azlan Adnan, Professor of Faculty of Civil Engineering, UTM Skudai Johor.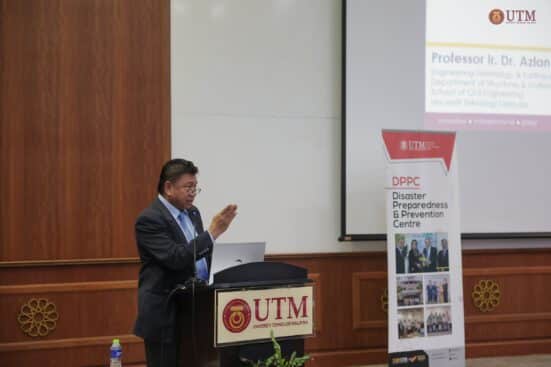 The Emergency Department of Hospital Selayang, under the guidance of the Head of the Department, Datuk Dr Mohamed Alwi Hj Abdul Rahman and an emergency physician, Dr. Hazlina Moh Noh, conducted a demonstration on Chemical Incident Response in collaboration with the HAZMAT team.
Scenario: A van carrying barrels of chemicals had an accident.
Action 1: The HAZMAT team conducted a scene size-up and set up their mobile decontamination area.
Action 2: The medical team set up their medical base in the Yellow Zone.
Action 3: The medical team sent the information to MECC, according to the pneumonic METHANE, which stands for Major incident, Exact location, Type of incident, Hazard, Access: ingress and egress, Number of casualties, EMS availability.
Action 4: The HAZMAT team extracted the patients from the Red Zone to the decontamination area.
For more details about the Demonstration Chemical Incident Response, kindly visit our social media:
https://www.instagram.com/dppcutm/, 
https://www.facebook.com/DPPCMJIIT
https://fb.watch/l7Whg8feNX/?mibextid=CDWPTG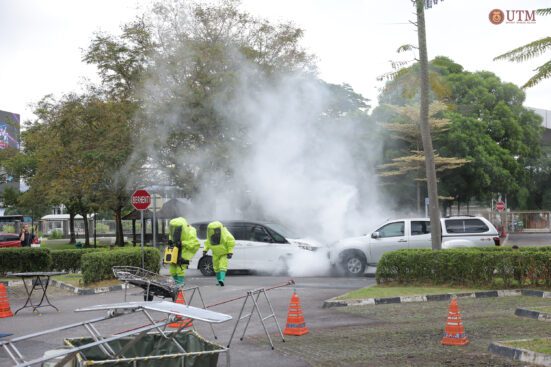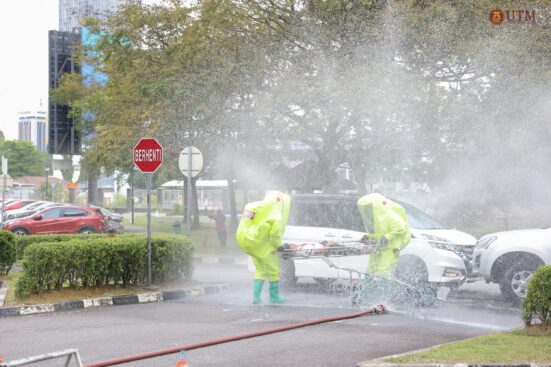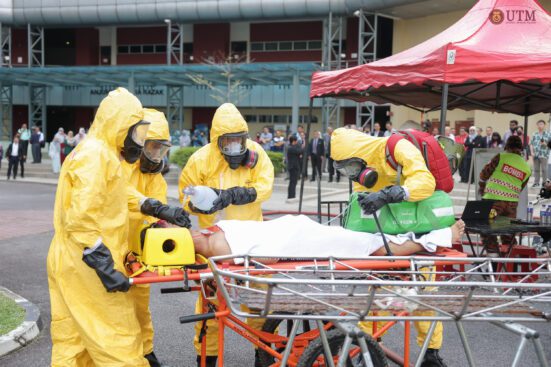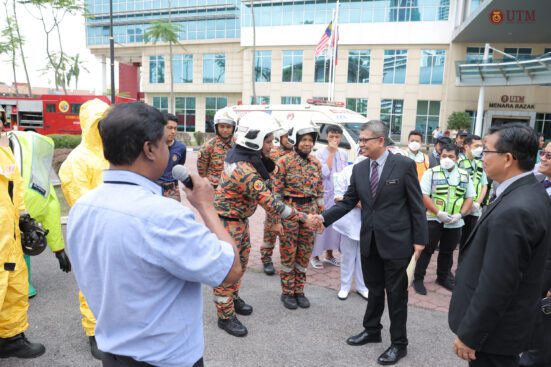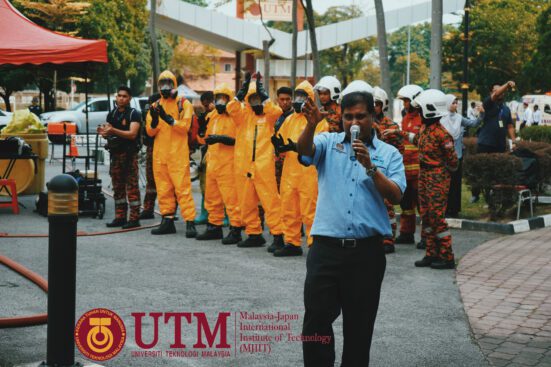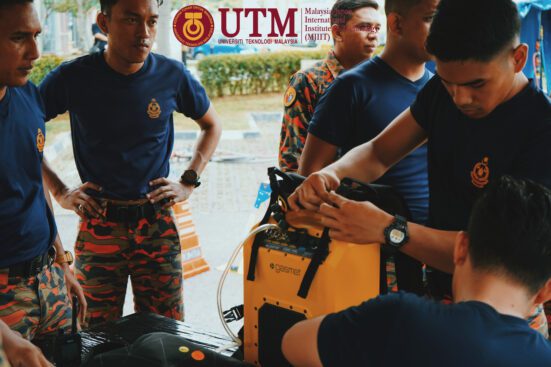 The open day continued with a sharing session with research centers in MJIIT to promote MJIIT's environmental and disaster research center.
Sharing Session: Co-Creation of Sustainability, Resilient and Zero Carbon Community, Malaysia-Japan Advanced Research Centre (MJARC), moderated by MJARC's Manager and two panelists from Hokkaido University and UTM Sustainable Campus.
Ts. Dr. Pramila a/p Tamunaidu (Manager MJARC), Prof Dr. Kazuei Ishii (Professor at Hokkaido University), Prof Ts. Dr. Mohd Fadhil bin Md Din (Director, UTM Sustainable Campus).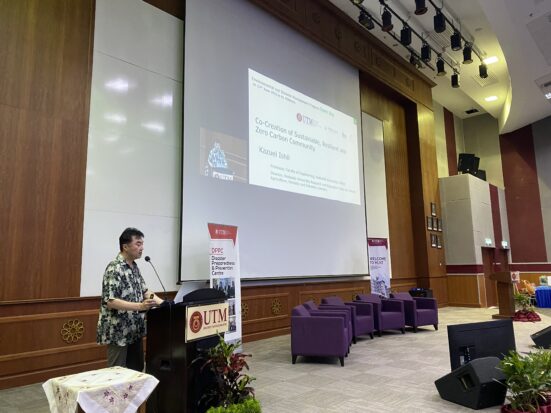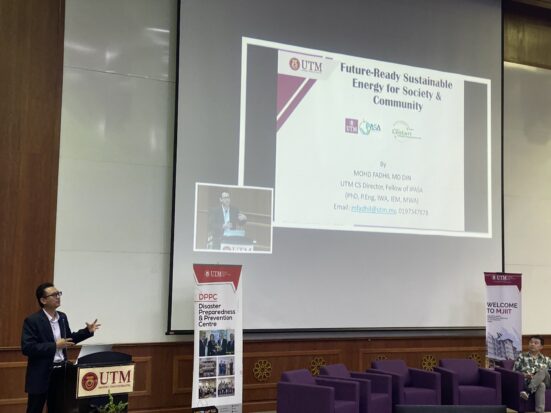 The next session was the introduction of the Disaster Preparedness and Prevention Center (DPPC) by Dr. Khamarrul Azahari Razak (Director of DPPC) to promote the MJIIT disaster research center. DPPC is working towards realigning its commitment and rejuvenating its strategies to the UNDRR Sendai Framework for Disaster Risk Reduction 2015-2030.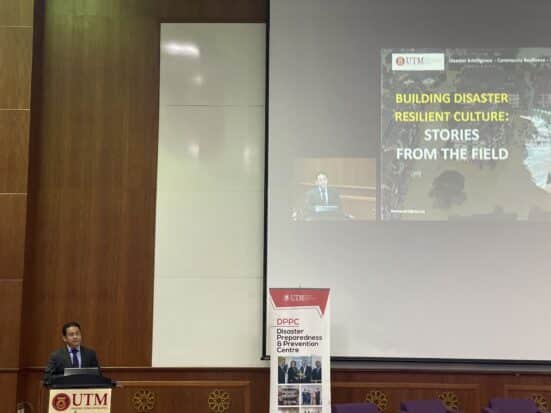 The next agenda was the sharing session on postgraduate programs offered by the Chemical and Environmental Engineering Department (ChEE) by Assoc. Prof Dr Azila bte Abd Aziz (Head of ChEE) and Master in Disaster Risk Management (MDRM) by Dr. Liew Wai Loan (Program Coordinator).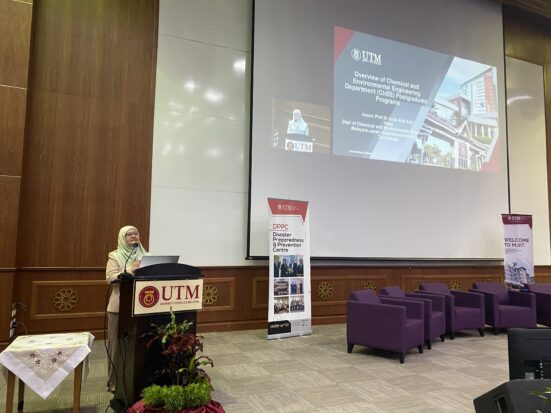 There was also a Meet and Greet Session to promote the Master of Disaster Risk Management (MDRM), Master of Sustainable Systems (MMJS) and Master of Environment and Sustainability Science (MMJJ). The session was moderated by Ts. Dr. Abd Halim bin Md Ali along with four alumni who shared their experiences during their studies. 
The alumni include Dr. Shahrul Nizam Ahmad Zamzali (Alumni MDRM), Ir Ts. Haslinda Mohamad Hamran (Alumni MDRM), Miss Barbara Siman Anak Dominic Demong (Alumni MMJS) and Mrs Ummu Alya Hashim (Alumni MMJJ).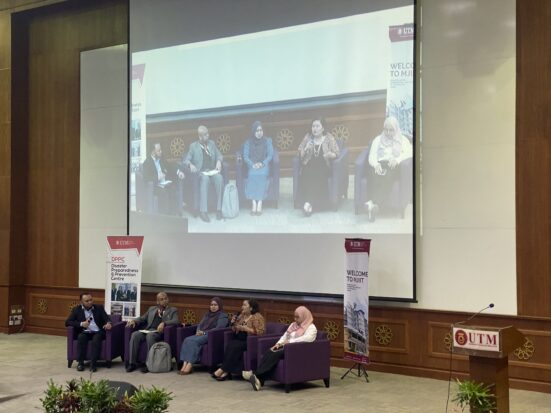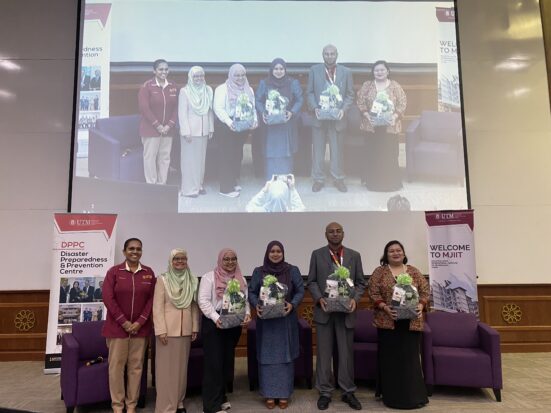 After the lunch break, two open MDRM lecture sessions were held: MDRM Open Lecture 1: Introduction to Chemical, Biological, Radical, Nuclear, and Explosive (CBRNE) by Datuk Dr. Mohamed Alwi Hj Abdul Rahman, Hospital Selayang, and MDRM Open Lecture 2: Healthcare in Emergency and Rehabilitation from Japan's Experience by Assoc. Prof Shinji Akitomi, Tokyo Hikifume Hospital, Japan.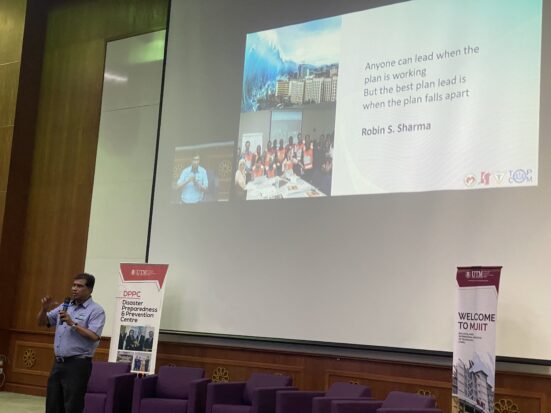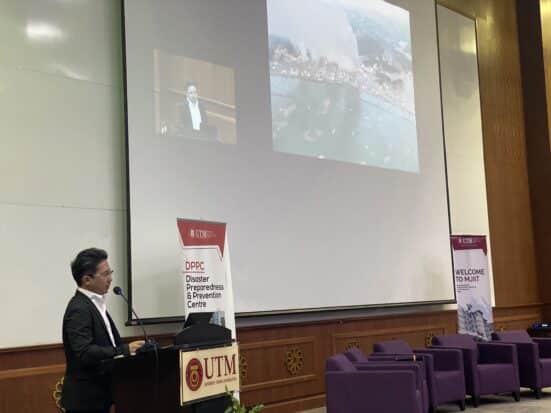 Next was the launching ceremony of the Environmental Resilience and Sustainability (ERS) Programme and iKohza, which will further reinforce MJIIT's efforts to provide the best Japanese-style engineering education and research in Malaysia to our students and partners. This launching ceremony was officiated by YB Ts. Zahir Hassan, Member of Parliament Wangsa Maju and an MDRM Program alumnus.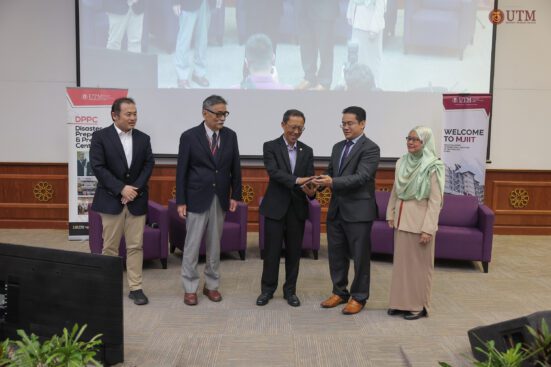 The closing ceremony was conducted by Prof Dr. Masafumi Goto, Deputy Dean of Liason & Internationalization and Head of ERS iKhoza. Prof Goto discussed the Disaster Risk Management (DRM) Subcommittee (soon to be re-branded as "ERS Subcommittee") of the Japan University Consortium (JUC) that has been supporting MJIIT in facilitating educational and research activities with Japanese partners. Indeed, our partnership and the learnings from Japan have made MJIIT's programs unique and effective.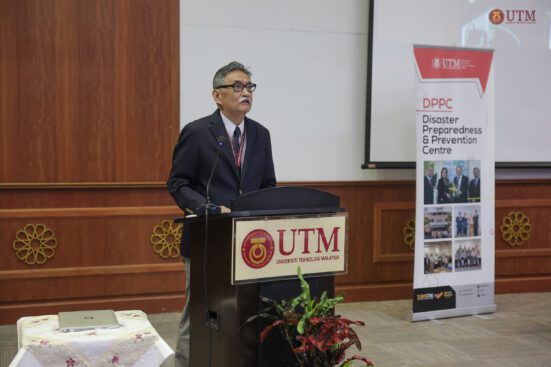 Credit video of the program by UTM Office of Strategy & Corporate Affairs (OSCA), UTM Kuala Lumpur: https://www.facebook.com/watch/?v=1011553270215566