Professor Fahrul Zaman Huyop, a renowned researcher and former recipient of the Tubitak Research grant, has been invited by the Biology Department at the Faculty of Mathematics and Natural Sciences (FMIPA) of the University Brawijaya for a Joint Research Supervision Program. The program aims to facilitate the supervision of an international research student, Mr Mohammed Bosha, from Sudan at Brawijaya University.
The supervisory committee, Professor Fahrul Huyop, will employ his expertise in metagenomic studies to investigate the important properties of microbes in the Lapindo area of Surabaya, Indonesia, along with Dr Barlah Rumhayati from the Chemistry Department and Dr Irfan Mustafa from the Biology Department. This research project draws inspiration from Professor Fahrul's previous work on archaeic bacteria in the high salt Lake Tuz, conducted during his sabbatical leave at Ondokuz Mayis University in Samsun, Turkey, in collaboration with Dr Yilmaz Kaya.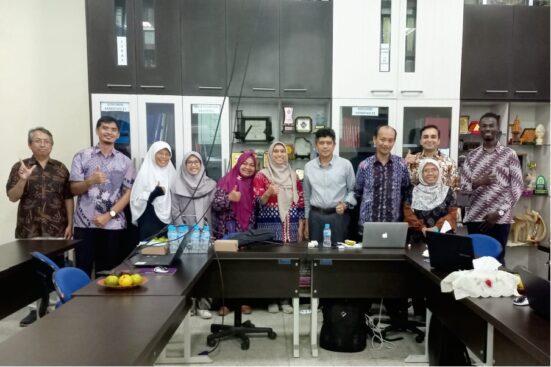 The Lapindo area is home to the Sidoarjo mud flow, also known as Lumpur Lapindo, which originated from an erupting mud volcano in the subdistrict of Porong, Sidoarjo, in East Java, Indonesia. The mud volcano has been active since May 2006 and is considered the largest of its kind worldwide.
Professor Fahrul recently visited the Biology Department at FMIPA Brawijaya University to share his expertise and experiences as a former Deputy Dean of Academic at Universiti Teknologi Malaysia (UTM). During his visit, he discussed the creation of new postgraduate programs, specifically Master of Science by Research (S2) and PhD by Research (S3), at the Biology Department in FMIPA Brawijaya University. These collaborative initiatives will help establish a future Memorandum of Understanding (MoU) between UTM and Brawijaya University. The joint research supervision program and exchange of knowledge and expertise between Professor Fahrul Zaman Huyop and University Brawijaya researchers are expected to contribute to a better understanding of the microbial ecosystem in the Lapindo area while fostering continued collaboration between the two institutions.
Prepared by:
Professor Fahrul Zaman Huyop
Dr Siti Pauliena Mohd Bohari