Johor Bahru, 2 June 2023 –  Universiti Teknologi Malaysia (UTM) has recently launched its new tagline, "Innovating Solutions," reflecting its commitment to providing significant and meaningful impact to the community and the general public through its academic and research programs.
To measure its effectiveness in creating these impacts, UTM has adopted the Times Higher Education (THE) Impact Rankings, which evaluates universities worldwide based on their contributions to the United Nations' Sustainable Development Goals (SDGs). As a university that values sustainability, UTM has integrated sustainable practices into its core activities, including teaching, research, and community engagement.
In the latest edition of THE Impact Ranking, UTM has participated in 7 SDGs and achieved remarkable success, retaining its overall rank of 101-200 out of 1591 participating institutions worldwide. UTM has shown tremendous improvement with four SDGs ranked in the Top 100: SDG 7 (#1), SDG 9 (#39), SDG 4 (#70), and SDG 16 (#96) respectively.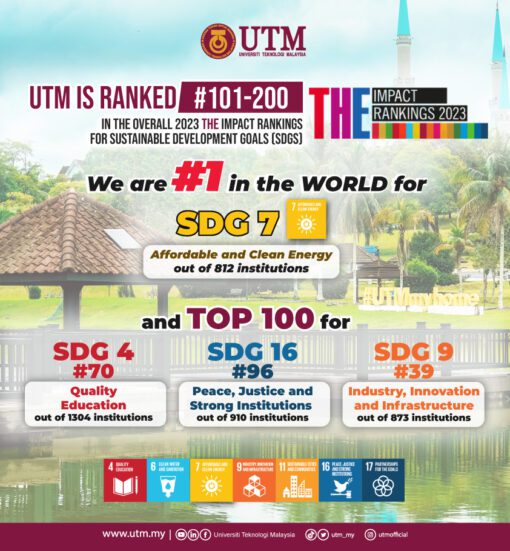 UTM's  Vice-Chancellor, Prof Datuk Dr Fauzi Ismail, mentioned that "This achievement highlights UTM's commitment to addressing global challenges such as affordable and clean energy, industry and innovation, quality education, and peace and justice through its research and innovation endeavours."
Best in the World : UTM Leads SDG 7
"While UTM's overall THE Impact Ranking retention is commendable, it is particularly noteworthy that UTM has been recognized as the top-ranking institution globally for SDG 7: Affordable and Clean Energy. This achievement showcases UTM's exemplary effort in ensuring access to affordable, reliable, sustainable, and modern energy for all.", he added
SDG 7 focuses on ensuring access to affordable, reliable, sustainable, and modern energy, and UTM's dedication to this goal is evident through its various initiatives promoting renewable energy, energy efficiency, and sustainable practices on and off-campus.
UTM's leadership in SDG 7 is demonstrated by its initiative  in renewable energy infrastructure, such as solar panels on its campuses. The university has received prestigious awards such as the National Energy Awards 2022 and the Green Electricity Tariff by Tenaga Nasional for its commitment to subscribing to 500 blocks of electricity generated from renewable energy sources.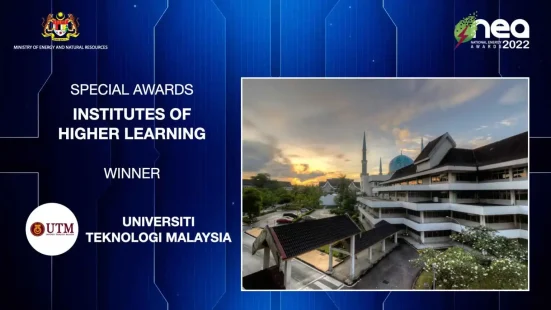 Generating impact beyond campus boundaries
These initiatives not only provide clean energy for UTM's own operations but also serve as living laboratories for research and learning opportunities for students. By integrating renewable energy into its operations, UTM sets an example for other educational institutions, contributing to the reduction of carbon emissions and the mitigation of climate change.
Beyond its campus boundaries, UTM actively engages with local communities to promote energy access and sustainability. The university organizes outreach programs, workshops, and training sessions to raise awareness about the importance of sustainable energy practices. Notably, UTM has installed solar photovoltaic systems and micro hydro turbines for indigenous (orang asli) communities to access free and clean electricity that contributes to their well-being.  By empowering communities with knowledge and resources, UTM plays a pivotal role in advancing SDG 7 at the grassroots level.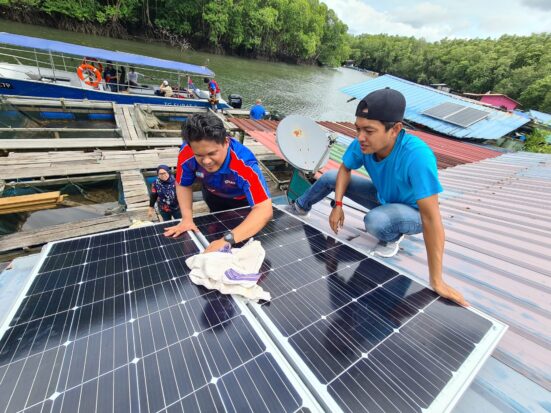 UTM Teaching and Research Nexus as Catalyst to drive SDG 9
 On the other hand, UTM is proud to retain its position since 2022 as the leading university in Malaysia for SDG 9 : Industry, Innovation and Infrastructure. SDG 9 measures universities' research on industry and innovation, their number of patents and spin-off companies and their research income from industry.
The university has significantly emphasised strengthening its Teaching and Research Nexus, which involves fostering close collaboration between academia and industry. To achieve this, UTM has implemented several initiatives. Firstly, it has established industry satellite labs on its campus, allowing companies to set up dedicated research and development facilities within the university premises. These labs provide a platform for researchers, students, and industry professionals to collaborate on projects, share resources, and exchange knowledge.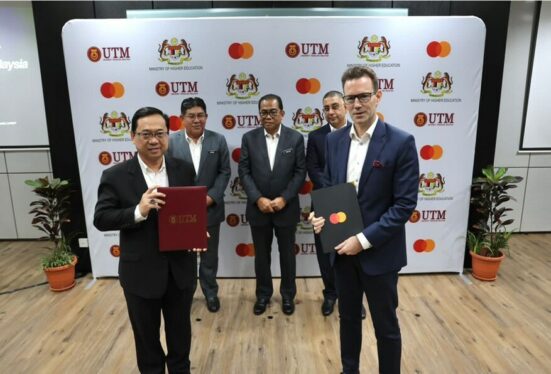 In addition to the industry satellite labs, the university has launched innovation incubator programs. These programs provide support and resources for staff and students, and start-ups, fostering a culture of innovation and entrepreneurship within the university community. Through mentorship, funding opportunities, and access to state-of-the-art facilities, these programs help students and researchers translate their ideas into viable products or services, driving economic growth and creating new job opportunities.
UTM is poised to thrive further in generating impact through innovating solutions, its UTM Sustainability Blueprint 2030 launched early this year have outlined the university's long-term commitment to sustainability, ensuring that UTM continues to lead in creating meaningful impacts for the betterment of society and the environment.