Kuala Lumpur, May 13 – Malaysia is dealing with a plastic waste problem that threatens the country's sustainability. The awareness of the community is essential to be enhanced. MJIIT-UTM and Lotuss Store (M) Sdn Bhd (Lotus's Malaysia) go together to promote sustainability among the younger generation in Malaysia by organizing the first-ever National Sustainability Innovation Challenge 2023 (NaSIC '23). Lotus's Malaysia is a Charoen Pokphand Group member, one of Malaysia's major retail chain stores.
The competition is officiated at the virtual launch today by Yang Berhormat Puan Yeo Bee Yin, member of Parliament (Puchong), Yang Berhormat Puan Jamaliah Jamluddin, member of Selangor State Legislative Assembly (Bandar Utama) and Professor Ts. Dr Abd Latif Bin Saleh, Pro-Vice Chancellor UTM Kuala Lumpur, accompanied by Professor Ts. Dr Ali Bin Selamat, Dean for MJIIT, UTM Kuala Lumpur, and Azliza Azmel, Executive Director, Corporate Services of Lotus's Malaysia.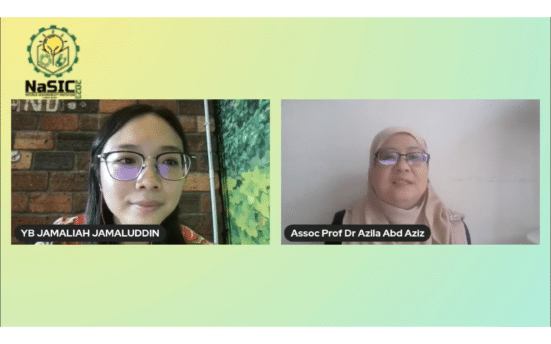 Opening Keynote Speech was conducted on "Innovation to Solve Sustainability" by YB Jamaliah Jamaluddin, representing YB Yeo Bee Yin, and moderated by Assoc. Prof. Dr Azila Abd Aziz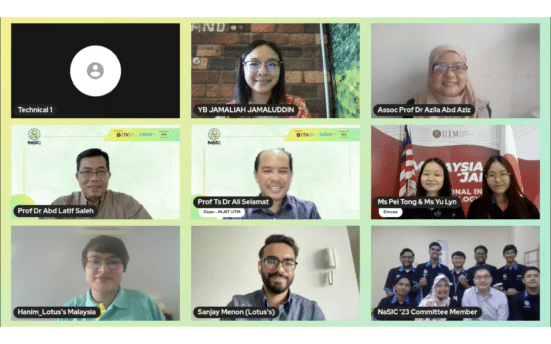 The Opening Ceremony of NaSIC'23 was attended by YB Jamaliah Jamaluddin, Prof. Ts. Dr Abd Latif Bin Saleh, Prof. Ts. Dr Ali bin Selamat, Ms Zakiah Hanim Mohd Hamdan, Mr Sanjay Menon, Assoc. Prof. Dr Azila Abd Aziz and the organising committee.
The competition attracted more than 130 teams of Form 4–6 students registered nationwide. The competition begins on April 12, 2023, and continues until the physical Grand Finale on July 21st and 22nd, 2023. The Top 50 shortlisted teams that proceed to the Virtual Pitching Competition were announced during the opening ceremony earlier today. The competition uses the theme of the single-use plastic problem in the country. The competition is divided into three phases:
Phase 1: Infographic Competition

; All registering participants design an infographic to disseminate the urgency of solving the plastic waste issue in Malaysia.

Phase 2: Virtual Pitching Competition

; The Top 50 shortlisted teams pitch an innovative, unique, and feasible solution or idea for solving the single-use plastic problem that fits into the problem statement provided by Lotus's Malaysia. The Virtual Pitching Competition will take place on the Webex meeting platform on June 17, 2023.

 

Phase 3: Physical Grand Finale Pitching Competition

; The Top 5 finalist teams pitch their enhanced and improved solution to the single-use plastic problem provided by Lotus's Malaysia. The Grand Finale will be conducted physically in MJIIT, UTM KL and Lotus's Selayang outlet on the 21st and 22nd of July 2023.
This unique competition provides step-by-step, hands-on problem-solving guidance through two workshops during Phase 2 of NaSIC '23, following the design thinking theory, "Needs, Approach, Benefits and Competition" (NABC) pitching model and problem-based learning theory. The workshop development is led by Prof. Dr Fatin Aliah Phang binti Abdullah (SOE, FSSH, UTM JB) and Assoc. Prof. Ir. Ts. Dr Liew Peng Yen (MJIIT, UTM KL). In addition, consultation sessions with Lotus's Malaysia's staff and esteemed plastic research experts will be arranged for the participants to facilitate their problem-solving process. In Phase 3, experts will be matched to each Top 5 finalist team to polish their innovation.
The program makes participating students aware of the alarming sustainability issues around us and familiar with structural problem-solving methods. The MJIIT's Chemical Process Engineering Student Society (ChemPro) technically supports the competition, led by Lakshman Rao A/L Sathiya Narayana from the Bachelor of Chemical Process Engineering programme. This important industrial collaboration event also allows UTM students to expose to the working culture in the real world.
More information can be found on https://mjiit.utm.my/chee/nasic