YOGYAKARTA, 2 May – A knowledge exchange programme titled "A Review of Internet Financial Reporting Research" under the UTM: Abroad At Java (AJ '23) programme presented by Lt Kol. Prof Madya Dr Mohd Noor Azli Bin Haji Ali Khan as College Principal of Kolej Tun Dr Ismail (KTDI) at Universitas Gajah Mada (UGM), Yogyakarta, was held on 2 May 2023. The programme was held by Jawatankuasa Kolej Mahasiswa (JKM) from Kolej Tun Dr Ismail (KTDI) 2022/2023 session, aiming at sharing knowledge on the current trends and emerging areas of interest in online reporting. The programme was also conducted to expose students to future directions and opportunities for Internet financial research and its impact on finance, including experiences and stories related to successful applications.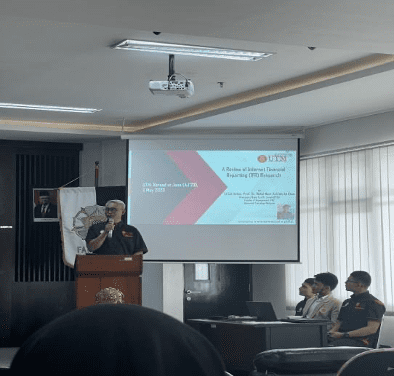 Sharing Knowledge by  Lt Kol Prof. Madya Dr Mohd Noor Azli Bin Hj. Ali Khan,
Principal of KTDI session 22/23
 Lt Kol. Prof Madya Dr Mohd Noor Azli Bin Haji Ali Khan also shared several thesis papers by UTM researchers whose studies focused on internet financial reporting (IFR), including best practices for multiple regression calculations, including the research conducted by Field, Coakes, Steed and Bausell (2005). After the sharing session, he also held a question-and-answer session with students from UTM and UGM. One of the questions posed was related to how Internet technologies are currently being used to allow benchmarking to be made to forecast the future of these technologies. The participants could observe how organisations from various industries adopt distinctive reporting practices through the session.
The principal ended his presentation by expressing his hope that the students, particularly those from UGM, will be able to engage and understand what Internet Financial Reporting (IFR) is about—the modern practise of disseminating corporate financial and performance data via Internet technologies such as the World Wide Web and be able to use it in their studies of statistics. The UGM principal also had the opportunity to address the audience, expressing UGM's gratitude for the visit and their enthusiasm to learn more about UTM.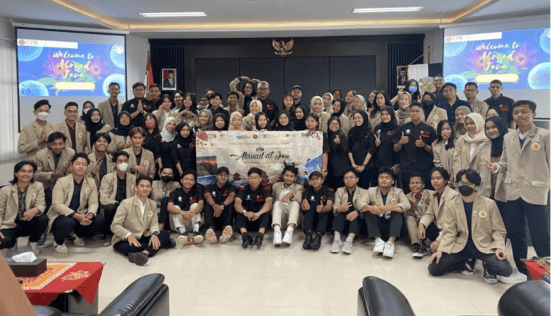 Group Photo Session between JKM KTDI UTM & UGM students