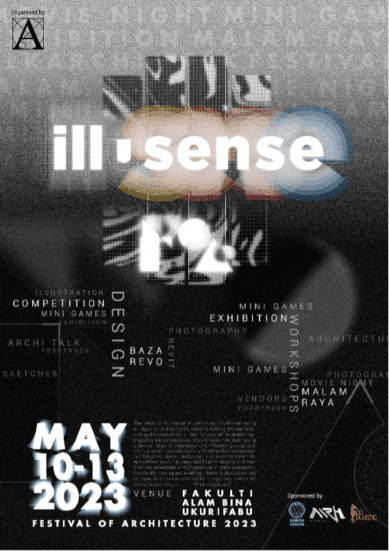 ILLUSENSE
The notion of "Illu-sense' alludes to each individual having a unique perception (ideas, opinions & thoughts) and articulating the expression of this "perception" in distinct approaches and perspectives. Despite each individual having a diverse range of experience and influence (perception), the illusion will resonate in many forms as the core perception becomes blurred. Anchoring us as a constant reminder to reflect on our journey and flourish beyond it. It emphasizes movement and progression in one's perception. Constantly moving and evolving. Hence, a discussion can be made as an evocative reflection of a journey in what we believe is architecture. ____What do you see?
From May 10 to 13, 2023, the Architectural Student Association at the Faculty of Built Environment and Surveying (FABU), UTM, better known as Architech, successfully held its annual mega event, the Festival of Arts & Architecture or FOA 2023. It was a week-long event aimed at promoting architecture to the UTM community and the public.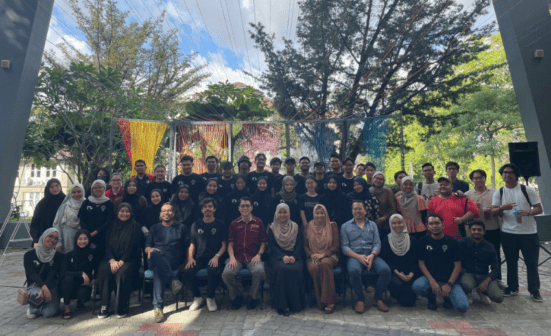 FOA also showcased the entrepreneurial and creative skills of FABU students, especially architecture students, through the activities conducted. Smaller events like BazaarEvo, exhibitions by architecture students, Unfold Talk Session, architecture workshops, film nights and mini-games were organised by students from each year.
The main stage of the event and the installations were designed, constructed and set up by the students themselves. Colourful strings were used as decoration on metal frames, representing a colour spectrum symbolising this year's FOA 2023 concept, "Illu-sense".
The event was hosted by the Director of the Programme of Architecture, Ar. AP Dr Lim Yaik Wah on the morning of 10 May and the event concluded during the Malam Raya Architech on 13 May, by FOA event director, Alief Iqmal.
The event was sponsored by AABIOS Design, MRH Rashidi Architect, DD Plastic and supported by the Programme for Architecture and FABU.
Links to the event can be found below. Please click on the icon.
This article was written by FOA 2023 committee and edited by Aiman.