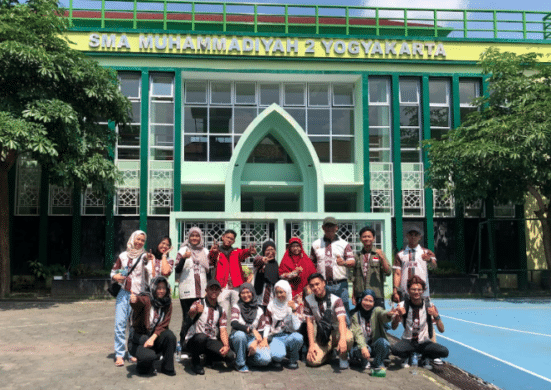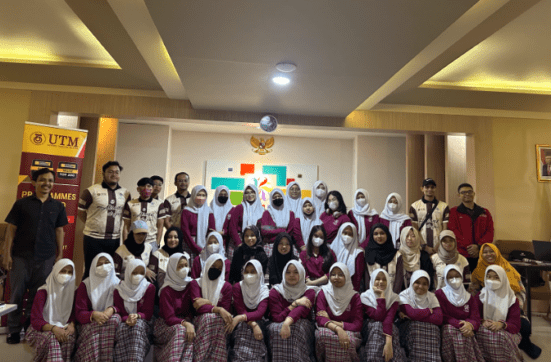 photo of group A                                                                      photo of group B
YOGYAKARTA, 4 May – As the Hari Raya break brings joy and celebrations for many students, the Student Residential Committee of Tun Dr. Ismail College (JKM KTDI) has set its sights on a different goal. While others enjoy their time with loved ones, JKM KTDI is busy preparing for the upcoming "Abroad at Java 23" program. This prestigious international event aimed at Yogyakarta has drawn the attention of big companies and departments like LES Copaque, UTM SRAD, UTM International and UTM Alumni who have expressed their interest in collaborating with JKM KTDI. With the support of such prominent industry players, JKM KTDI is well-positioned to create a genuinely impactful program that will benefit students worldwide. "UTM Sanjungan Bangsa" is a mini program under UTM: Abroad At Java (AJ '23) program, from May 1st to May 7th, 2023. It is a program held by Jawatankuasa Kolej Mahasiswa (JKM) from Kolej Tun Dr. Ismail (KTDI) 2022/2023 session on the 4th of May 2023. We are excited to share the wonderful experience of the recent visit to four schools in Yogyakarta, Indonesia. This program aimed to introduce UTM's academic offerings, promote the university and recruit international students from the region.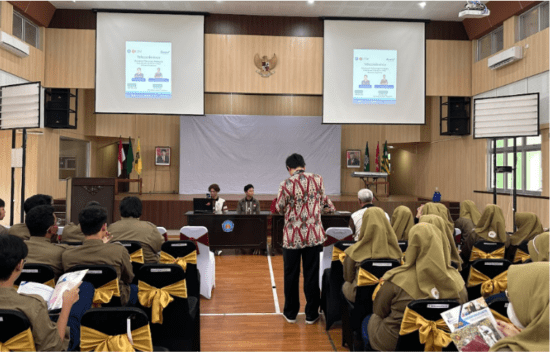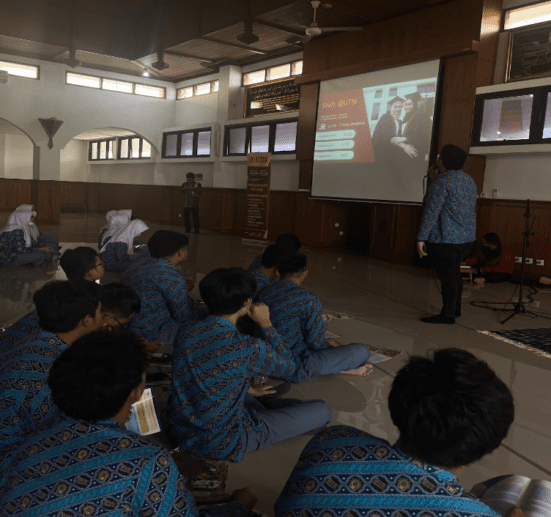 Photo taken at SMA Muhammadiyah 2                          Photo taken at
                                                                                                                                             SMA Muhammadiyah 1
Our crew was divided into groups, Group A and B, and visited different schools during morning and evening sessions. The morning sessions were held at SMA Muhammadiyah 1 and SMA Muhammadiyah 2, while the evening sessions took place at SMP-SMA Budi Mulia Dua and SMA Kesatuan Bangsa, respectively. The warm welcome from the schools included delicious cakes and kuih-muih, adding to the delightful atmosphere.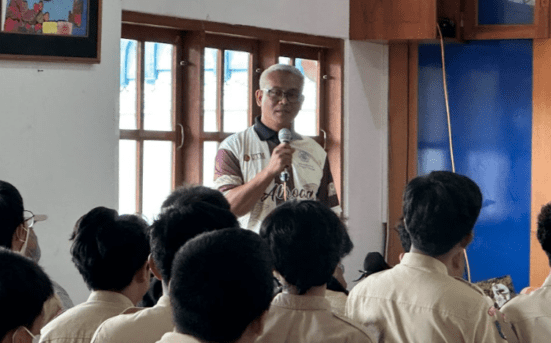 Speech by  Lt Kol Prof. Madya Dr. Mohd Noor Azli Bin Hj. Ali Khan,
the Principal of KTDI session 22/23
The agenda for the day commenced with a welcoming speech by Lt Kol Prof. Madya Dr. Mohd Noor Azli Bin Hj. Ali Khan, the Principal of KTDI session 22/23. His speech set the tone for the event, emphasizing the importance of educational collaborations and the benefits of UTM's programs for students. Following this, the principals of the respective schools had the opportunity to address the gathering, expressing their gratitude for the visit and their enthusiasm to learn more about UTM.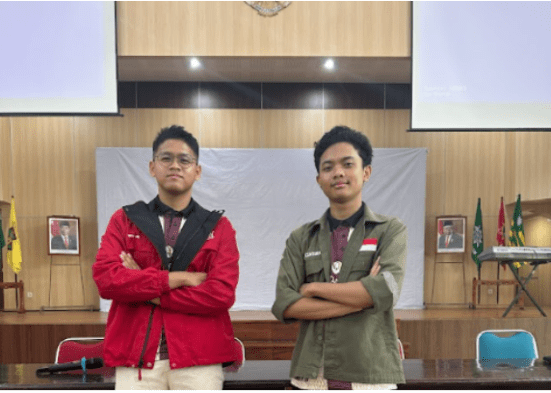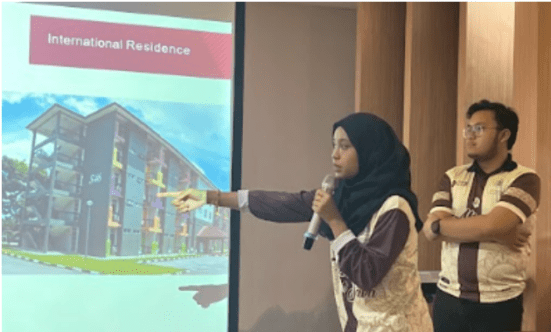 Speakers from Group A: Wan Azmi and            Speakers from Group B: Natasha Aziera
                                     Ihza Maulana (from left to right)                          and Hafiz Surya (from left to right)
The visit continued with a sharing session led by UTM students and UTM-i students, where they discussed the various programs offered and life on UTM's vibrant campus. This interactive session allowed the students from the Yogyakarta schools to gain firsthand insights into the academic opportunities and campus culture at UTM. Additionally, a question-and-answer session allowed attendees to clarify doubts or inquiries about the university.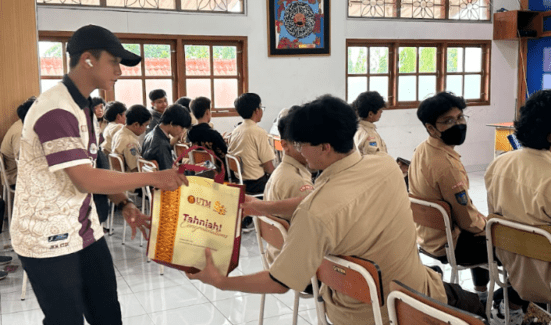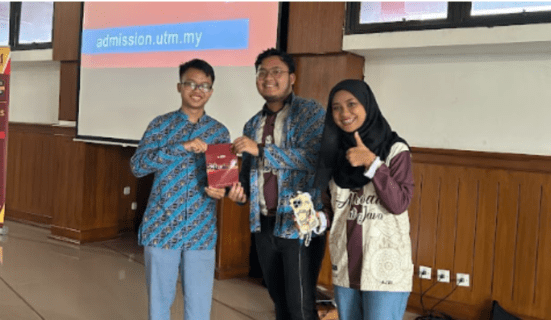 Quiz session at SMP-SMA Budi Mulia Dua            QnA session at SMA Muhammadiyah 1
A gift-giving session was organized to foster goodwill and establish stronger ties between the schools and UTM. This symbolic gesture represented the mutual appreciation between the institutions and served as a token of friendship and collaboration.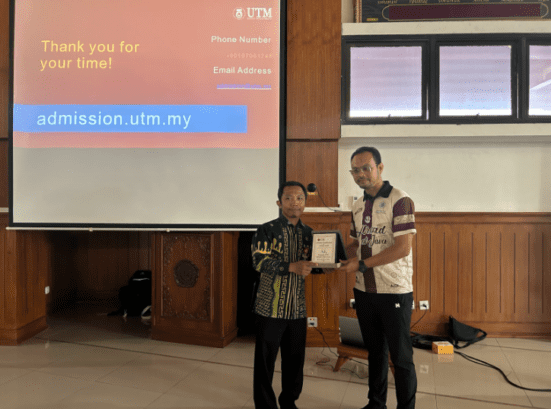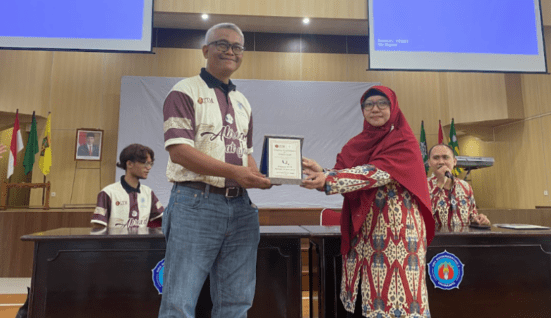 Gift-giving session at                                                    Gift-giving session at
                                            SMA Muhammadiyah 1                                               SMA Muhammadiyah 2
The AJ '23 program was a resounding success, thanks to the efforts of JKM and the warm hospitality extended by the schools. By introducing UTM's programs and promoting the university, JKM took significant steps toward attracting talented international students to join our vibrant UTM community. We believe that fostering such connections and sharing knowledge and experiences with students from different cultures will enhance our learning environment and create opportunities for meaningful global collaborations.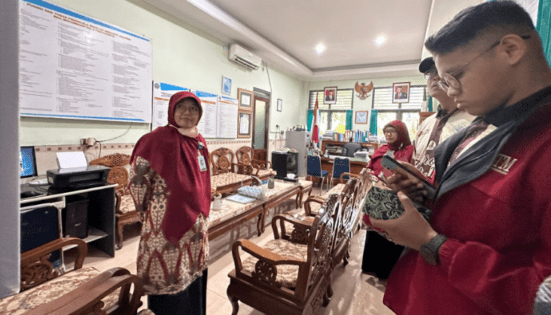 Campus tour in SMA Muhammadiyah 2