The 3rd year students of the Programme of Architecture are currently designing an architectural scheme for a specific site within Bandar Sri Permaisuri (BSP) neighbourhood in Cheras, Kuala Lumpur. BSP is a Transit Oriented Development and has developed as an integrated, self-contained residential, commercial and recreational area. Currently, the city has a high population density and is characterised by many high-rise residential buildings that have experienced significant growth in recent years. The rapid development in the town and its surroundings has contributed to the increase in population density.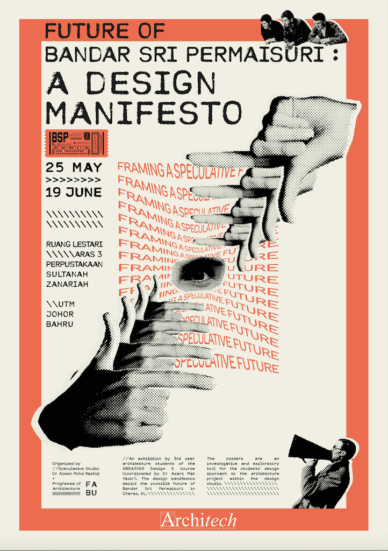 Students were asked to study and understand the place not only in its current state but to look at its potential, significance, local spirit and identity to find out what architecture they should introduce and develop for local needs. Students speculated on what BSP could or should look like in the future. In doing so, they were not just speculating based on assumptions but drew on the available data obtained and analysed.
The students' ideas and thought processes on their speculations about Bandar Sri Permaisuri (BSP) are presented as a visual illustration called 'Design Manifesto'. This form of academic pedagogy used in the design studio presents individual expressions about the future and speculative thinking concerning architectural ideas and design.
Thoughts about the future of BSP are considered from different angles; technology or science, global issues and challenges, economic viewpoints and future ambitions or visions of local people. The students then explore the details of each future through a process called world-building and future scenarios depicted in their visual design manifestos.
The outcome of the visual design manifestos is currently on display and can be seen from 25 May to 19 June 2023 at Ruang Lestari, Level 3, Perpustakaan Sultanah Zanariah, in UTM JB.
The exhibition description:
An exhibition by 3rd year architecture students of the SBEA3169 Design 6 course (coordinated by Dr Azari Mat Yasir). The design manifestos depict the possible future of Bandar Sri Permaisuri in Cheras, KL. The posters are an investigative and exploratory tool for the students' design approach to the architecture project within the design studio.
Organiser:
Students from Speculative Design Studio supervised by Dr. Aiman Mohd Rashid and coordinated by Dr. Azari Mat Yasir.
To read more about the exhibition and works conducted within our design studio (in collaboration with Dr. Izura Tukiman), visit https://people.utm.my/possiblefuturestudio [or] visit https://sss.utm.my for more students' work from the Programme of Architecture. For any feedback, contact us at aimanmohdrashid@utm.my.