April 10, 2023
Prepared by: Dr. Norah Md Noor, Associate Chair, System & Professional Development Division, School of Graduate Studies;  Evarina Binti Amiron, Head of Activity Committee, Research Carnival Month 2023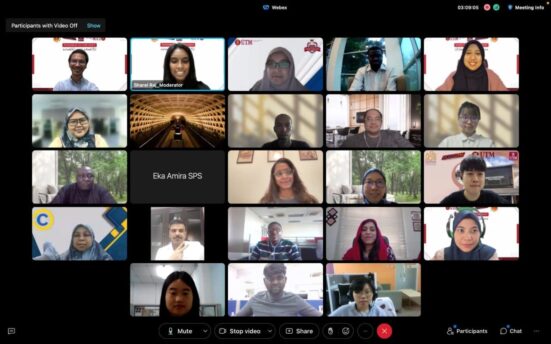 In conjunction with the Research Carnival Month (RCM) 2023, the School of Graduate Studies and the Postgraduate Student Society (PGSS) at Universiti Teknologi Malaysia (UTM) organized a video editing workshop on April 10, 2023 (Monday). The workshop aimed to equip postgraduate students with essential digital skills, particularly in utilizing Wondershare Filmora 11 for video editing.
The workshop, which attracted 102 participants, featured guest speakers, Ms. Asraful Syifaa' Ahmad, President of PGSS UTM 2023, and Mr. Muhammad Ramziuddin Zakaria (PhD candidate), an expert in video editing within the context of UTM activities, shared their expertise and insights with the attendees. Participants received valuable tips and advice on how to prepare a captivating and engaging 3MT video presentation. The workshop allowed participants to engage with the speakers, ask questions, and receive valuable tips on creating compelling visual content. Feedback from attendees was overwhelmingly positive, with many expressing gratitude for the opportunity to learn essential digital skills that will benefit them in their academic pursuits and beyond.
The event received praise from the attendees, with one participant noting that the workshop truly embodied the spirit of "from students to students." The knowledge and skills imparted during the workshop are expected to prove invaluable to those who attended to learn about video editing skills for general use and to participants who attended to apply the skills learned in the 3MT competition.
With the successful conclusion of this video editing workshop, participants are hopefully equipped with the necessary skills to craft polished presentations that will make a lasting impact in the 3MT competition and the sharing of their research with the public.
To learn more about Research Carnival Month 2023 (RCM 2023), please visit https://sps.utm.my/rcm2023/.