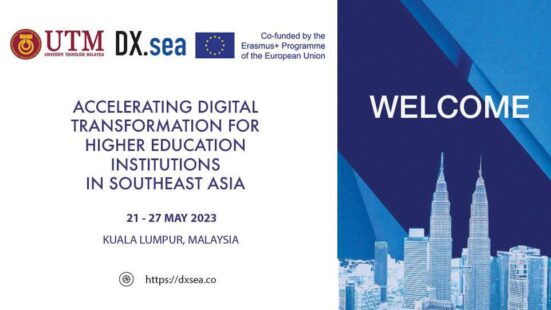 Kuala Lumpur, 30 May 2023 – The DX.sea Team from Universiti Teknologi Malaysia (UTM) recently concluded a highly successful workshop under the project "Accelerating Digital Transformation for Higher Education Institutions in Southeast Asia" (DX.sea). The workshop, held from 22nd to 26th May 2023, aimed to foster informal discussions in a supportive and friendly environment for DX.sea partners from Latvia, Estonia, Portugal, Spain, The Czech Republic or Czechia, Cambodia, and Laos.
The event commenced with a warm welcome from Prof. Dr. Nordin Yahaya, the Project Coordinator, who provided a comprehensive briefing on the DX.sea project. Dignitaries present at the opening ceremony included the Ambassadors of Spain and the UTM Pro-Vice-Chancellor, emphasizing the international collaboration and significance of the workshop.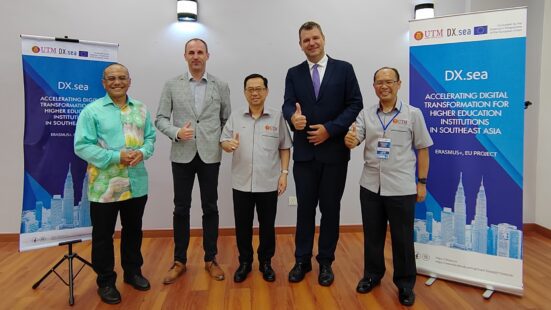 The workshop's highlight was the official launch of DX.sea, marked by an engaging video montage showcasing the objectives and potential of the project. Furthermore, three forums were conducted, featuring representatives from:
European universities: Instituto Superior Técnico – Universidade de Lisboa, Portugal, Tallinn Tech (TTU), Estonia, University of Granada (UGR), Spain, and University of Hradec Králové (UHK), Czechia.

Malaysia universities: Universiti Teknologi Malaysia (UTM) and Universiti Malaysia Sabah (UMS).

Laos universities: National University of Laos (NUOL) and Savannatkhet University (SKU).

Cambodia universities: University Hang Samrin Thbongkhmum (UHST) and Institute of Technology of Cambodia (ITC). 
These forums facilitated in-depth discussions on the challenges and opportunities surrounding digital transformation in higher education.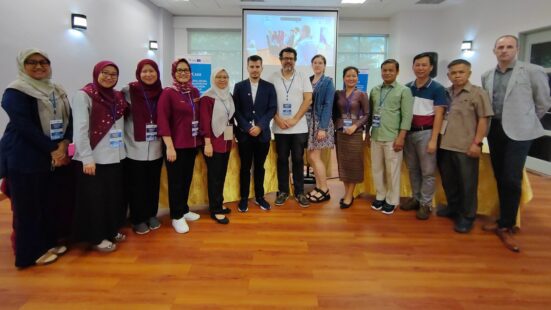 The workshop also provided an opportunity for all DX.sea partners to present their progress and planning, enabling valuable insights and knowledge-sharing among the participants. Additionally, the event featured two esteemed guest speakers: Associate Professor Dr. Wan Zuhainis Saad and Professor Dr. Melinda Dela Pena Bandalaria, who shared their expertise on digital transformation, inspiring attendees with innovative ideas and strategies.
A benchmarking visit was organized to the Malaysian Research Accelerator for Technology & Innovation (MRANTI) and the Asia Pacific University of Technology & Innovation (APU) as part of the workshop's agenda. This visit allowed participants to gain valuable insights into the latest technological advancements and innovations in higher education.
The successful organization of the workshop would not have been possible without the dedicated efforts of the UTM team. Heartfelt appreciation goes to Madam Punithavalli Marimuthu, Assoc. Prof. Dr. Zaleha Abdullah, Dr. Ain Naadia Mazlan, Assoc. Prof. Dr. Nurbiha A. Shukor, Assoc. Dr. Norazrena Abu Samah, Dr. Nurul Farhana Jumaat, Dr. Norasykin Mohd Zaid, Dr. Syed Norris Hikmi Syed Abdullah, and Professor Ali Selamat, who played instrumental roles in ensuring the event's success.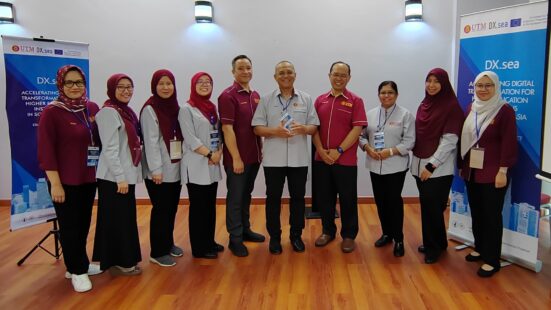 The DX.sea workshop was a significant milestone in promoting digital transformation in higher education institutions across Southeast Asia, fostering international collaboration, and paving the way for a future of innovation and excellence in education. For further details on the workshop and the DX.sea project, interested individuals can access previous news updates through this link: https://shorturl.at/hR567. Additional information about DX.sea can be found on their website: https://dxsea.co/ 
Prepared by Assoc. Prof. Dr. Zaleha Abdullah