Johor Bahru, 22 April 2023 – The 1st of Syawal is a highly significant day for Muslims worldwide, as it marks the end of the holy month of Ramadan. This day is known as Eid al-Fitr, a major Muslim festival of joy and celebration.
At Universiti Teknologi Malaysia (UTM), the 1st of Syawal is a momentous day as the university is home to a large community of international students from more than six nations observing this holy month. With its slogan of "Bring UTM to the WORLD | Bring the WORLD to UTM," UTM International has hosted a special Eid al-Fitr Celebration for UTM's international students worldwide.
Today, the celebration was held at the Sri Perdana Hall, Perdana College UTM, and brought together international students and their family members from diverse backgrounds, cultures, and traditions. The event, attended by more than 500 people, was a chance for students to come together and celebrate the end of Ramadan and the start of a new month filled with joy, gratitude, and blessings.
Full house at the Sri Perdana Hall, Perdana College UTM
The celebration included Malaysia's traditional foods and drinks, with students bringing their Eid delicacies to share with everyone.
"UTM International and its staff have been hosting the Eid al-Fitr celebration on the 1st of Syawal since 2015. It is truly a warm experience to see everyone gather, wearing their traditional attire and bringing their family," shared Assoc Prof Dr Mohd Ariffin Abu Hassan, the Director of UTM International.
UTM International students in their traditional attires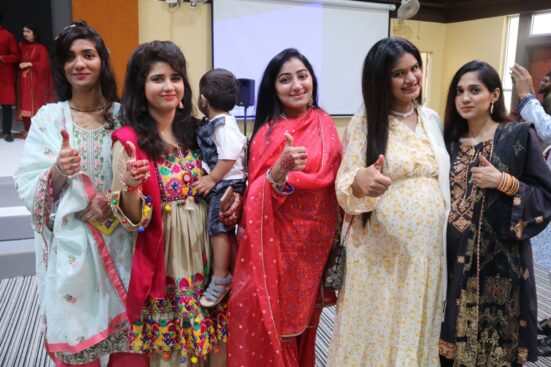 "This year, however, we have our attachment (in-bound) mobility students from 5 countries such as France, Japan, Canada, Japan, Finland and the Czech Republic, who, for the first time, have experienced the month of Ramadan and Eid Celebration in UTM", he added.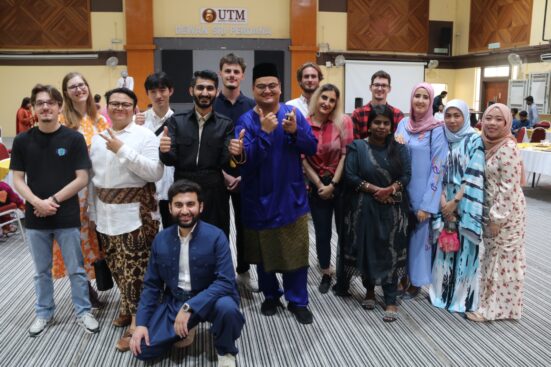 The celebration is made even more memorable with a cultural performance by the students and children, with the crowd cheering and having a wonderful time with a surprise "duit raya" gift for the children in attendance, sparking more joy.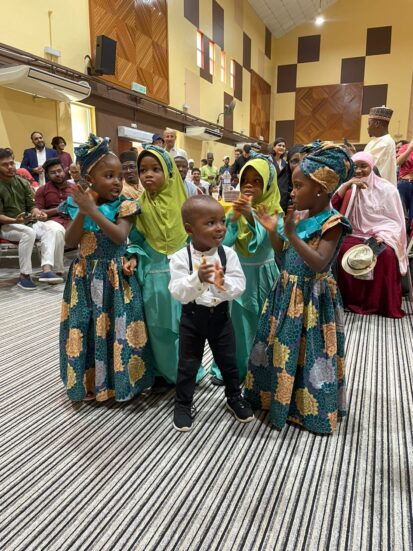 For many international students, celebrating Eid al-Fitr at UTM is a unique and memorable experience. The university provides a welcoming and inclusive environment for Muslim students to learn, grow, and thrive. UTM offers a range of resources and support for Muslim students, including prayer spaces, halal food options, and Muslim student associations. These resources help ensure that Muslim students feel supported and valued at UTM and can engage in campus life fully.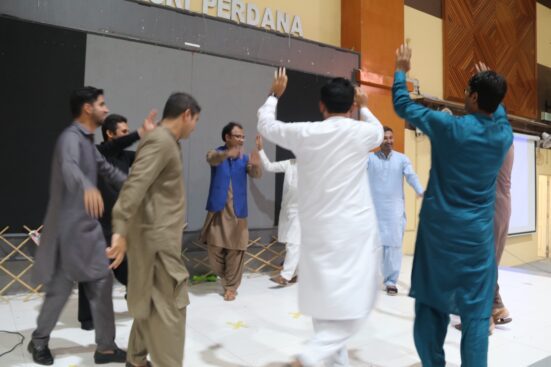 Traditional Pakistani Dance
UTM is committed to promoting diversity, inclusion, and cultural exchange. The university recognises the importance of celebrating and learning from different cultures and actively encourages students to participate in intercultural activities and events. The Eid al-Fitr Celebration is just one example of the many cultural events and activities at UTM throughout the year and helps foster a sense of community and belonging among students from diverse backgrounds.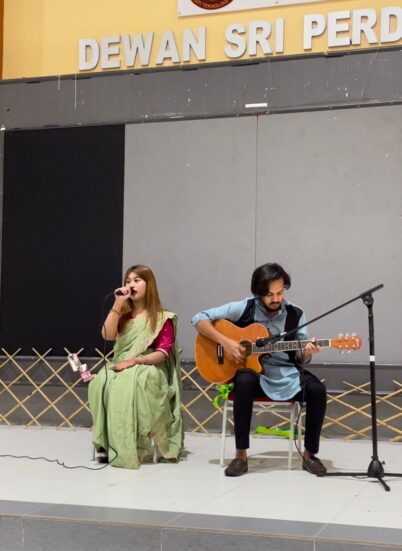 The Eid al-Fitr Celebration by UTM International is a beautiful example of the university's commitment to promoting diversity, inclusion, and cultural exchange. The event brought together international and Muslim students from diverse backgrounds, cultures, and traditions. It provided a unique opportunity for students to feel "at home" when celebrating Eid al-Fitr away from their home country.
As UTM continues to strive towards its goal of "bringing the world to UTM," events like the Eid al-Fitr Celebration will continue to play an essential role in promoting intercultural understanding and building a strong sense of community among students from all over the world.
Reported by Section of Corporate Affairs | Image Credit : Mari Surendran A/L Sandran (UTM International Office)