The School of Graduate Studies at Universiti Teknologi Malaysia (UTM) hosted the PGSS 2023 Strategic Planning workshop on Sunday, 12th March 2023, at the SPS Meeting room, UTM Johor Bahru. The workshop was attended by 33 representatives from all 12 faculties of UTM Johor Bahru and UTM Kuala Lumpur.
This was followed by a team-building session for the Post Graduate Students Society (PGSS) of session 2022/2023 organized by the School of Graduate Studies, in collaboration with UTM Toastmasters on Monday, 13th March 2023, at Hutan Rekreasi UTM (UTM Recreational Forest).
The workshop started with welcoming remarks from the PGSS UTM President, Ms. Asraful Syifaa' Ahmad, followed by a News Article Writing Workshop conducted by the UTM Office of Corporate Affairs. The session's introduction was briefed by the Deputy Registrar of the Corporate Communications Unit, Ms. Rohaizan binti Khairul Azhar, followed by officers from the Corporate Communications Unit, Ms. Nur 'Aina Osman and Mr. Mohd Fadthul Ikmal Misnal who shared guidelines and tips of preparing news articles for the UTMNews Hub portal. The workshop aimed to provide exposure to the PGSS Committee Members on how to write news articles and steps to publish articles on the UTMNews Hub portal.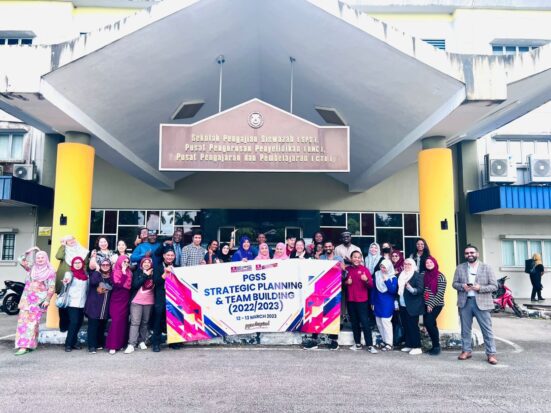 The News Article Writing Workshop was followed by a Faculty Activities Planning session where representatives from each Faculty delivered their PGSS Faculty Activities Plan for the term. During the presentations, committee members shared their ideas on how to improve PGSS branding strategies and increase PGSS YouTube Channel subscribers. The presentations showed that each committee member had planned PGSS programs in detail and curated the content and list of invited speakers according to the needs of postgraduate students from each faculty.
The PGSS 2023 Strategic Planning workshop aimed to equip committee members with the necessary skills to plan, organize, and execute events successfully. The workshop provided a platform for committee members to share their ideas and learn from each other to make PGSS events more informative and engaging.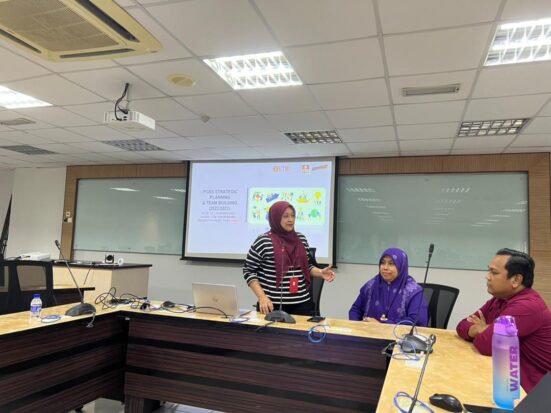 The team building aims to strengthen the relationship between all PGSS in UTM, improve communication, build trust among the PGSS members, enhance creativity and innovation, boost morale and motivation, and improve productivity and performance. As a result of the COVID-19 pandemic, it has taken three years for it to become feasible to arrange a comparable program once again. Apart from that, six (6) facilitators from UTM Toastmasters Club who are also postgraduate students in charge of handling all the activities that include the explore race, games and also motivational talk.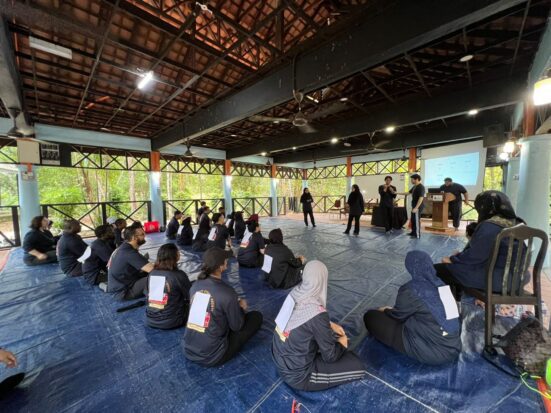 The race to explore five different checkpoints revealed the inner child of each member of PGSS. All checkpoints have different types of games did expose the culture and significant value of Malaysia for example in checkpoint one, all of them need to draw and guess. They need to draw the twin tower, durian, and lantern which resemble Malaysia's uniqueness. One of the stations did need them to play a traditional game, Teng Teng.
All of the PGSS members enjoy it a lot especially international students. One of the games, the blindfold game increases trust and communication where it requires a high level of trust and communication between the players. This helps build stronger relationships and increases mutual understanding and empathy between the PGSS members.
Motivational talk was delivered by the former President of PGSS UTM & PGSS Faculty of Electrical Engineering, Dr. Mohd Saiful Azimi Mahmud who is currently a senior lecturer at UTM. He motivates PGSS members on how to build trust among their teammates to effectively coordinate a successful program.
The final day was truly a boost enhancer for the betterment of the PGSS team. As PGSS is committed to its motto, "From Students to Students," we guarantee to deliver the best to all UTM postgraduate students.
/ Department of Deputy Vice-Chancellor (Academic and International)