The Malaysia-Japan International Institute of Technology (MJIIT) has added another feather to its cap, as its undergraduate and postgraduate students emerged victorious in the Rapid Prototype Development (RPD) Hackathon Challenge held at Sukosol Hotel, Bangkok on 17th March 2023. The team comprised Muhamad Sharifuddin bin Abd Rahim (PG), Muhammad Hafizul Azimi bin Mat Sah (UG) and Muhammad Zulhilmi Abdul Hamid (UG), under the guidance of Ts. Dr. Fitri Yakub, defeated nine other teams to win the Sensing IoT award by Sony.
The RPD Challenge 2022, aimed at fostering the development of disaster-related application prototypes, required participants to harness Space Technology from Japan AeroSpace Exploration Agency (JAXA) and the Quasi-Zenith Satellite System (QZSS) satellite to deliver disaster crisis (DC) alerts and reports to local communities. The primary objective of the challenge was to devise strategies to prepare, mitigate, and prevent natural disasters.
The MJIIT team's innovative idea was to develop an intelligent wildfire prevention system that can aid local community, forestry biodiversity, local authorities and transportation network users. Although Malaysia is rarely affected by wildfire disasters, climate change is becoming increasingly unstable. The MJIIT team believes that it is essential to prepare for the worst-case scenario to prevent a repeat of the flash flood disaster that happened due to improper mitigation solutions at the national scale.
Their solution focused on providing an end-to-end solution that starts with satellite transmitting emergency messages to the novel ground devices that receive, pre-process, forecast, and eventually reach every smartphone user in the impacted community. To detect and classify normal and abnormal situations during disasters, the team tuned and modified the dedicated camera on the Spresense board to integrate with Artificial Intelligence driven solutions. They also utilized the microcontroller board potential to implement edge computing technology by enhancing data-driven model predictions and forecasts, which could not be implemented using other conventional controller boards in the market due to hardware limitations.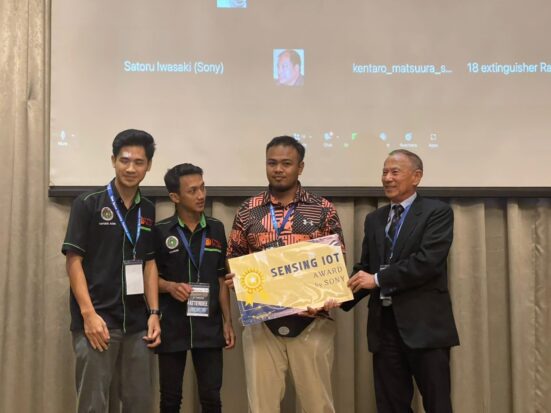 The team's unique solution proposes a smart road signboard that can receive and display the status of the disaster on the upcoming route using satellite signals directly and instantly. This end-to-end feature, along with their other cutting-edge proposed solutions, helped them to earn the Sony award.
The MJIIT team's success in the RPD Challenge 2022 highlights the institution's commitment to nurture and empower its students with skills that are relevant to today's world. By providing students with the necessary tools and skills to address the challenges of today's world, MJIIT is contributing to the development of a new generation of innovators who will leave a lasting impact on the world through "Innovating solutions."