6th March 2023 – In conjunction with the World Engineering Day for Sustainable Development, commemorated every 4th March, Asia Technological University Network (ATU-Net) has hosted a webinar on the ATU-Net World Engineering Day 2023 (ATU-Net WED 2023). The ATU-Net WED 2023 was jointly organised by Asia Technological University Network (ATU-Net), World Technology Universities Network (WTUN) and Universiti Teknologi Malaysia. Over 200 participants worldwide joined this event on Zoom and Facebook Live platforms.
Bearing the theme "Celebrating Engineers: Towards Sustainable Innovation in Engineering", ATU-Net WED 2023 was moderated by Dr Mohamad Shazwan Ahmad Shah from the Faculty of Civil Engineering of UTM. Four distinguished speakers were featured to present their brilliant ideas and notions in broad areas of engineering, which have had significant impacts and contributions to the community. The session includes speakers' presentations and a panel session that all speakers joined.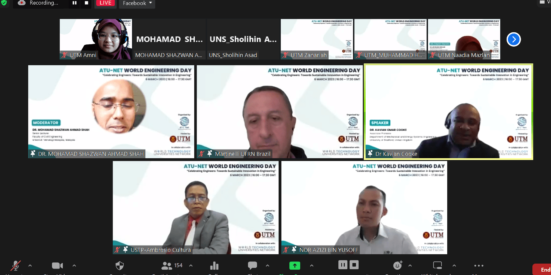 A snapshot of all the speakers and the moderator for ATU-Net World Engineering Day 2023
(ATU-Net WED 2023)
The webinar started by Ts. Dr Nor Azizi Yusoff from Universiti Tun Hussein Onn Malaysia (UTHM), whose presentation was based on case studies of the initiatives of Muar Living Lab and its achievements in making Muar a sustainable district in Johor. This is followed by a presentation by Prof. Dr Ambrosio B. Cultura II, the president of the University of Science and Technology of Southern Philippines (USTP), on the importance of renewable energy by considering the challenges that have been faced specifically by the Philippines on energy insecurity problems.
The third panel is Prof. Dr Antonio Eduardo Martinelli from Universidade Federal do Rio Grande do Norte, Brazil, who deliberated on the benefits and challenges of 3D house printing, which has evolved from conventional construction. Finally, Dr Kavian Omar Cooke from the University of Bradford, United Kingdom, highlighted the innovative methods of enhancing the wear resistance of engineered metal surfaces since friction and wear involve high global energy consumption. The session was concluded with a summary of all the focused talks and discussions.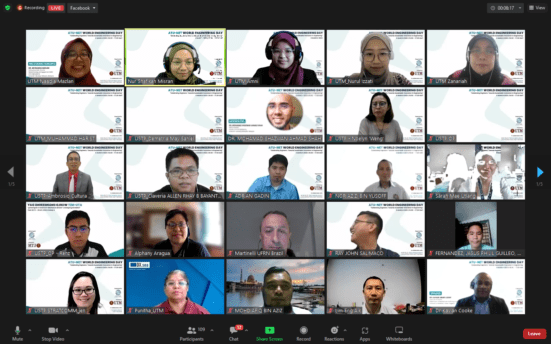 A snapshot of some participants of the ATU-Net World Engineering Day 2023
(ATU-Net WED 2023)
ATU-Net is a strategic international alliance of which UTM is both Chair and Secretariat with 30 member institutions from Malaysia, Indonesia, Brunei, Thailand, Philippines, Vietnam, India, Japan and Bangladesh. For more information about the ATU-Net, please visit the website at https://atunet.org/.
Prepared by: Amni Mohammad Zahar & Dr. Ain Naadia Mazlan