Johor Bahru, 27 Jan. – Faculty of Computing (FC) has successfully organised Human-Computer Interaction Day for the semester 2022/2023 after a 2-year hiatus due to the pandemic. Held on 27 January 2023 at Kejora Seminar Hall, N28a, the program – affectionately known as 'HCI Day' – is an annual program that showcases students' projects developed for the course SECV2113 Human Computer Interaction, in which teams apply their knowledge in UI/UX design through their proposed solutions to local and global issues, based on the United Nations Sustainable Development Goals (SDGs).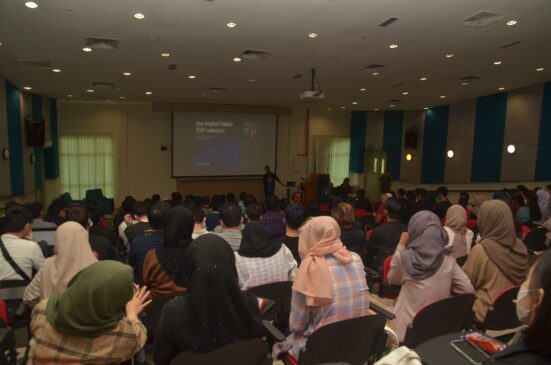 In addition to the project showcase,  the program also included sharing knowledge and experience sessions by professionals from the UI/UX research and industry. Two distinguished speakers were invited  – Mr Johnny Woo, Product Design Lead from Mudah.my gave an inspiring talk on Leadership in Design, and Assoc. Prof. Dr Juliana Aida Abu Bakar, President of the Association of Human Computer Interaction, Malaysia (myHCI-UX), gave an eye-opening technology talk on Extended Reality and Human Interaction.
The highlight of the day is the crowning of the best concept videos of the student projects. Seven finalists were chosen from 40 teams, and a panel of judges which included both Speakers judged the videos based on the clarity of the problem, key aspects of the solution, the implication of the solution, creative video editing and effective storytelling. Team Pawer Rengers (Muhammad Taufiq Bin Jurimi, Azhan Haniff Bin Azni, Afiq Fahmi Bin Roslan, Muhammad Najwan Hazim Bin Khairi, Muhammad Irham Hakim Bin Roslan) won the grand prize for their entry 'Green It' – a concept video on how the design of a drone-based solution makes agricultural farming easier and effective.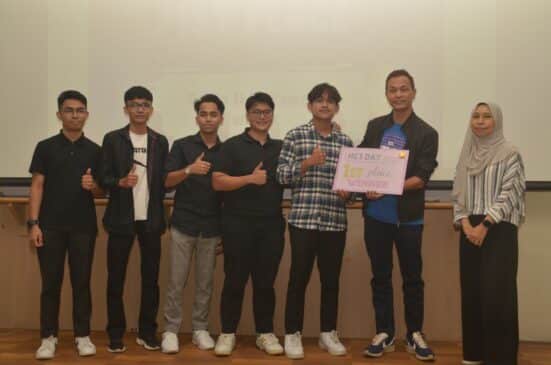 HCI Day 22/23 was attended by 180 students enrolled in the course, along with course lecturers Assoc. Prof. Dr Masitah Ghazali, Dr Farhan Mohamed, Dr Aida Ali, Dr Nur Zuraifah Syazrah Othman and Dr Jamilah Mahmood. Dr Farhan, who is also the faculty's Head of the Emergent Computing Department, said, "We are delighted to be able to bring HCI Day back on track after the two-year break, and it was great to be able to mark and celebrate the completion of the course with the students together." It is hoped that the program will continue to be the early platform where students are able to see the importance of HCI and UX applications beyond their classroom.