On 13th and 14th January 2023, Persatuan Mahasiswa Sains Komputer (PERSAKA) from Faculty of Computing organized Start Up! '23, an entrepreneurial program at N28a, Faculty of Computing.
The main objective of this event was to encourage students in entrepreneurial activities to help them build a future career in business and technology as well as to encourage creative thinking skills. Other than that, the event also aims to provide a platform for Faculty of Computing Year 3 course Applications Development student pitching.
Entrepreneurship is an essential skill for students to learn as it teaches them to be creative, solve problems, and lead. By turning their ideas into real-life businesses, they are also preparing themselves to create their own job opportunities. Moreover, the skills learned in entrepreneurship are useful in any career path, making it a valuable investment for the future.
In order to achieve these objectives, several activities were held such as entrepreneur/motivational talk, technical talk and closing ceremony that consisting of student pitching and award ceremony.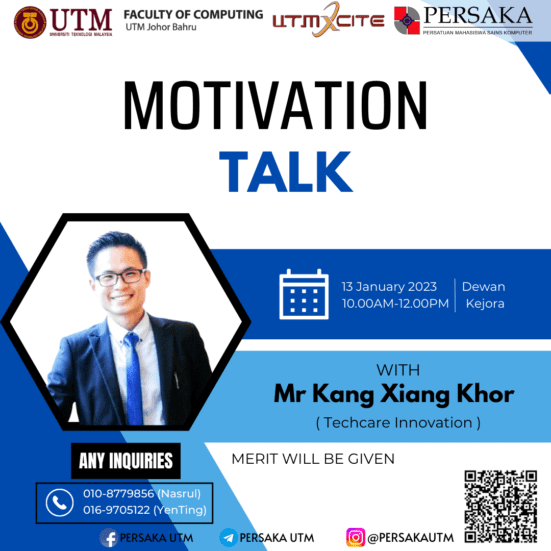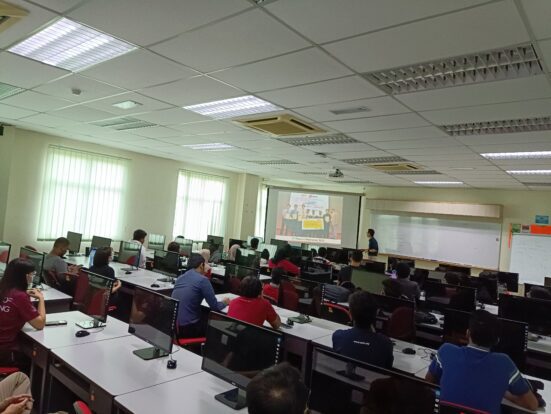 Motivation Talk: The Entrepreneurship Journey
The motivational talk was held on 13th January 2023 at MP1, N28a. The talk aims to motivate participants to be involved in entrepreneurship. A total of 53 students joined the talk session. During the activity, Dr. Kang Xiang Khor gave a talk about his journey about how he stepped his foot into the world of entrepreneurship.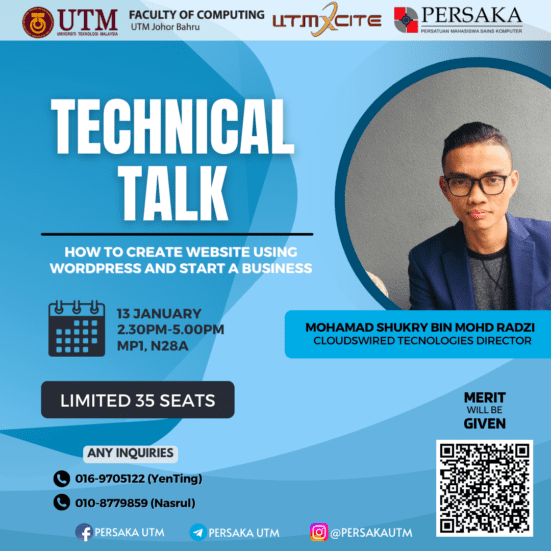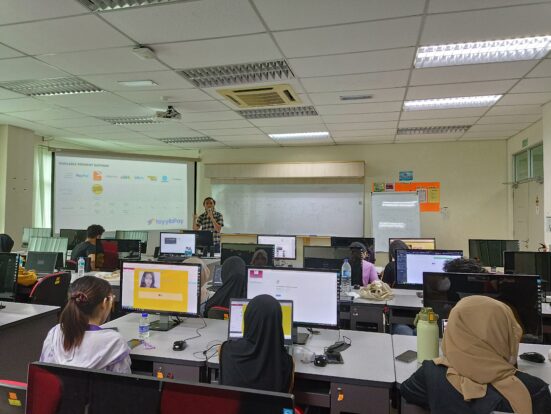 Technical Talk : How to create a website using WordPress and start a business
Technical Talk was held on 13th January 2023 at MP1, N28a. Mr. Mohamad Shukry bin Mohd Radzi gave a talk about how to create a website using WordPress and start a business. During the talk, he guided the participants on the steps of how to design and make a website. He also emphasized that a website is a great way to start or expand a business. For example, we can create a dropshipping website to gain income, as it is really efficient and advantageous.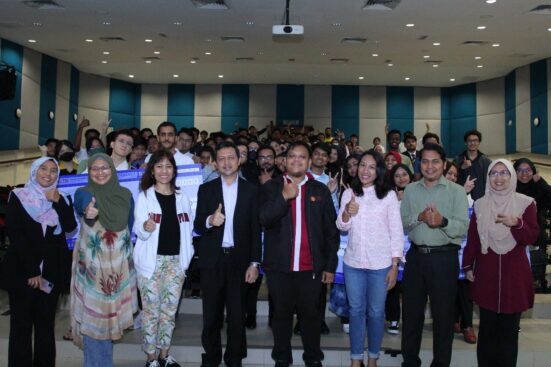 Start Up! '23 Closing Ceremony
Finally, a closing ceremony was held on 14th January 2023. The session started from 8:30 a.m. until 1:00 p.m. The closing ceremony was officiated by Faculty of Computing Dean, Prof. Ts. Dr. Wan Mohd Nasir bin Wan Kadir. The session was divided into two phases, assessment part and announcement of winners. 
From 9:00 a.m. to 11:30 a.m. a total of 16 shortlisted groups from each class section presented their student pitching for their Application Development project. Each group was asked some questions from the panel of judges and evaluated. After the judges' evaluation and scoring, the winners were announced and presented with their prizes.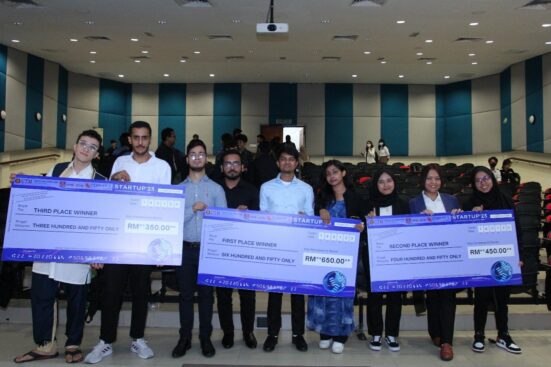 Start Up! '23 First, Second and Third Place Winner
Overall, the event was a great success, running smoothly and according to plan. It provided a platform for students to showcase their entrepreneurship skills and learn from experienced entrepreneurs, encouraging them to pursue their dreams and make a difference in the business and technology industries.