The "Presidents' Forum of Southeast Asia and Taiwan Universities", known as SATU, one of the Universiti Teknologi Malaysia (UTM) alliances, is a forum that provides a venue for academics to share their valuable experiences to improve higher education and international cooperation in the region. SATU General Assembly was held this year on 23 – 24 November 2022 at National Cheng Kung University (NCKU), Taiwan. UTM was represented by Prof. Dr. Shamsul Sahibuddin, Deputy Vice-Chancellor (Student Affairs), and Mr Ahmad Hilman Borhan, Manager of International Relations from UTM International office.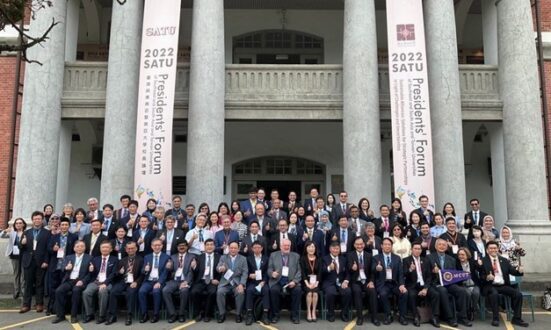 On the first day, the event started with a Congratulatory Address by the Ministry of Education Taiwan, followed by welcoming remarks by the President of NCKU as SATU Chairperson, Prof. Dr. Huey-Jen Jenny Su. With the theme, "Sustainable Alliances: Solutions for Strategic Partnerships in Light of Challenges and Uncertainties", this year's programme focused on the strategic partnership among universities, synergy via coordinated involvement – climate action and sustainable environment, open resources, re-connection with universities and knowledge transformation. As the host, NCKU presented the SATU yearly activity and achievements report and announced all winners for the SMART 4.0 International Innovation Competition. A group consisting of three students from UTM has successfully won USD5000.00 as Gold Award Winner in the group category and has beat students from other universities, including from Singapore, Taiwan, Indonesia, Thailand, and several others universities. In addition, to give exposure to cultural diversity, this competition applies elements of innovation and entrepreneurship among students, which benefit them for their future undertaking.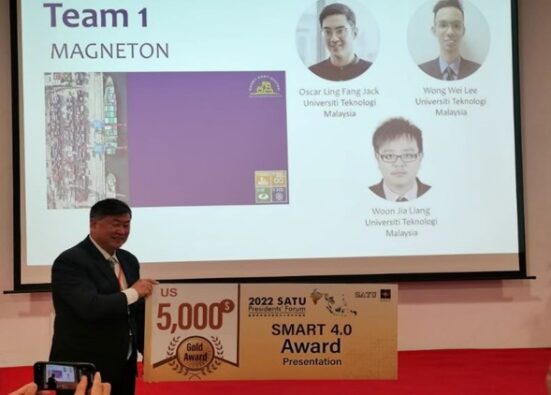 Prof. Dr. Shamsul has also been invited as the Chair for both the panel and roundtable session, which is the key highlight of this event. The session, themed "Open Science, and Knowledge", focused and deliberated experience on data, technology and resource sharing in any disciplines, e.g. policies in facilitating open knowledge, open resource management and how it helps in nurturing future generations. SATU Steering Committee Meeting, which comprises 16 member universities, was also held during this general assembly. During this meeting, new Steering Committee members for the 2023/2024 session were elected. For this term, UTM has been selected as one of the Steering Committee members.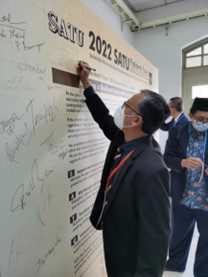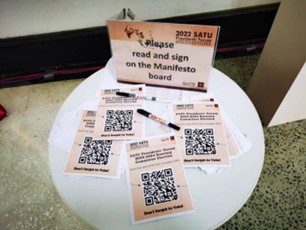 UTM Deputy Vice-Chancellor (Student Affairs), Prof. Dr. Shamsul Sahibuddin, showed his support by signing the SATU manifesto
On the second day, during the Closing Ceremony, SATU prepared the manifesto to be signed by all SATU members towards their goal of "Shaping a Resilient Future with Inclusive Higher Education". The recent pandemic has revealed blatant inequalities in resources and opportunities among strong and vulnerable communities in the challenges of natural disasters and wars. As leaders in higher education, universities play a role in leading society to explore how knowledge and education can shape such a fair future for humanity. In this regard, SATU asks all member institutions to pledge support to work with them. The program then concludes with a field trip to certain areas and laboratories around the campus. Joint Research Scheme (JRS) Project Showroom is also available during the Opening and Closing Ceremonies outside the venue.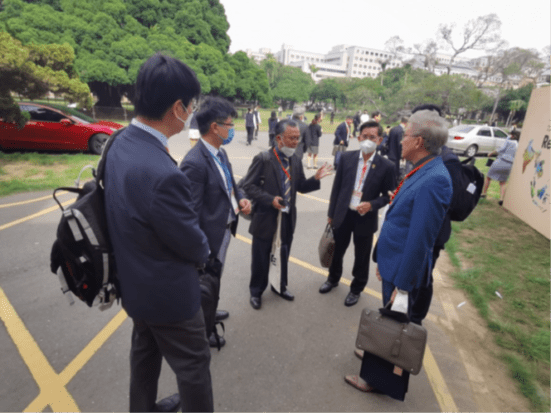 Prior to the SATU President's Forum, Prof Shamsul and Mr. Hilman also visited two high-ranked universities in Taiwan on 21 and 22 November 2022, the National Taiwan University of Science and Technology (Taiwan Tech) and the National Taipei University of Technology (Taipei Tech). These visits have led to discussions on renewing and strengthening the collaboration between the two universities, the possibility of research and academic collaboration, and the Special Mobility Programme in Programme-Based Learning (PBL).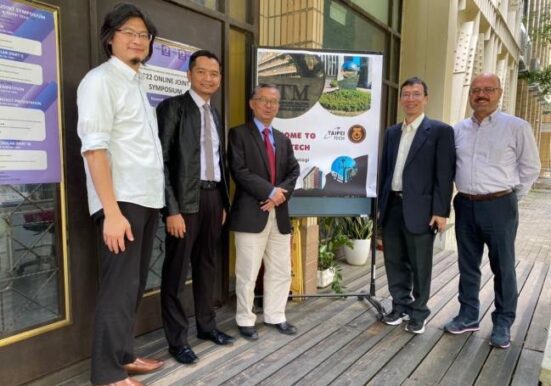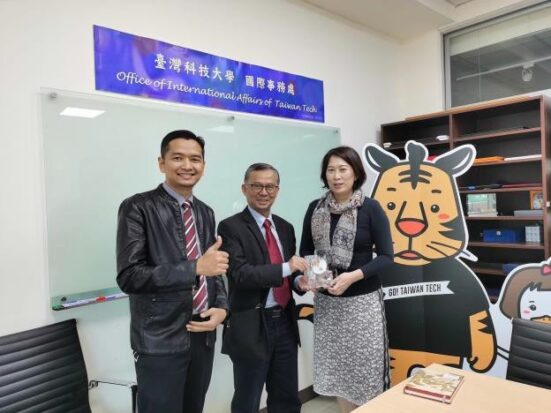 Photo session with the staff from Taiwan Tech and Taipei Tech
In addition to SATU, UTM is also actively involved in more than 20 international networks around the world including WTUN, SALT, ALN, and Ge4. For more information about the networks, visit https://www.utm.my/international/alliances/. UTM International, as part of the university, always committed to implementing the university's aspirations from the perspective of internationalization and global reputation in line with the UTM 2025 enVision.
Prepared by: Nurul Izzati Mohd Twa, Ahmad Hilman Borhan & Dr. Ain Naadia Mazlan
/ UTM International