The first program, Scratch Challenge was held in 2021 with participation from 351 students from 143 different schools across all of Malaysia and was organized by Johor Scout (Persekutuan Pengakap Malaysia Negeri Johor, PPMNJ) and SK Taman Tun Aminah Johor. It was an exclusive venue where all project results from Pasukan Badan Beruniform of Secondary and Primary Schools were displayed.
In preparation for the year 2022, Johor Scout has launched an initiative to collaborate with STEM-RBTK from Fakulti of Electrical Engineering (FKE) of Universiti Teknologi Malaysia (UTM). The program is knows as JOHOR SCOUTS Integrated Scratch National Challenge (Theme: Adventure Game).
UTM's lecturers and students assist with the task of setting up an automatic system as long as the programme is running and delivering information about using Scratch for coding games according to given theme.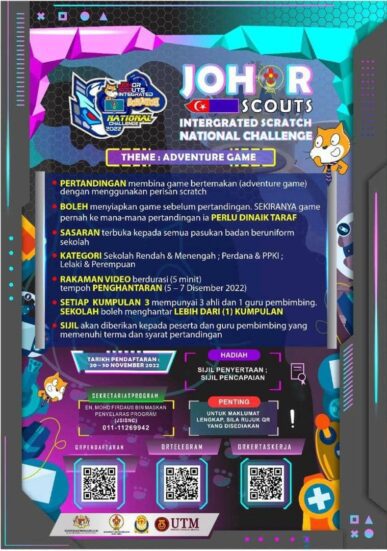 The purpose of this programme is to examine the students' understanding regarding coding knowledge, as well as the correlation between critical analysis (KBAT). Other key areas that can be developed include problem-solving skills, team work skills, communication skills, and digital literature. It also corresponded with the government to encourage the students to go to the IR 4.0 future. Coding serves as a foundation for robotics and engineering studies.
The program have been participated by 291 students and teachers throughout the Malaysia states. Each group was represent by two students and a teacher from 97 schools (secondary, primary and primary of Program Pendidikan Khas Integrasi, PPKI). Through this event, PPMNJ has agreed to sign letter of intent (LOI) between the FKE, UTM and Sekolah Kebangsaan Perumahan Tampoi 2 (SKPT2) which was held at the faculty before the program end.
"The involvement of students and teachers especially the PPKI category, from various uniform bodies has shown tremendous support and interest of them towards thence program. Through this program, not just diversity is possible, companionship could be enhanced with more diligence," Tn. Hj. Bardin, Ketua Pesuruhjaya PPMNJ.
"According to the teachers, classroom learning is no longer strictly traditional. Numerous digital tools have already been able to be incorporated into classroom instruction to make learning more engaging and effective for young learners. Due to this, instruction based on digital technology must be given by a professional in order to properly instruct students. This kind of program is not just meant to educate students; rather, it's one lesson and piece of knowledge that guide teachers to teach their students," Mdm. Norliana (Guru Penolong Kanan (GPK) Pentadbiran, SKPT2)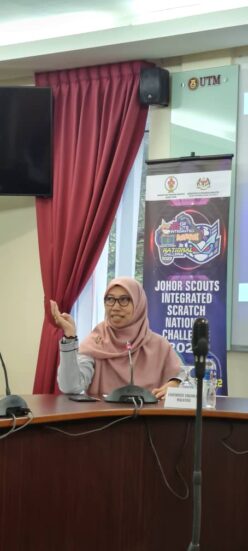 Speech by Prof. Ir. Dr. Rubita, Head of Electronic & Computer Engineering Department, FKE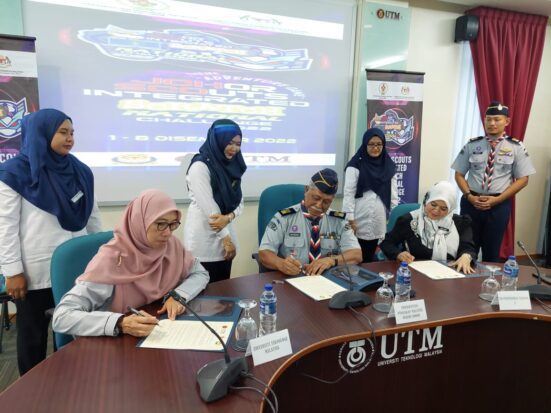 Signing ceremony. From left, represent the UTM, PPMNJ, SKPT2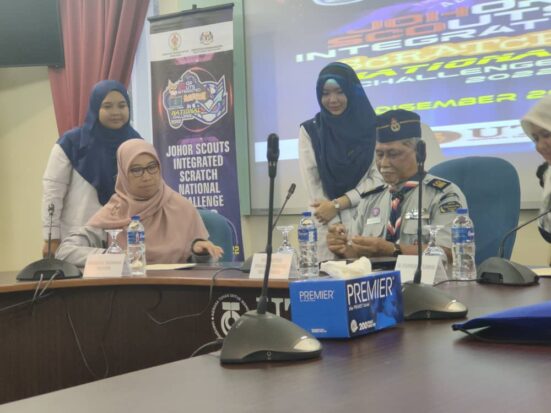 Signing event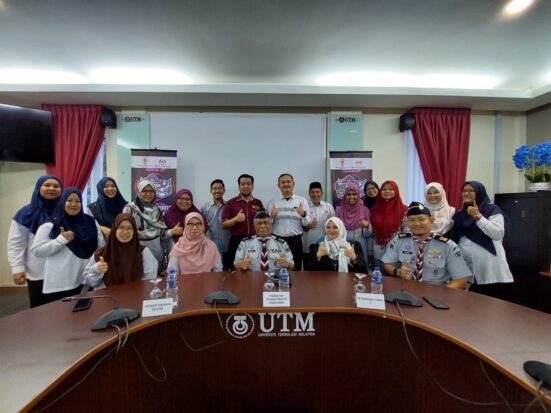 Delegates from UTM, PPMNJ, & SKPT2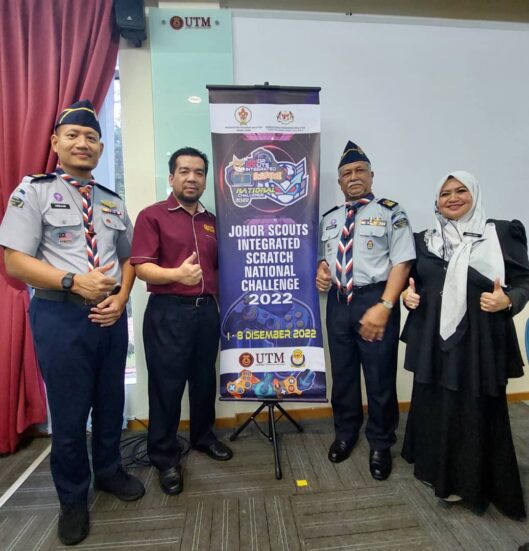 From left: Mr. Firdaus (Penolong Ketua Pesuruhjaya, PPMNJ & Program Secretariat), AP. Ir. Dr. Nasrul (Panellist of Program, STEM-RBTK FKE), Tn Hj. Bardin (Ketua Pesuruhjaya Pengakap Negeri, PPMNJ), Mdm. Norliana (GPK Pentadbiran, SK Perumahan Tampoi 2)
Article was prepared by Dr. Nurul Ashikin Abdul Kadir & Dr. Nor Aini Zakaria
/ Faculty of Electrical Engineering