The Malaysia-Japan International Institute of Technology (MJIIT) Online Global Classroom (OGC) 2022 has successfully been conducted with international partners from Singapore, Indonesia and Palestine. The first episode of the MJIIT OGC 2022 was leaded by a senior lecturer from the Electronic System Engineering Department, Ir. Dr. Kamilia Kamardin, featuring the industrial guest speaker from Accenture, Singapore, Mrs. Norhafisha Abdul Malek. Mrs. Norhafishah whom is the Managing Director for the company, has delivered her sharing session entitled 'Metaverse and 5G: How do they relate?'.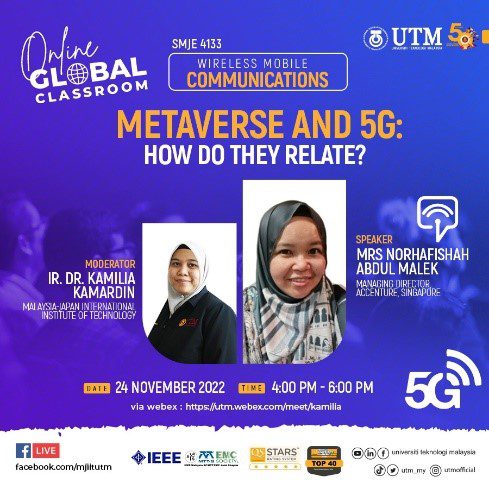 The second episode of the MJIIT OGC 2022, which is also lead by Ir. Dr. Kamilia, featured an industrial speaker from Telekom Malaysia, Mr. Anwar Faizd Osman. He shared his insight on the The Development of 5G Deployment, Globally and In Malaysia. The sessions managed to gather more than 100 virtual crowds from UTM and from other local universities in Malaysia. Both sessions was supported by IEEE Malaysia AP/MTT/EMC Joint chapter.
The episode continues with a talk by the Dean of Graduate Studies and Research from Gaza University, Palestine, Dr. Wesam Al Madhoun as the guest speaker. The session was moderated by Dr. Norhuda Abdul Manaf from the Department of Chemical & Environmental Engineering with the topic of 'Corporate Governance and Strategies for Sustainable Development'.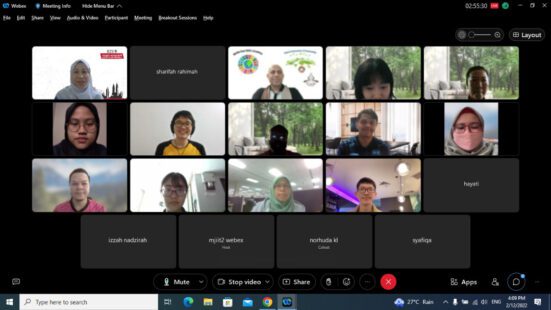 Before 2022 ends, another three (3) episodes were conducted with academician from Universitas Muhammadiyah Ponorogo (UMPO), Indonesia. The speakers, Dr. Rizal Arifin, Dr. Wawan Trisnadi Putra, and Dr. Aslan Alwi and their respective moderators, Dr. Farah Liana Redzuan, Dr. Zatul Alwani Shaffiei and Dr. Norhasnidawani Johari has successfully conducted the events with more than 150 participants from Malaysia and Indonesia.