The Architecture Program of Universiti Teknologi Malaysia (UTM) has organized an International Architecture Heritage and Conservation Colloquium 2022, which involves three (3) international universities which are the School of Architecture & Interior Design, SRM Institute of Science and Technology (SRMIST), India and Department of Architecture, Universitas Hasanuddin, Indonesia held on Sunday, 18th December 2022 at 2:30 pm, Malaysia time.
The objectives of this international webinar are to expand and integrate knowledge that contributes to the conservation of architectural and cultural heritage and knowledge on protecting the architectural heritage building. This important event will bring together heritage expertise to present and discuss the preservation of monumental heritage pieces within the framework environment in the field of architecture, the design of buildings and techniques that have allowed the conservation of monuments for a long time and future generations.
The event began with an opening address by the Director of the Architecture Program (UTM), Assoc. Prof. Dr. Alice Sabrina binti Ismail welcomed all the expertise speakers, participants and students. The event was managed by the moderator, Ts. Dr. Shahariah Norain Shaharuddin.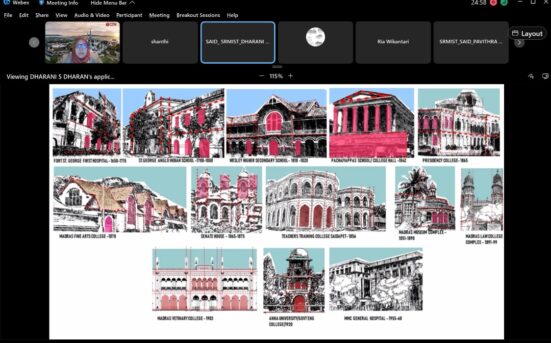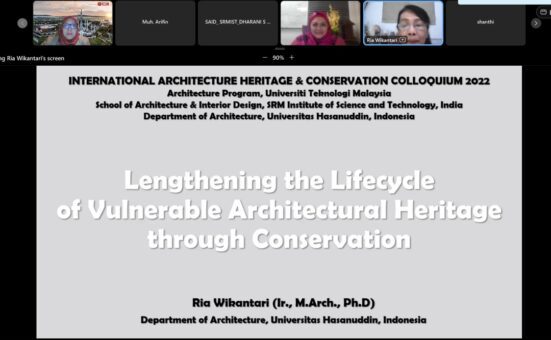 Meanwhile, the three expert speakers are Ar Dharani Dharan – Assistant Professor from the School of Architecture & Interior Design, SRM Institute of Technology, India presented the topic title: Architecture Preservation and Conservation, while the second speaker, Ir. Dr. Ria Wikantari, Head of Laboratory History and Theory of Architecture, Department of Architecture, Faculty of Engineering, University Hasanuddin, Indonesia presenting on Lengthening the Life Cycle of Vulnerable Architectural Heritage. The third speaker, Dr. Azalillah Ramdani Musa, Head of Living Lab, Architecture Program, Universiti Teknologi Malaysia giving a topic title: The Manifestation of the Malay Architecture Heritage towards Sustainable Housing Design.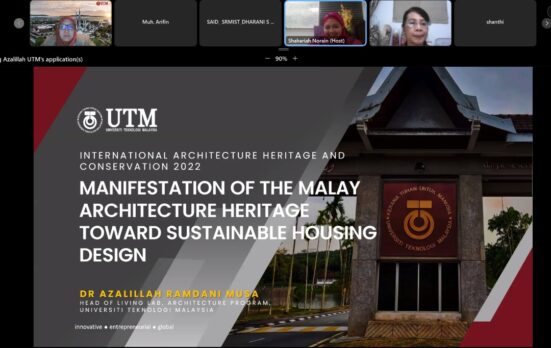 This event was successfully attended by 120 participants consisting of academics and students from national and international, professionals such as architects, historians, engineers and others related to heritage conservation and preservation. Therefore, during this event, the speakers shared their remarkable experiences, highlighted best practices, and answered the questions from the audience.
Prefered by:
Ts. Dr. Shahariah Norain Shaharuddin
Prof. Madya Dr. Alice Sabrina Ismail
Dr. Azalillah Ramdani Musa
/ Faculty of Built Environment and Surveying