By Dayana Farzeeha Ali and Mahani Stapa
JAKARTA, 10 Nov. – UTM managed to maintain the top 50 positions in the QS ASIA UNIVERSITY RANKINGS 2023, which was announced at the QS Higher Ed Summit: Asia Pacific 2022 taking place from 8th to 10th November 2022 in Jakarta, Indonesia. This ranking features 760 Asian universities and is the most significant number of entries for 2023. The rankings are based on 11 indicators: academic reputation, employer reputation, faculty-to-student ratio, and international research network. UTM managed to place itself in the 9th best position in Asia for the International Research Network indicator and is in the best 50th position for three other hands: international students, employer reputation, and academic reputations.
The UTM International (UTMi) Office has been responsible for leading the UTM ranking initiatives, where they play a role in ensuring that UTM becomes a global university with an excellent reputation. One of the internationalization initiatives under UTMi that has had a significant impact is the Asia Technological University Network (ATU-Net). ATU-Net is a strategic international alliance connecting technology-focused higher learning institutions in Asia. Its mission is to support member universities in achieving world-class quality of education and research in engineering and technology through strategic international alliances.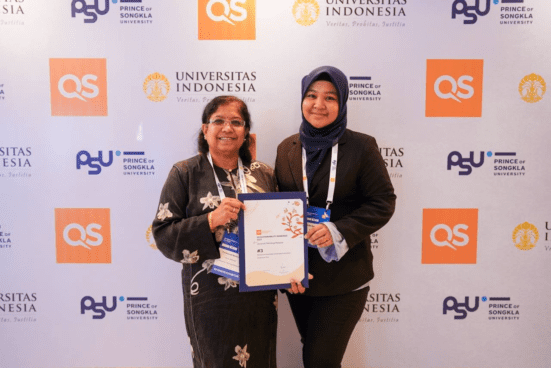 According to the Manager of Corporate and Student Services, UTM International, Ms. Punithavalli A/P Marimuthu, UTM's participation in the QS ranking event is significant in allowing UTM to connect with global institutions in seeking collaboration opportunities in education and research projects and international mobility for students and staff.
Various exciting topics were shared throughout the event, including a forum entitled "Charging a Sustainable Future: Universities' Responsibilities and Commitments." In this session, the panel concluded that the role of universities is not limited to teaching and research but also extends to the whole of society through the dissemination of their research findings and the awareness of public opinion on specific issues, to which the university can make its own scientific and cultural contribution. During the three days of the QS Higher Ed Summit: Asia Pacific 2022, UTM has managed to attract several prominent universities in Asia to establish cooperations in various fields and further increase UTM's visibility.