In order to promote and enhance the creativity and research capability of young researchers in view of sustainable development, Malaysia-Japan International Institute of Technology (MJIIT) has organized a research competition since 2012.
The research competition is fully supported by the Japanese Chamber of Trade and Industry, Malaysia (JACTIM). JACTIM has been generously sponsored research grants for the winners every year through JACTIM Foundation. This year, in 2022, the Foundation continues supporting the research competition by providing a RM40,000 research grant for the winners.
In light of the current demand by industry and parallel with this competition objective which strives to connect research with practice, support from industry, and improve student's creativity in doing innovative things, the theme was set as 'Automation'. The research could be in the related field such as Low-cost high precision image processing technology, AI-based quality defect analysis, development of equipment to support 3K workplaces, Automation and quality data analysis, etc.
In mid-August, a public notice calling for participation was announced. 7 teams' participations were received by the deadlines set in mid-September. The presentation by all participants was held on 10th November, where panels were required to select the best 4 research proposals to receive the research grants amounting to RM10,000 each.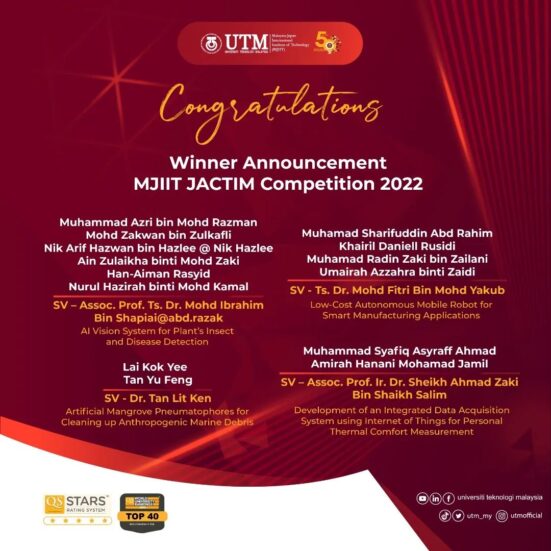 The winners of MJIIT-JACTIM Research Competition 2022
The research proposal of 'Artificial Mangrove Pneumatophores for Cleaning up Anthropogenic Marine Debris', 'Low-Cost Autonomous Mobile Robot for Smart Manufacturing Applications', 'Development of an Integrated Data Acquisition System using Internet of Things for Personal Thermal Comfort Measurement' and 'AI Vision System for Plant's Insect and Disease Detection' were selected and announced as winners for MJIIT-JACTIM Research Competition 2022. Each team will use the awarded amount as a research grant to start a research project for the publication of research results in May 2023.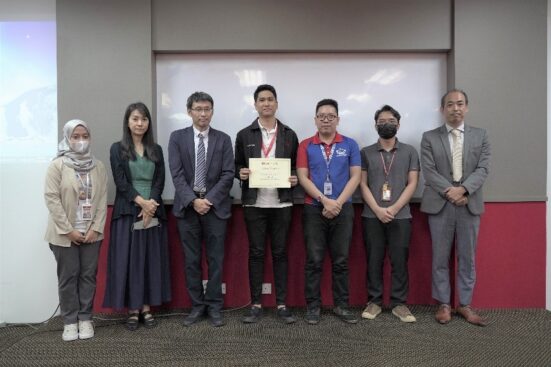 For the last year's MJIIT-JACTIM Research Competition, the winner team that researched the 'Development of Vision-Based Approach for Social Distances Tracking and Air Quality Monitoring for Confines Spaced' also participated in Science Innovation & Technology Carnival 2022 (SITC 2022) ,which was held in October 2022. The team won 2nd prize innovation award. It shows that the JACTIM fund has significantly contribute to their research progress and achievement.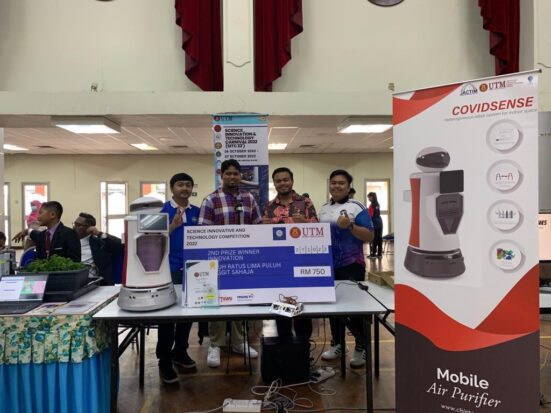 "Inspired by robotic technologies in the modern market, we believe that the development of Covid-19 robotic solutions is the beginning of our journey in real-world industries. With the passion we have, financial aid from JACTIM, and engineering knowledge that we learned in MJIIT, we are glad that our dream to build a healthcare robot has become reality" said one of the winners, Muhamad Sharifuddin Abd Rahim, Semester 3 Master of Philosophy (Mphil) student.