By Syarifah Syahidah binti Sy Sulaiman 
JOHOR BAHRU, 24 Nov. – A career mother of three kids, Sabra Munir, graduated with flying colors. This charismatic woman from Pakistan is a high-achiever who continued her PhD study in Accounting and Finance at Universiti Teknologi Malaysia (UTM). 
She was doing great in her PhD journey when COVID-19 hit our world. With heavy restrictions and everyone is asked to stay at home, she was devastated having to continue her journey through online meetings. In addition, what made it more challenging was the need for postgraduate students to visit places to extract data for their publications and research.
She thought about freezing her semesters and continuing when the restriction ended, but there was also a thought that occurred to her that this situation might last longer than anticipated. It turned out she was right. The pandemic slowed the world for almost two years before people regained all as usual and lived with it until today.
Above all, she decided to do her best and bet the odds around her. Her struggles were not in vain, as she completed her PhD within 33 months and received The Best Postgraduate Student Award for her academic excellence at UTM. This is a very outstanding accomplishment like no other.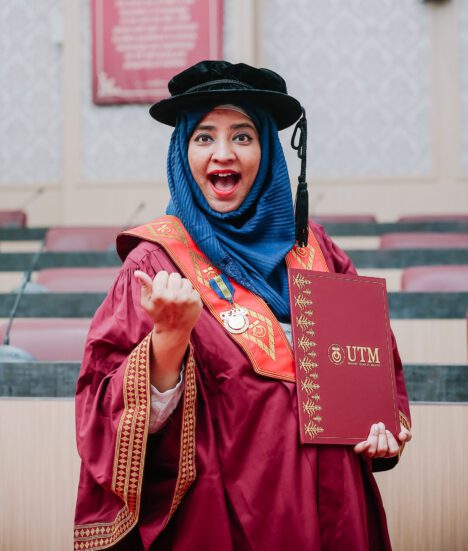 To top of that remarkable achievements, she now becomes the first woman in Pakistan appointed as a Senior Fellow Member of the Association of Chartered Certified Accountants (ACCA) in the United Kingdom and awarded a Doctor of Philosophy (PhD) in the relevant field.
She said she was fortunate to have the opportunity, unlimited Allah's blessings, and motivation from her amazing supervisors, Prof. Dr. Siti Zaleha Abd Rashid and Dr. Muhammad Aamir, alongside her most prestigious mentor, Mr. Salahuddin, throughout her journey at UTM.
Moreover, the continuous support and prayers from her parents, husband and three kids, Abdullah, Ayesha and Fatima have also helped her to stay strong. 
Congratulations Dr. Sabra Munir for your achievements! Keep making your family and everyone proud!