Undergraduates from Faculty of Computing announced winners for several awards in FUSION 2022 Student Design Competition, held in conjunction with the 4th National Symposium on Human Computer Interaction 2022. The competition is an annual competitive event that showcases the problem-solving and design ability of students in proposing solutions for real-world issues facing our nation and the world.
The event, organized by the Association of Human-Computer Interaction Malaysia (myHCI-UX) was held virtually on 28th and 29th September 2022. Teams submitted video and poster of their design solution (medium to hi fidelity prototypes) for an initial round of judging, and on the day of the competition, they were given 15 minutes to present their entry to panel of judges from major national institutions and industry.
Team Tough and Go (Wong Wei Ming, Khairun Najihah Abdhul Muthalib, Carmen Tey Ye Yao, You Jiyang, Zhang Hanchen) advised by Assoc. Prof. Ts. Dr. Shahida Sulaiman swept the Gold Award and Jury Prize (Best Poster and Best Video) for their entry 'EduAnywhere: Study Anywhere and Anytime'.
Two teams, advised by Dr. Layla Rasheed won the Silver Award  – Team Tech Ace (Alya Balqiss Azahar, Alieya Zawanie Azaini, Nik Amirul Ariff Amran, Alya Damia Huzaimy, Yasmeen Natasha Hafiz Shahrel) won the Silver Award for their entry 'Designing Effective and Usable Online Healthcare System', while Team Seven – Lau Yee Chi, Ang Yi Qin, Fong Khah Kheh, Ng Suang Joo, Ling Wan Yin and Soo Wan Ying with their entry 'Designing A Scoliosis Application System' won the Silver Award and also the Jury Prize for Best Video.
Another two teams won the Bronze Award, Team Eleggona (Muhammad Zulfadhly Muhammad Azhar, Safura Balqis Azman, Norain Mohd Sulaiman, Sarah Farhana Salleh) advised by Assoc. Prof. Ts. Dr. Shahida Sulaiman for their entry 'Speech Delay Assistant (SeDA)', and Team NavAssist (Meghla Mehnaz Rose) advised by Assoc. Prof. Ts. Dr. Masitah Ghazali for the entry 'NavAssist Application'.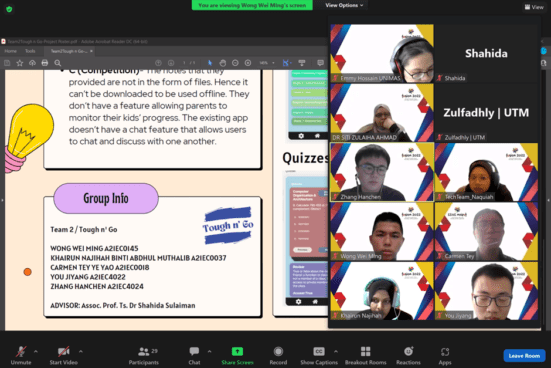 Team Tough and Go from Faculty of Computing UTM presenting their design solution to panel of judges
Team NavAssist advisor, Assoc. Prof. Ts. Dr. Masitah Ghazali, who was also former President of myHCI-UX, said, "This year's competition received support from ACM SIGCHI, the premier international society for professionals, academics and students with interests in human-technology and human-computer interaction. This international support meant an increased interest and visibility for the competition, which saw more than 40 teams from various local and international institutions participated, and it is great to see that UTM students were able to compete and excel in such competition".