On 26th November 2022, Persatuan Mahasiswa Sains Komputer Universiti Teknologi Malaysia (PERSAKA UTM) organized an physical program called 'Code On Weekend: Python'. It was conducted physically at MP1, N28A, Faculty of Computing with a total of 20 participants including the public.
The main goal of this workshop was to introduce to Faculty of Computing students, especially Software Engineering students, to the concept and coding of Python.
The most popular and widely used programming language is Python. Python is appropriate for beginners because it is simple to pick up and learn. Python can be used in a variety of case studies, from simple calculations to machine learning. The use of Python is expanding day by day in the industry. This event was designed to encourage participants to explore the Python language and practice themselves with the given examples to link participants with the real-world environment.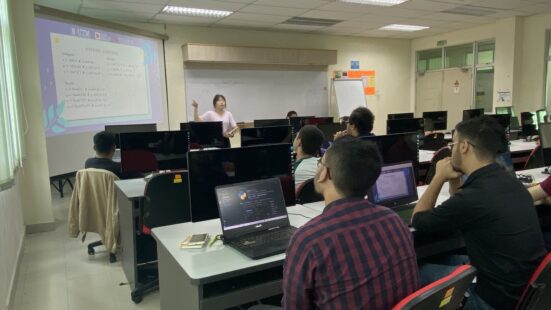 Mentor teaching session
The workshop was held for 3 hours. The first 2 hours and 30 minutes were given to the trainer to conduct the workshop, and the remaining hour was for the question and answer. The workshop started at 10.00 a.m. where the emcee started by introducing today's workshop and the mentors to the participants.
Activity session
To sum up, the participants were taught the principles of Python, as well as some case study including plotting graphs, applying Scipy to solve the scientific operations and also the application of Numpy library from this event. This event went off without a hitch, with participants gaining a wealth of knowledge.